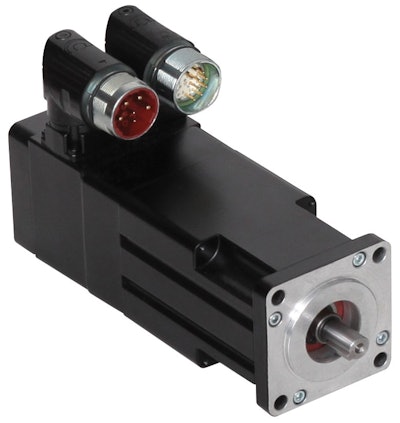 Tripack, a maker of shrink sleeve labeling equipment used widely in the food and beverage, nutraceutical, and personal care sectors, used Pack Expo 2012 as an opportunity to showcase its Model HSA-300 Shrink Sleeve Applicator and a new high-speed T-Perforation System. The T-Perf system is for shrink-sleeve applications where the primary label also serves as the tamper-evident device by extending up to and over the closure. The perforation it produces makes it easy for the consumer to remove the closure of the container in spite of the presence of the shrink sleeve material that covers the place where closure meets container.

The HSA-300 uses a CompactLogix 5370 L2 programmable automation controller, a Kinetix 350 EtherNet/IP servo drives, and PowerFlex 4m AC drives—all from Rockwell Automation—for a fully integrated control solution. The PAC delivers powerful processing in a compact, cost-effective, and easy-to-configure design, which is essential for the applicator's small size. The controls package overall ensures motion precision and accuracy as it reliably manages all the machine's motion axes, including film cutting, application, and perforation—all at a speed of 300/min. It also provides increased flexibility for scalable speed adjustments and different shrink sleeve sizes. A Rockwell PanelView Plus 1000 touch-screen HMI allows operators to easily access information about machine activity and productivity.

According to Tripack senior electrical engineer Dave Himmelmann, the Model HSA-300 shown at Pack Expo was the one that more or less led the way in developing and implementing the T-Perf module. "But it can be part of a number of models, and we are also finalizing a retrofit kit that will let us add this functionality to Tripack machines already out in the field," Himmelmann adds.

A single servo motor, also from Rockwell, drives the blade that produces the perforation. While typically this motor is from the MPL or MPF Series, a number of considerations enter into the decision making process. "Rockwell has a tool called motion analyzer where you enter very specific engineering parameters about the application that's involved, including inertia, friction, acceleration, deceleration, and so on," says Himmelmann. "It's a pretty sophisticated tool that does a nice job of sizing motors and suggesting gear boxes that are complementary."
Companies in this article