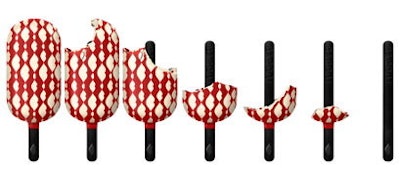 Packaging plays a crucial role in a brand's success. Packaging design can often make the difference in a consumer choosing one product over the other.
What makes your product stand out? Does it have a unique or memorable design? While the ROI of a package's design can be difficult to measure, the cost of not refreshing your packaging can be more expensive than actively managing it over time.
Below are a few ideas that can help you get the most out of your brand's package design:
• Packaging shouldn't be a one-off project. Packaging plays a key role in defining your brand and driving relevance in this fast-paced market. Revitalizing a brand's packaging presents opportunities for new and established brands to break out of the clutter and let their identity shine. Don't think of refreshing your packaging as a project with an end date; instead, the "evolution of packaging" should be a regular conversation and strategic choice as your brand strategy evolves.
• Ground your brand in its core. Redesigning a package requires brands to be very clear about their ownable equities (and those they wish to own) so they can remain consistent at the core and drive consumer relevance at the same time. Getting help from a branding or packaging firm can help identify and strengthen ownable equities. Whether this includes evolving your brandmark or just those equities that bring your products' benefits to life, partners can help you stay true to your brand's core while injecting fresh elements into it.
• Keep it simple. Consumers are overloaded and don't have time to figure out your brand. If your package is too complicated, the consumer will move on in mere seconds. Simple ideas are best understood by consumers when you don't have lots of marketing dollars to explain your big idea or the meaning behind your nomenclature. Start with crafting efficient and effective priorities of communication (POC). Brand teams often create briefs listing seven to 10 (or more!) POCs for a tiny front label. Consumers get lost after three, so make sure you prioritize the most important aspects of your brand. You can share all of the other information on side or back labels—or better yet, in other media sources.
• Make time for inspiration. Trends in the market play a key role in assisting designers to mine what is relevant today. It's important to look at what's happening outside your category for inspiration. For example, if you are a consumer packaged goods brand, look to the automotive or architecture industries for ideas on how structure might bring a package to life; and fashion could inspire patterns, textures, and color palettes. Layering trends with your core equities is a way to help keep a brand relevant.
Real world applications
To bring to life how these concepts can be put into practice, consider how Landor has recently designed and refreshed the following packaging for two of our clients:
Bardot: Creating a new brand. Something rare these days, the chance to create a new brand in a much-loved category, is an opportunity not to be passed up. Advanced Ice Cream Technologies, a boutique ice-cream purveyor from Mexico, came to Landor with dreams of sharing its artfully crafted ice cream bars with America. The artisan, iced confectionery is delicious, and our job was to make the whole experience a beautiful one.
Tasked with creating the identity and guided by our strategy, we positioned the brand in a category of its own, transforming ice cream from something usual to something sensual. We crafted a name that evokes a sense of sensuality, a set of bold, red lips for the identity, and a design system that conveys the unparalleled decadence of the product, creating a sense of luxury, sensuality, and desire.
Meet the world's sexiest confection: The most decadent gelato robed in graphic fantasy. A 2012 Cannes Lions award winner, Bardot successfully breaks through the myriad of options.
Sour Patch: Refreshing an iconic brand to remain relevant. Some brands do it to combat copycats, others refresh only when introducing a new variant. Sour Patch refreshed its package to avoid look-alikes and breathe new life into the brand. Before starting the project, the team mined the brand's equities by identifying what was important to stakeholders. They took time to understand how the brand differentiated from the competition, and how it didn't.
Landor helped strengthen the brand's ownable equities and created a new cast of Sour Patch characters. While still in the early stages of marketing, it appears that Sour Patch's graphic system will be compelling at shelf and draw consumers in during that first moment of truth.
Today, brands need to continually advance forward to remain relevant. If you think of your brand's packaging as the living, breathing way in which your product is brought to life, then continually evolving your package makes ROI sense.
Christine Hall is associate client director, and Dale Doyle is creative director for Landor Associates.
Companies in this article