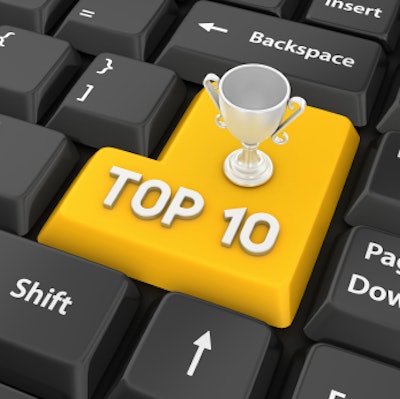 Compiling readership numbers for the packworld.com Web site from January through June of 2012 shows an interesting trend toward design-centric stories. From sophisticated, pearlescent haircare bottles to trends in sugar packaging, readers tapped into editorial dating as far back as 2003 to learn about innovations in package design.
10. Liquor-spiked freezer-pops: In 2007, packworld.com wrote about Zeus Juice, which selected vf/f/s machinery to serve up packaged frozen cocktails. It reported, "Zeus Juice Frozen Cocktail freezer-pops, with 8.2% alcohol content by volume, are grain alcohol-laced freezer-pops packaged in 50-mL, 2-in.-wide x 8-in.-long pouches and are sold through liquor stores, bars, and nightclubs across the U.S."
9. L'Oreal shampoo line gets a whole new look: L'Oreal's Pureology brand professional products (shampoos, conditioners, masques, and treatments) have been literally flipped over on-shelf in sophisticated pearlescent toned, multi-tasking bottles designed to reflect their 100% vegan formulation and sustainable packaging.
8. Costco snack pack operations: This early 2009 machinery case history discusses Costco's in-house production for tubed snacks, which relies on three f/f/s units and four pick-and-place robots to produce a 24-count variety pack.
7. Color: the ultimate consumer persuader: Ted Mininni, president of Design Force, Inc. writes "Package color is one of the first things that attract consumers at the store shelf; consider breaking the color mold in a product category for differentiation."
6. Sugar packaging is in for a change: Observed packworld.com in 2005, "Long viewed as a commodity product requiring the simplest, most inexpensive packaging possible, granulated sugar is getting all gussied up these days."
5. Capri Sun launches 'bottle can': A story from 2003 describes how Tarrytown, NY-based Kraft Foods Beverages Division introduced Capri Sun Island Refreshers in a 16.5-oz aluminum "bottle can."
4. Flock-of-birds theme carries design for sparkling water: An elegant, white flock-of-birds motif against a cobalt-blue background dominates the package design for a new line of all-natural, flavored sparkling water beverages called Something Natural.
3. Chinese dairy introduces a new kind of aseptic pouch: Aimed at young people constantly on the lookout for the next cool thing, Ecolean Air Aseptic is a single-serve pouch that makes some strong environmental claims.
2. Will 'Steuben patents' dampen growth of aseptics in bottles?: In January, contributing editor Gordon Bockner wrote, "As little as a year ago, informed observers were bullish on the growth of aseptically packaged low-acid beverages in plastic bottles. Now they're not so sure."
1. 'Revolutionary' package design refresh for Summer's Eve feminine hygiene products: A complete transformation for Summer's Eve's feminine hygiene products packaging brings brand relevancy to a new generation of users.