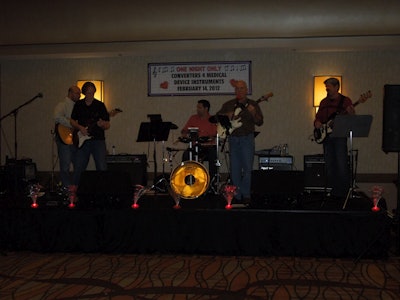 Packaging and converting professionals are swamped with deadline pressures, economic restraints, accomplishing more tasks with fewer resources, coping with regulatory matters, and the list goes on and on. Despite the challenges, however, packaging professionals often give even more of themselves, volunteering in community and industry activities. One example: members of the musical band, "Converters 4 Medical Device Instruments."
Started up around 2005, this band has entertained at various medical device packaging events, demonstrating how individuals, even those from competitive companies, can join together for a united cause.
Roger Allan, director R&D/tech services, Mangar Ind. Inc., notes, "My role with the band was to provide rhythm guitar and vocals. Paul Herman and I were the original promoters and members of the 'Converters,' where we played a two-man gig at the DuPont suite back in 2005. That year, DuPont secured one of the smaller suites with a balcony and [we experienced] a little unscheduled rain. Not good when you are playing an electric guitar, but it has been a shocking experience ever since. The DuPont team, especially Franni Hylinski, had a great vision when they asked us to perform at MD&M West in 2005."
Herman, nicknamed "The Turk, is a DuPont active and industrial packaging technical representative. He now plays in a band called Elder Young, and has played lead guitar in bands for years, although his love for the six-string was interrupted at least a couple of times over the years.
Herman recalls, "I dropped out of college in '71 and was immediately drafted. When I showed up at the induction center in Philly at six-foot-tall, 100 pounds soaking wet, with guitar in hand and braces on my teeth, they sent me home. They did say gain some weight and loose the braces and guitar. Viet Nam was over by the time I complied with two of these three orders. I finally complied with the third order and hung up my ax in the late seventies [he refused to play disco music]. I went back to school and dropped into corporate America."
The Turk says, "Regarding contributions to the medical device packaging community, that's too philosophical for me...I'm technical. What I personally derive from doing this is that there are a few who do enjoy what we do. Each year I get a few folks that I do not know approach me with smiles and compliments."
Herman and Allan both noted that the Converters band was joined initially by DuPont's Karen Polkinghorne on flute, acoustic guitar, and vocals. She continues to play on occasion.
Tony Paolino, vp, SteriPack USA, Ltd., says, "I started out playing with Roger and Paul about five years ago. I first played bass guitar and sang. The next year I went to drums and vocals and Paul's son was brought in on bass guitar. I have been a musician my entire life, performing professionally for many years, mostly as a drummer and then guitarist and lead vocalist.
"In the time I've been in the medical packaging industry, I've run across many musicians at almost every company. Folks who play guitar, drums, bass, have interests in recording studios, play and sing at church, and/or sing in church chorus. It makes sense when you think about—engineers, math, and music--the cerebral connection."
The versatile Paolino says, "I enjoy playing with the Converters because I can really feel how much it means to the musicians and some of the folks listening. How cool is it to put together a musical band with people from the medical packaging industry? I think having the Converters play has given the DuPont hospitality suite a different dimension. I'd like to see it expand with some horns and back-up vocalists. Some new talent would be great to add in."
The Feb. 14, 2012 "one-night-only" performance by the band during MD&M West, "was my fourth year playing drums with the Converters," notes Ed Emerson, manager, business development, medical/pharma specialist, Mocon, Inc. "As a drummer, I'm especially grateful the guitarists even allow me to hang with them! It is quite a unique experience to me, and those I've spoken with, in that it's a side of us that our colleagues don't see otherwise. Also, while our MDM peers thoroughly enjoy the event each year, they also say they are really glad to know that we all hold regular 'day' jobs, too, just in case this whole rock-star dream doesn't pan out."
The Converters' bass guitarist, Steve Olson, is a sales engineer with Pro-Tech Design & Mfg. He says, "I have played bass and sang with the Converters for the last four years. It's been an enjoyable venue to play and provide entertainment to all the contacts we've come to know in the medical packaging industry. We get to network and renew contacts from the industry and share ideas and experiences in the field. I also play in a local group where I live in Mankato, Minnesota, so it's fun to bring that musical experience to the Converters. We enjoy working up new tunes in the practice sessions as much as we enjoy bringing the music to our attentive listeners at the DuPont Hospitality event. Thanks to DuPont and the Converters for the chance to play."
Allan concludes, "This group certainly enjoys playing music, and for me personally, it is quite satisfying playing in front of customers, colleagues, and peers. I am sure the others feel the same. Everyone I talk to seems to enjoy the music and looks forward to the event."
Editor's note: Discussion continues on the possibility of packaging pros eventually playing at future industry events in an effort to raise money for packaging students. If you have thoughts or ideas on this topic, please contact me at Butschli@packworld.com.