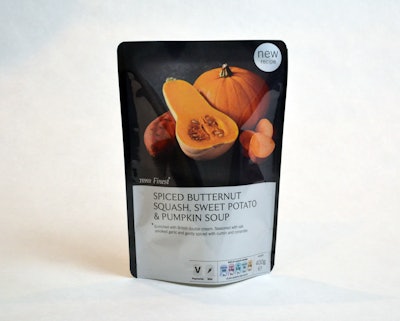 Ampac's Tesco Finest Soups Pouch represents a marked departure from standard retort pouches. The pouch was printed flexographically versus rotogravure ,which provided exceptional graphics with high shelf impact in a difficult printing format. Because the majority of retort pouches are produced with rotogravure printing, the Tesco Finest Soups pouch was deemed having exceptional print graphics rivaling the quality of any rotogravure print.
Ampac's flexographic 8-color process printed design uses a urethane ink system. Through engineering and technical expertise, Ampac was able to overcome the demands of the retort process without sacrificing print quality and provided one of the very few flexo retort pouches to the market. The result was a high definition quality print pouch with a unique matte finish that was both fit for use and commercially viable.
In addition, Ampac won a Silver award for Packaging Excellence and Technical Innovation for the Easysnap Sachet Pouch, a single-handed dispensing pouch using a sachet format. Manufactured from two high barrier films – a flexible top web and a semi-rigid forming web – the pouch is used with one hand by squeezing the opposite edges toward each other as the Easysnap sachet folds and "snaps" open, providing a simple but engineered and controlled one-handed release of the contents.
The Easysnap sachet pouch is an improvement over other sachet style pouches in that it is designed as a single unit-dose that can be dispensed using only one hand and without tearing an opening in a pouch. The product structure required special engineering to meet barrier specifications and is an excellent fit for sample packs and promotions. Benefits of the pouch include accurate dosing, controlled dispensing and lower costs versus bottles and tubes. Easysnap can be used for a wide range of food, non-food, HBA and cosmetic applications.
According to Sal Pellingra, Director of Innovation at Ampac, "Both the Tesco Finest Soups retort pouch and the Easysnap sachet pouch attest to both the technical expertise, and the innovative and creative packaging focus of Ampac. We're very pleased that the Flexible Packaging Association also recognizes Ampac's creative flexible packaging achievements."
Companies in this article