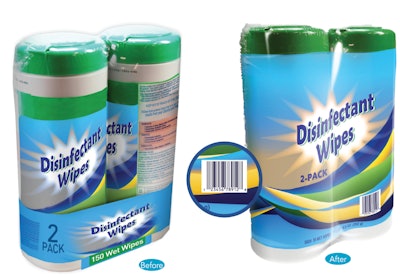 The recent surge of multipacks is redefining value in retail segments from club and superstores to DIY and sporting goods—an uptick that's creating a gold mine of opportunities for contract packagers and consumer goods manufacturers alike.

Since the beginning of the multipack phenomenon, contract packagers have used clear shrink film as a go-to bundling material, combining clear film with chipboard trays or paperboard sleeves and labels. But next-generation multipacks are now going solo, using only colorful, sustainable printed polyolefin film. The result is bottom-line beautiful.

Strong enough to eliminate trays, labels or corrugate master packs, printed shrink film delivers a more production-friendly, earth-friendly solution. And its unique ability to create bright 360° brand billboards is putting a fresh new face on multipacks from cleaning wipes to hair care products to breakfast pastries.

But what sweetens the proposition most are the savings throughout the packaging life cycle—including reduced material, transportation, inventory, and labor costs, with streamlined operational efficiencies.

Best yet—thanks to the strong technical expertise and development support available from shrink film and printing suppliers—contract packagers can move quickly to take advantage of printed film opportunities, without intense capital investment or know-how.

Business-builder with a low cost of entry
The ability to offer printed, shrinkwrapped multipacks is a natural door-opener and differentiator for contract packagers: ideal for building new high-value business while selling deeper into existing accounts.

Operations already using shrink film will find printed film can boost productivity significantly over traditional processes, reducing hand labor and increasing line speeds significantly.

Some contract packagers running printed shrink have experienced labor savings anywhere from 30%-50% and have nearly doubled production speeds, which has allowed them to realign resources and gain greater flexibility in their operations.
Perhaps the greatest advantage: the fast, easy entry into the printed shrink marketplace with minimum capital outlay. Current lines can be cost-effectively retrofit, while new auto-sensing shrink packaging lines can be placed in as little as 6 weeks, for around a $10,000 investment. Cost, naturally, will depend on desired line speeds, anticipated volume, and level of automation technology required.

Added sensor technology is the main difference between running clear and printed shrink films. Printed film is delivered with repeat impressions on a roll and special sensor codes. To read these codes and align products with the printed impression, printed film requires shrinkwrappers and tunnel systems with automated sensor eyes.

Other considerations include infeed and sealer technologies, which will be driven by desired product orientation and the need for hand vs. automated feeding.

Marketing power, sustainability shine for cpgs
Consumer Product Goods companies are quickly getting on board with printed shrink film because it addresses their top packaging challenges: sustainability, shelf appeal, and cost-reduction.

Printed shrink's dramatic source reduction metrics give CPGs a competitive advantage where scorecard performance is critical. The reduced packaging material delivers favorable performance over multipacks with sleeves, with sustainability gains in material weight, transportation, and disposal.

A Packaging Life Cycle Analysis, available through select supply partners, can provide actual savings scenarios for specific multipack applications. In recent projects for a range of leading brands, it has not been untypical to achieve a 60% or more reduction in packaging materials.

Material and weight savings contribute significantly to cost reduction. Plus, printed film addresses other hidden cost challenges. Printed shrink can completely conceal pre-labeled products, so it solves practical challenges of masking UPC and product codes; overcomes product alignment issues; and allows a wide variety of co-branding and bundling using existing product SKUs.

The colorful graphic coverage, which billboards multipacks on shelf, also gives brand marketers extra promotional firepower. Flexo printed in up to 8 colors, printed shrink film can mirror existing trade dress; highlight offers; target offers to specific demographics; provide account-specific programs; or create seasonal packaging.

Shelf appeal also enjoys quantum gains, thanks to vibrant graphics and crisp package cleanup. In the words of one brand packager, the shelf impact and overall quality of a recent printed film multipack was "1000% better!" than the incumbent package.

Easy does it
Because printed film is designed to shrink and conform to products while maintaining registered graphics, the development process is more involved than with traditional clear shrinkwrap.

The good news? Contract packagers do not need in-house expertise to immediately tap the power of multipacks.

The key is to establish strategic partnerships with vendors who bring expertise and credibility in successful printed shrink film ventures.

In most cases, this development team will consist of shrink packaging/equipment distributors, film manufacturers, graphic designers and printers, ideally who have worked together and aligned their knowledge base, technologies, and processes.

In the case of Clysar, a single-source management process is in place to manage all aspects of supply using our packaging distributors as a single control point. This can save time and steps, leveraging enterprise-wide resources from prepress and graphic management to equipment, printing, and training.

Steps to a successful multipack
Developing printed shrink multipacks requires a consultative selling process and a high level of partnering between all involved.

1. Mockup: If customers are unfamiliar with printed shrink film, the first step is to sell the concept with a prototype of products mocked up in printed film, provided through your packaging distributor. Seeing is believing: demonstrating tangible mockups can take weeks off the sales cycle.

2. Proposal: When agreement is reached to pursue a project, contract packagers work closely with the supply team to put together a comprehensive proposal outlining needs, cost, timing, and payback.

Hard numbers dramatically justify the move to printed film, and can be obtained through the supply team. Clysar, for example, uses a proprietary value calculator to create a side-by-side comparison of the customer's current package cost versus switching to printed shrink film, including process and material savings, equipment needs, plates, and throughput.

3. Development: Once a project is green-lighted, parallel development tracks are initiated.

Track one is development of the packaging graphics. Artwork must be designed for the natural distortion of shrink film, and the unique geometry of each application. Often, CPGs will use their preferred design partners, who may or may not be familiar with the shrink medium. Experienced printers will guide and troubleshoot artwork with designers, providing templates and die lines to follow.

At the same time, packaging equipment and film technologies are brought together. Prior to printing, shrink film is tested with configured products to ensure it delivers the strength, tear resistance, gloss, and shrink force to work with the weight of the package, type of product, and distribution needs.

4. Testing & Scale-Up: Once the package design is approved, preliminary production artwork is applied to shrink film and refined in several pre-production tests.

First is a composite test, made from a single printing plate. A prototype film roll is provided printed in full color. This test roll is taken through the shrink process. The composite evaluates stability and placement of type and graphics, as well as the spacing of repeat impressions. It's typical in this stage to make modifications and fine-tune artwork.

When art is refined, full final color tests are made using actual production-quality plates. A sample roll with repeat impressions is run on the packaging line under multiple conditions. When samples are deemed acceptable, the printed multipack is ready for scale-up.

As printed multipacks land in store, the "shrink effect" multiplies and success typically breeds success. Often these high-profile packages trigger added printed shrink business, as reorders and new applications prove out this exciting new medium's win/win value proposition.

An invitation to succeed in 2012
In this competitive marketplace and challenging economy, all organizations are looking for ways to deliver value and strengthen their businesses in the coming year.

Printed shrink film suppliers are excited about the wide-open opportunities printed shrink multipacks bring to contract packaging. So we ask: Is your businesses ready to succeed?

The author is senior marketing manager with Bemis Clysar (www.clysar.com), a supplier of high-performance polyolefin shrink films based in Oshkosh, Wisc.