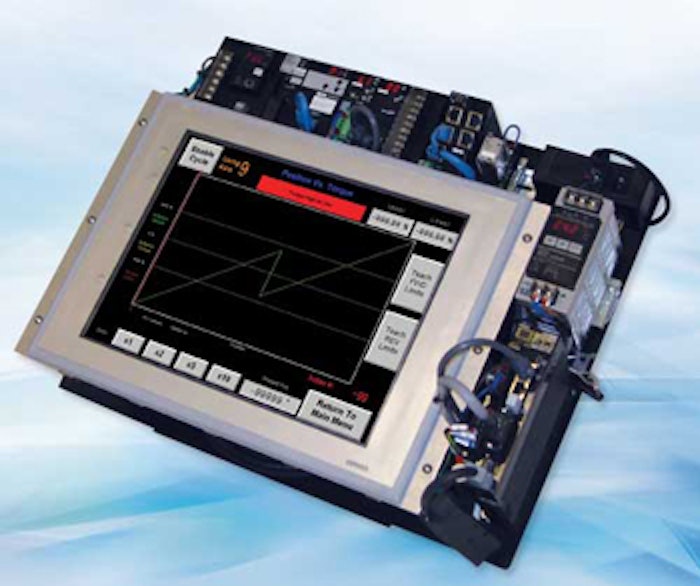 Major automotive manufacturers want to take care of problems before they happen. They would much rather figure out where there might be a potential problem on the line and fix it during scheduled downtime, rather than have it stop production. "It is very expensive when a line goes down, even for just a few minutes" says Keith Grey, strategic automotive account manager at Omron Industrial Automation. "Scores of production workers are standing around getting paid to do nothing, and product is not being produced."
Considering all the common issues of downtime in automotive plants, the ones that stand out as most problematic are servo issues. Servo issues can take up to 45 minutes to fix; often they are tricky to diagnose and address, and thus typically require specially qualified personnel to resolve them. This is where Omron Industrial Automation's revolutionary new servo system comes into play. "We have developed a servo system that combines a CJ2 programmable logic controller, an NS-Series operator interface, and our newest EtherCAT servo motor/drive to fix the problem," says Grey.
Leveraging the speed of EtherCAT servo communications, the new solution provides all the essential information of a servo system in real time. This is displayed on the touchscreen to give the operator feedback on everything that is going on within the servo system. Any problem that can occur in the system can be displayed to show the problem with a very detailed explanation on how to fix it.
For example, if a battery starts to fail, an alarm will come up on screen that indicates the battery needs to be replaced. When the operator touches this message, a pop-up screen displays a picture and description of how to change the battery. But what if a more serious problem arises, involving changing out a motor or drive? That type of issue typically takes a very long time to resolve.
So Simple a Child Can Do It
The new solution has a preconfigured setup in the touchscreen that shows a step-by-step procedure for replacing a motor and/or drive in a few minutes. Pictures show the operator in clear detail exactly what needs to be done. "Just for the heck of it, I had my 10-year old son, who had never seen a servo in his life, fix a servo problem," says Grey. "It was a beautiful thing to watch."
Everything a person needs to know is programmed into the system, even for major issues such as changing out the motor or drive. It shows the exact steps to take the motor out, how to disconnect the different wires, and how to put them back in. Automatic resets have been provided to zero the motor.
"I showed the system to a senior VP of a major automotive manufacturer," Grey continues. "We had them change out a motor and drive right there, and they were able to do it in a few minutes. The VP said he didn't believe there was any way to do that, but seeing is believing. Typically the process would take a long time and require the assistance of an experienced hand."
By providing real-time information for preventive action that speeds response and simplifies corrective action when needed, this new Omron Industrial Automation solution can be a significant contributor to mitigating downtime risk for automotive manufacturers.
When the servo system is first installed, engineers can make the machine go through its motion—its cycle—and then teach that cycle to the system. The system stores the cycle in its PLC, which can be shown graphically on the touchscreen.
The diagnostic process establishes the proper profile in two seconds, then the system can be set to accept a plus/minus tolerance range. If the machine goes plus or minus five percent from the good profile, the system generates an output that lets the operator know.
Over time, mechanical parts (e.g., belts and chains) wear down. Things get lodged in the machine that can interfere with its operation. When these events occur, the system communicates the exact location of the problem in the motion profile. It provides the manufacturer a heads-up to adjust the machine proactively, before catastrophic failure can cause production line downtime.
"I went into a Tier One supplier to the automotive manufacturers and showed them this," said Grey. "They said, 'this is exactly what we've been trying to do'." According to Grey, the supplier was so excited about the technology that they brought one of their machines to an Omron Industrial Automation distributor to see how it worked on their own equipment. Subsequently, they have placed an initial order for 10 of the systems. A full return on investment is expected within three months of manufacturing.
Companies in this article