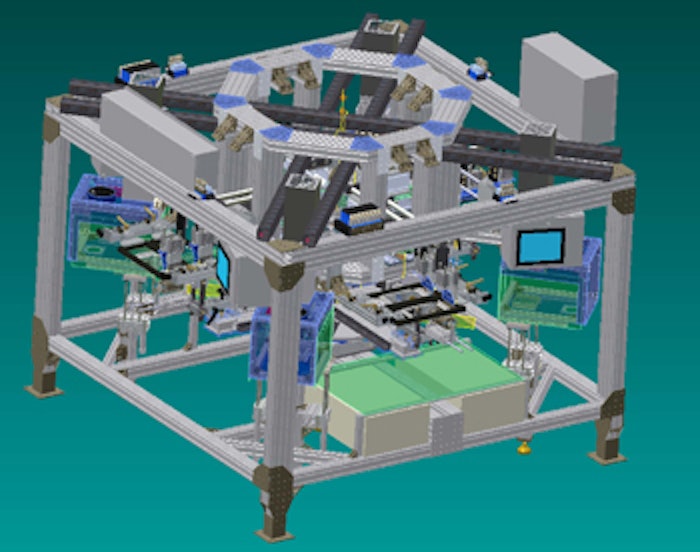 Cheswick, Pennsylvania-based Miller Process Coating is an OEM that specializes in turnkey solutions for cylindrical silkscreen printing applications. "The major technical challenge that Miller's customers face is printing on a tapering round surface," says Tim Bradac, key account manager for Omron Industrial Automation. "Most of the machines they build are used by companies that print bar glasses—pint glasses for draft beer. Print consistency was the number one problem they were trying to address when we started working with them."

Part of the challenge for Miller was engineering support. While they had internal resources for mechanical engineering, they contracted out electrical engineering to a competitive vendor for controls. Unfortunately, the support they received from that vendor was sporadic.
"We offered a total solution," says Bradac. "As a solutions provider, we were there from start to finish, helping with everything from machine specifications to machine fabrication, including training on how to program the machine and providing post-production support. Once a machine is delivered to one of Miller's customers, Omron Industrial Automation, as a global company, is there to support those customers, wherever they are."
Printing the Perfect Pint Glass
The specific package Omron Industrial Automation provided to Miller consisted of a Trajexia stand-alone advanced motion controller and four touchscreen Human Machine Interfaces (HMI). The 64-bit stand-alone Trajexia controller, with built-in EtherCAT master, provides a significant improvement in machine performance and accuracy, allowing them to run their machines faster for higher productivity during the same working hours. The Trajexia TJ2 ensures the fastest operation at the highest accuracy by providing a short minimum system cycle time for up to 64 axes and using native 64-bit integers to minimize data conversion and accelerate processing. The Miller application uses nine of the possible 64 axes available.
"This Omron solution does a fantastic job in meeting our current requirements, but it's also reassuring to know that the controller can coordinate 16 axes in 1ms for our future machine platforms as they expand into higher ranges," says Pat Quattrocci, president, Miller Process Coating.
One of the HMIs acts as a master that stores all the recipe data for the various print models Miller has, and the other three are slaves for set up and starting or stopping operation/production. As a four-sided machine, there are four operators working on it at any given time. The machine provides each operator with the ability to do his or her own prints.
"The use of EtherCAT was very important because it allowed us to communicate easily through a slip ring," says Bradac. This is a rotary machine with a set of slip-rings that run up through its center. The EtherCAT network is ideally suited for such an application because you can disconnect the wiring, put it through a slip-ring and reattach it easily.
That was just one benefit of the EtherCAT; others include its simplicity, connectivity, and that data could be pushed through at unmatched speed. EtherCAT was used in this instance for both I/O and motion control.
"The biggest benefit of using EtherCAT in this application was that it allowed us to store the profile of every drive inside of the Trajexia," says Bradac. "By storing these profiles, should a drive go out via an electrical spike or some unforeseen problem, the customer will be able to replace the drive with a new one and all the configuration information transmits over EtherCAT directly into the drive automatically. The setup is immediate."
Major Benefits
Another important benefit to Miller is the ability to write and store recipes on the Omron NS-Series operator interfaces and transmit them directly to the Trajexia Motion Controller. Storing recipes on the HMI gives Miller's customers the ability to write custom applications without having the operators touch the program. "Miller can create a simple spreadsheet in Excel and use that to enter the parameters they need," says Bradac. "This is all set up just prior to machine shipping, at which point the customer will have the ability to input data with a spreadsheet into the HMI. That data will be stored in the HMI, and from there it can be transmitted to the motion controller."
Walking the Walk
Omron Industrial Automation quickly proved to Miller that it truly stands by its promise of total customer service—it was demonstrated throughout the entire process right into Miller's order book. Miller had a customer that was still deciding on which machine manufacturer to choose, and Omron Industrial Automation invited that customer to come to the Omron headquarters to examine its laboratory facility and see what Omron Industrial Automation was all about as Miller's partner. "We were able to show them what the motion controller solution would look like, how it would act, and all the engineering capabilities resident in our lab," says Bradac. "After the meeting, the customer felt confident that going with Miller would be the right choice, and that they would be getting a machine of the highest quality that would be supported at the highest level."
Right from the get-go, Miller saw the difference in working with Omron Industrial Automation. "For the first machine they built, when using a competitor's product, Miller had to make numerous trips to Canada to fix unforeseen problems because there was no one else to help the customer," says Bradac. "Because they didn't have deep internal electrical engineering resources, it was an especially difficult situation to address. With Omron Industrial Automation, and with the global support we provide, they'll never have to face that situation again," concludes Bradac.
Something everyone can raise a glass to.
Companies in this article