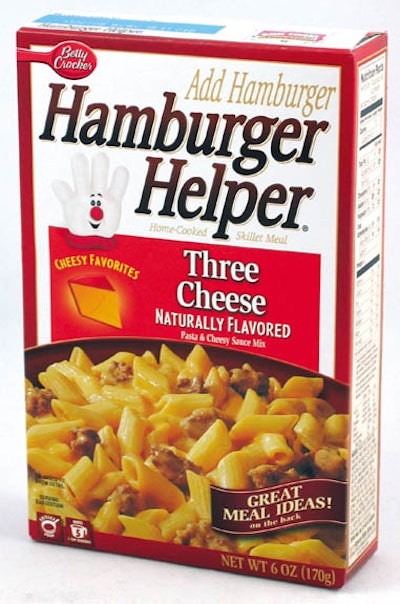 As Zettlemoyer-Lazar advises, brand owners designing packaging for sustainability should take a holistic approach, evaluating not just the package, but also the product to be contained within.A model example—and one cited on several occasions by Wal-Mart CEO Lee Scott—comes from General Mills, which recently re-engineered the physical attributes of the noodles within its Betty Crocker Hamburger Helper meals to enable the design of a smaller carton size.
"The company increased the density of the pasta shapes so they could be packed more tightly and in a smaller box," explains General Mills corporate public relations manager Kirstie Foster. "We also reduced the number of pouches in each carton. These changes resulted in a 20% reduction of package size."
Despite the change in the noodle's density, Foster says that extensive testing proved that these alterations did not affect product quality or consumer preference. In addition, the company was able to maintain a finished product yield of five 1-cup servings/box with the smaller carton.
What did change was the packaging's impact on the environment. According to Foster, the carton:
• Saves 890,000 lbs/yr in paper fiber
• Reduces greenhouse gases by 11%
• Eliminates 500 trucks on the road per year
• Increases shelf pack-out by 20%, allowing retailers to sell the same amount of product in less space
To view the main story, "Wal-Mart speaks on the packaging scorecard", go to: packworld.com/view-24566

Companies in this article