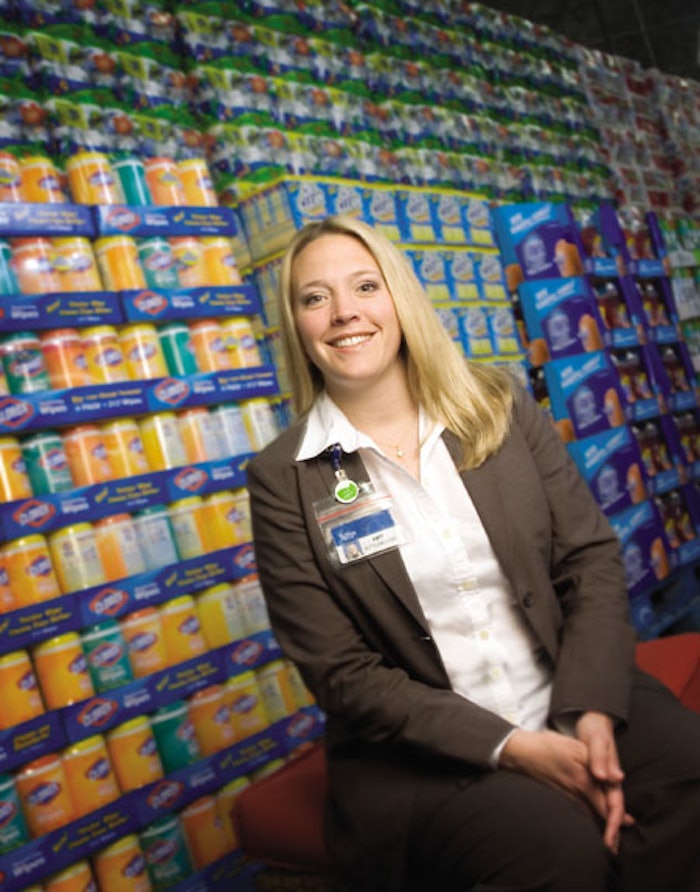 In November 2006, Sam's Club director of packaging Amy Zettlemoyer-Lazar and Sam's Club senior vice president of Marketing, Research & Insights at the time, Matt Kistler, unveiled to the packaging community Wal-Mart's momentous plan to develop and implement a Packaging Scorecard to help the company reach its goal of a 5% reduction in packaging waste by 2013. On Feb. 1 of this year, the scorecard became official, after one year of trial by Wal-Mart consumer packaged goods (CPG) suppliers and one year of continuous scrutiny and adjustment by the Wal-Mart Packaging Sustainable Value Network (SVN).
For those new to the concept, the scorecard is a web-based database populated by Wal-Mart CPG suppliers with details on the packaging for each of their products. Designed to calculate the net environmental impact of this packaging, the scorecard computes a final score for each package based on the results of nine metrics. The scores ultimately rank the packages against competitive products within each category. Among the metrics considered are greenhouse gas emissions (GHGs), product-to-packaging ratio, cube utilization, and innovation, just to name a few.
Central to the development of the scorecard and its metrics has been Wal-Mart's Packaging SVN, a group that includes 200 plus representatives from governmental and non-governmental organizations, academia, packaging suppliers, and brand owners.
Wal-Mart's packaging initiative—which has stimulated an avalanche of activity in the packaging community around sustainability—is just one element of a game-changing strategy by the company focused on three ambitious environmental goals. These goals, first outlined in October 2005 by Wal-Mart CEO Lee Scott in his "Twenty First Century Leadership" speech, are: to be supplied 100% by renewable energy, to create zero waste, and to sell products that sustain resources and the environment.
In anticipation of the scorecard's official launch, Zettlemoyer-Lazar offered Packaging World an exclusive interview to discuss the status of the project, its reception by CPG suppliers and packaging vendors, and its implications for the industry and the environment.
Since being thrust into the spotlight two-plus years ago, Zettlemoyer-Lazar, who graduated from the Rochester Institute of Technology with a degree in Packaging Science, has earned the respect of many in the packaging community for her responsiveness and professionalism. During the interview, Zettlemoyer-Lazar emphasized the importance of industry members and in particular the trade press in spreading Wal-Mart's message. "Without you, we are not going to be able to reach our goals," she said. "We need the help of the entire packaging industry; we can't do it by ourselves."
PW: As of March 2007, Wal-Mart reported that 2,268 of its suppliers had logged on to the Packaging Scorecard site, and 117 products had been entered into the system. How have these numbers changed since then?
Zettlemoyer-Lazar: We have actually made significant progress since March. As of the beginning of last week [Dec. 3, 2007], we have had approximately 4,600 distinct vendor members enter information on about 20,000 products into the scorecard.
PW: Is this the response you expected?
Zettlemoyer-Lazar: This is the first time that a scorecard of this magnitude has been developed, so we weren't exactly sure what to expect. We do believe that we've made significant progress since March. We set a goal to have all products entered by Feb. 1, 2008, and this is still our goal. We expect that the number of entries will continue to grow as we move closer to that date. We have been in continual dialog with our suppliers.
PW: Although that is an excellent response, it is very far from the whole of your supplier base [60,000 companies] and their combined products. What approaches are you using to encourage suppliers that have not yet responded to fill out the scorecard by Feb. 1, 2008?
Zettlemoyer-Lazar: We have improved the functionality of the scorecard for entering items, including an auto-populate feature that populates the first several questions that have to do specifically with the supplier and their item. Then we also have a "copy-to" function that allows the supplier to fill in the information for one specific item and copy that information to all other item numbers that have the same type of packaging and same packaging information.
PW: In a recent Wal-Mart sustainability progress report, within the packaging section, it reads: "It is difficult to track progress if suppliers are resistant to using scorecards, so we need to work with them to help them understand how scorecards can add value to their own business." Have suppliers been resistant to participating in the scorecard?
Zettlemoyer-Lazar: I wouldn't use the word "resistant." Our suppliers have been very involved and very inquisitive.
PW: Ultimately, how will the results of the scorecard be used?
Zettlemoyer-Lazar: The scorecard is going to be used by our buyers to help them make better purchasing decisions.
PW: What are the consequences for a supplier that does not participate in the scorecard?
Zettlemoyer-Lazar: If a supplier doesn't enter their information into the scorecard, the underlying consequence is a lack of information for our buyers when making purchasing decisions. The buyers will only have information on the packages that have been provided to them to be able to reward the suppliers accordingly.
PW: What other factors are Wal-Mart buyers considering besides the score on the scorecard when making their buying decisions?
Zettlemoyer-Lazar: They look at a lot of different things—sales, inventory, margins, damages, in-stocks, and many other things. That's a short list of what the buyers are looking at to make purchasing decisions. The scorecard is an additional tool in helping them make better decisions.
PW: So the score on the scorecard will be just another consideration?
Zettlemoyer-Lazar: Yes. Our buyers run their departments or categories as a business. How heavily the score on the scorecard will count is going to depend on what the item is, who the customer is, and what the package is. So the buyers have the ability to manage their own business and to use the scorecard as a decision-making tool.
PW: Going back to the statement cited from Wal-Mart's recent progress report, over the last year, how has Wal-Mart attempted to educate suppliers on how more-sustainable packaging can benefit their own businesses?
Zettlemoyer-Lazar: The first thing that we are trying to do is lead by example. In 2005, just before we announced the launch of our scorecard, our packaging team partnered with select private-label suppliers to improve the packaging on nearly 300 items within the Kid Connection toy line. That group was able to make the packaging a little bit smaller on one line of toys.
The results are that we use 497 fewer shipping containers, we generate freight savings of more than $2.4 million per year, and we estimate that more than 38,000 trees and a thousand barrels of oil are saved. So this change is really good for our business and good for our environment, and we hope that our suppliers will be able to use it as an example of how to reduce the impact of their packaging on the environment while saving money for their company, for our company, and for our customers.
Another way we educate our suppliers is through our Sustainable Packaging Exposition, which we have hosted in Bentonville [AR] since 2006. We have had the expo two years in a row now, and we do have plans to have it again in 2008. The purpose of the expo is to put all of the packaging material and system innovators in touch with our suppliers. We've had a lot of material, equipment, and system suppliers trying to share with us their great innovations. We thought that the Sustainable Packaging Exposition would be a great way to put those innovations together with the people who are making the decisions. So our buyers and our suppliers actually walk through the expo together.
PW: How do packaging equipment and material suppliers become eligible to participate in the expo?
Zettlemoyer-Lazar: We have a Web site called the Virtual Trade Show that we pulled together with ECRM, the group that produced the scorecard software. The site captures information on packaging suppliers and on their innovations. As suppliers fill in their information on the site, we have the ability to then screen them and decide if that supplier is able to help us meet our goals as a company.
If they are not invited to participate in the expo, it doesn't mean that they don't have a great innovation or a great item or material. It just means that either we are space-constrained, or we had to make decisions on who could best help us reach our three goals as a company.
PW: Also in the recently published sustainability report, Lee Scott says, "We have made progress on our goal of a 5% reduction in packaging as part of our longer term effort to eliminate all waste at our stores and clubs." However, he does not quantify this progress. Can you provide any greater detail on the extent of the progress?
Zettlemoyer-Lazar: We've actually made progress by simply developing and launching the scorecard. This will help us meet and track our 5% goal. Overall, 2007 has been the year for suppliers to learn about the scorecard and to try and use it. The information that has been gathered this year has not been used to develop official data. As we move forward with the development of the scorecard and collect all the data that has been input into the scorecard, we will be able to more accurately measure our progress toward the 5% packaging reduction goal.
PW: From your current vantage point, is a 5% reduction by 2013 still a realistic goal?
Zettlemoyer-Lazar: It's definitely our goal, and we are continuing to move forward toward that goal. We will also work with our suppliers to do everything possible to get there. We think that by continuing to have the Sustainable Packaging Exposition and by sharing other suppliers' wins with our buyers, we will be able to drive progress to that goal. Until we start tracking the data every year, it would be tough to say that we can't meet the goal.
We feel confident as a company that when we set a goal, we strive to reach it. The 5% packaging goal is just a small portion of what we are trying to accomplish as a company. We've got Wal-Mart's three larger goals. The packaging network is just one of 13 total networks within Wal-Mart that are working toward these goals.
PW: Can you offer any advice to CPG companies about how to design their packaging for greater sustainability?
Zettlemoyer-Lazar: Overall, the first recommendation would be to have suppliers look at how they currently design packaging, and make sure that it's no longer an afterthought—it needs to be considered as the product is being developed. As the product and packaging are being designed, sustainability should be top of mind. So not only do they need to think of the existing package, but they also need to talk and partner with Wal-Mart and their Wal-Mart buyer to identify new opportunities for improvement.
The big thing is to not just make packages smaller, or with less material, but to really look at the total package, product, and customer relationship, and deliver an overall better package.
PW: Can you provide any examples of CPG companies that have revised their packaging over the past year, to make it more sustainable?
Zettlemoyer-Lazar: I can name several products, including Hamburger Helper [see sidebar, p. 44], All Small & Mighty [see www.packworld.com/view-20922], and Suave [see sidebar, p. 46]. They've all been able to make their packaging smaller or lighter-weight to be more sustainable. Or, by reformulating the product, they've been able to use less packaging per serving or per load.
These are good examples of how CPGs are bringing packaging farther up in the development process. These companies truly looked at the product and package interaction and designed them to work better together to be more sustainable.
PW: Will those suppliers that have been working with the scorecard over the past year have any advantage over those that have just recently begun using it, when the scorecard officially launches in February?
Zettlemoyer-Lazar: As long as suppliers have been working toward our goals as a company and are becoming more sustainable, it will be reflected in the scorecard when their information is input and turned over to the buyers.
PW: In terms of the actual technical input of the packaging information into the scorecard, do you have any tips for suppliers to help that process go more smoothly?
Zettlemoyer-Lazar: The first step to filling out the scorecard is really to understand the questions. We have made the help text much more robust from the time the scorecard first launched on February 1 [2007]. We have taken all of the questions that our suppliers have sent to us and have answered them by improving the help text. That's the biggest piece: to understand the questions that we are asking and then begin to gather data. The questions are fairly simple. What are the materials? How much of each material is being used? How far has the packaging been transported?
PW: Is the Material Health and Safety metric for the scorecard still being developed?
Zettlemoyer-Lazar: We are still evaluating and discussing how all of the metrics will be weighted. Those decisions will definitely be made by February 1 [2008].
We have continued to meet as a network and to discuss how the metrics and weightings and equations may change. The questions that we ask on the scorecard have not changed and will not change, but the calculations that are done behind the scenes that don't impact what we are requesting from our suppliers are actually being modified and worked through as we speak. They have been for the last year.
PW: Have there been many other areas of the scorecard that have required tweaking or changing since it was launched last year? Are there any areas where Wal-Mart has gleaned additional information that was compelling enough to change some of the metrics?
Zettlemoyer-Lazar: It's not really additional information that has compelled us to change the metrics. When we launched the scorecard for supplier input in 2007, we knew that we were going to work on the metrics behind the scenes, and we communicated that to the suppliers. So it's just information that we have continued to gather.
We have requested life-cycle inventory information from trade associations, and as we get that, we are working through it and putting greenhouse gas emissions into the scorecard. The same thing is true with recovery and recycled content. As we get that information, we are putting it into the scorecard.
PW: Once the scorecard officially launches at the beginning of February, will you continue to make changes, if necessary?
Zettlemoyer-Lazar: If necessary, yes. We can continue to make changes, but whatever changes we make will be communicated clearly to our suppliers.
PW: In speaking of materials, does Wal-Mart still intend to replace polyvinyl chloride in its private-label packaging?
Zettlemoyer-Lazar: Yes. Wal-Mart made a commitment two years ago to replace PVC in our private-label packaging where possible. So far, we have been able to replace PVC packaging with alternate materials for 72 items. We will continue to do that as materials are available that perform at parity with PVC.
PW: What type of response and cooperation have you received from packaging equipment and material vendors?
Zettlemoyer-Lazar: They have actually been a part of our Sustainable Value Network for the last two years. They have provided some really valuable insight into developing the scorecard and into generating the questions used in the Virtual Trade Show.
PW: Recently, various environmental groups have leveled criticism at Wal-Mart's Packaging Scorecard. What is your response?
Zettlemoyer-Lazar: We realize that there is criticism of the scorecard currently. We have also received a lot of support, as well. We believe as a company that we are doing the right thing, and we are trying to track and measure the progress our suppliers and Wal-Mart are making toward our company goals and the impact that Wal-Mart has on the environment and on the supply chain.
We think that at this point, the packaging scorecard is the best tool to help us meet these goals as an initiative of the company. So criticism is, I guess, expected at Wal-Mart. But we also look to having support from our suppliers, and we are working to improve the scorecard at this point.
PW: Have you seen evidence that Wal-Mart's creation of the scorecard and its focus on sustainability are affecting other retailers and CPG companies that are not suppliers to Wal-Mart?
Zettlemoyer-Lazar: In an article that I just read today ["Environmental Initiative: Sonoco, changing the way retailers package their wares," TheState.com, South Carolina's Home Page, Ben Werner, Dec. 9, 2007], spokesman for The Sierra Club David Willett said that when Wal-Mart tells a supplier that it wants a change in packaging, that supplier will change all of its packaging. So, The Sierra Club is confident that we will be able to make an impact across retailers.
Right now, since the scorecard is not in effect and is not being used to make buying decisions, it would be difficult to say that it is changing packaging at other retailers. But, before a brand owner makes a change in their packaging, they need to consider the entire supply chain and all of their retail customers. Changing packaging just for Wal-Mart will drive inefficiencies. So it does seem to make sense that suppliers will make changes across the board, as long as these changes meet everybody's needs.
We share a lot of information with our indirect suppliers through the modeling software of the scorecard. Only our direct suppliers have access to the scorecard that's on Retail Link [the Wal-Mart/Sam's Club computer information system]. Working with ECRM, we have made a modeling version available that is not powered from Retail Link. Then we communicate information on that site to indirect suppliers.
The packaging field is huge, as you know. It's very difficult to communicate information to everybody at once.
PW: Do you have any other comments on the progress of the scorecard or on any sustainable packaging trends or indicators that you've seen over the last year?
Zettlemoyer-Lazar: It's been a really exciting time to be working in the packaging community and to be working with all of our suppliers. I think that the scorecard—and sustainability in general—has opened up great opportunities for dialog between raw materials suppliers, product suppliers, and the buyers at Wal-Mart, along with interaction with customers. Sustainability has given us more opportunity to have open dialog and to design a better product and package for the end user.
To view an additional sidebar to this story, got to: packworld.com/view-24569.
To listen to Packaging World's interview with Amy Zettlemoyer-Lazar, see Scorecard advice from the top.

 
Companies in this article