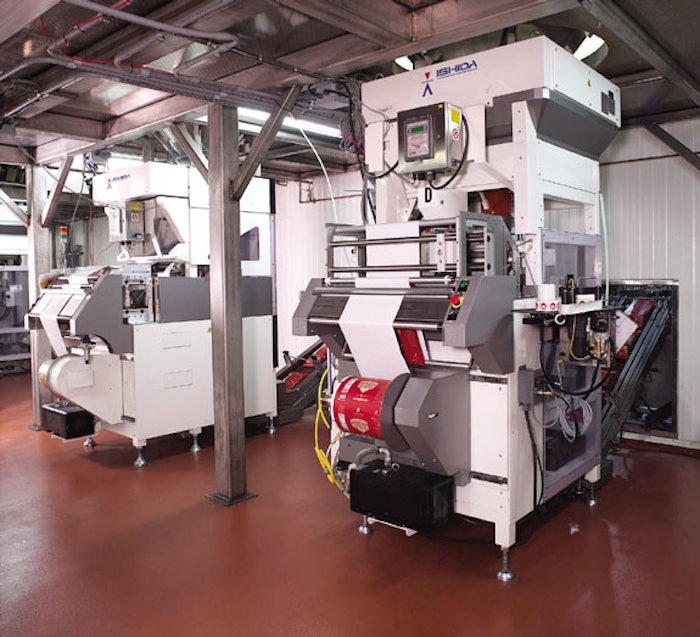 It was an opportunity for a fresh start for its fresh, gourmet popcorn and the chance to alleviate growing pains. That's why Dale and Thomas moved to a new facility in Englewood, NJ, in spring 2006: A 110,000-sq-ft showcase plant anchored by automated popcorn bagging operations. By September 2006, the facility was essentially fully operational.
"Just in time for the beginning of our busy holiday season," notes vice president of operations Steven Kaye.
Getting to that point was no easy task, but the company relied on Heat and Control for a turnkey installation that features six Ishida Astro baggers, each topped with an Ishida 14-head computerized combination netweighers. The install also includes the vendor's FastBack horizontal motion conveyors to quickly, but gently move the company's uniquely coated products throughout production to the baggers. One modification that Dale and Thomas selected for the baggers was a "low-ceiling bagger installation" related to the 12-ft-high mezzanine above the machines that permits operator access to the netweigher scales.
"The expansion was a very fast-track project," explains Glen Flook, Dale and Thomas COO. "We needed a turnkey installation with very short lead times. We needed a supplier that could deliver quality equipment, and that had the engineering and service capabilities to meet those demands. Heat and Control was able to step up and give us what we needed."
What it needed was a deadline-oriented packaging machinery vendor with reliable equipment capable of producing bags in sizes ranging from 1 oz to 16 oz. It operates the baggers at rates up to 60 bags/min for the smaller sizes and around 20 bags/min for the larger sizes, a speed that's only limited by its popcorn-making capability. According to Flook, the start-up was buttery smooth.
"The entire installation and start-up experience was outstanding," Flook says. "Despite the tight deadlines, the project was executed in time and let us meet some very substantial fourth-quarter business objectives."
Things didn't stop there. A year later, in fall 2007, the company added a seventh packaging station, an Ishida Atlas bagger, to help it meet additional demand in the convenience store and vending sales markets. The Atlas and Astro machines are interchangeable, says Kaye, but at 120 bags/min, the Atlas is much faster.
"The equipment is working exactly as promised," says Flook. "The conveying systems have reduced finished product waste by 50 percent, and the bagmaking equipment has reduced our film scrap by nearly 75 percent."
The company packs under its flagship Dale and Thomas premium brand sold at company stores and over the Internet as well as a vending and retail brand: Popcorn, Indiana. Sizes range from a 1-oz bag for vending sales to a 16-oz size for a BJ's or Costco club store. In between are 4 oz and 12 oz and other sizes for grocery chains and mass merchandisers, respectively, Kaye says.
About 98% of its total volume is packed in bags, versus other package formats such as gift tins. Kaye estimates that nearly 35% of its holiday-season-focused Dale and Thomas brand is tinned.
Kaye says the split between its two brands most of the year runs 80% to 90% in favor of Popcorn, Indiana. However, later in the year for the holidays, the split balances to 50/50. It produces a range of formulations, including chocolate chunk 'n carmel, though Kaye says its original kettle corn formulation outweighs all other flavors, including movie-style popcorn, by a 2:1 margin.
While it tries to minimize changeovers, it is compelled to make changes daily to each machine, Kaye says. That means changes to the product's weight and flow characteristics that affect bagging, along with bag size changes. "Each product runs differently, yet those are fairly simple changes from the machine standpoint," he says. "Each bagger stores about two-dozen product-package recipes that determine the weight, tolerances, and speed particular for that product. This helps assure that we have proper cost control and are not overfilling bags, and that the customer is receiving the proper-weight product." He says one touch of a button programs the bagger and scale parameters.
Another of the baggers' great features is Ethernet capability, Kaye reports. Although that feature has not yet been utilized, he says, "We're planning to electronically daisy-chain the baggers together to communicate and monitor weights and machine capacities through the PLC on the machines themselves via Ethernet."
As far as weigh accuracy is concerned, Kaye figures from what he has seen it is within 1.5%. Kaye believes that's great, considering popcorn is pretty difficult to handle anyway because of the large variability in popcorn itself. He also indicates that achieving higher speeds is a basic struggle against gravity.
The gravity of the situation
 "Popcorn tends to be a bit of a bear to run at super-high speeds because gravity just doesn't allow popcorn to fall real fast," Kaye explains. "Unlike jellybeans or nuts, you can't open a gate and have popcorn fall instantly through the former and into the bag. Popcorn is a very lightweight product to begin with, and coated popcorn is even slower. So 120 bags per minute is really the highest speed we can run." The smaller the bag, the higher the fill accuracy, he adds.
The bags are printed with variable information using Videojet Technologies DataFlex units that Kaye says have been "great performers."
A recent design change to its Dale and Thomas bags (see sidebar page 36) created areas reserved for variable printing of product name, weight, operator, and date code by a Videojet ink-jet coder. Similarly, the Popcorn, Indiana brand uses the same variable-printed data with the exception of the product name.
"That saves us significant rollstock and changeovers have become easy," says Kaye. "We changed over recently from two- to four-inch heads for even greater print flexibility with the size of the print area."
Kaye likes that the ink-jet units can accept picture graphics using JPEG or BitMap format files, a feature he says that Dale and Thomas intends to use in the future.
Every bagger has an assembly to accept an EPI Exact Packaging labeler. The plant has two labelers, added around mid-2007, used for special on-pack promotions and special events such as sports venues. The labelers are used mostly during the summer months when the company does a lot of promotions with minor league baseball teams, Kaye says. He notes that they experienced no operating issues after start-up.
Kaye says growth in 2007 tripled from 2006, and the company's wholesale sales will grow in 2008 as it adds majors like Wal-Mart and CVS as customers for its Popcorn, Indiana brand. Thanks to the company's productive baggers to meet growing demand, consumers will be better able to follow the company's motto: Share some. •
Companies in this article