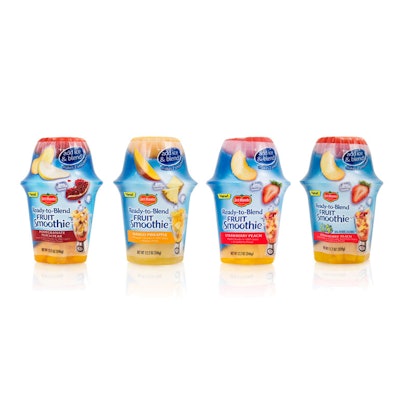 Del Monte believes it has solved that consumer dilemma with a new line of Ready-to-Blend Fruit Smoothie Kits. The all-in-one kits contain fruit chunks and puree; all consumers need to do is add ice, blend, and enjoy.
Del Monte markets the first-of-its-kind smoothies kits in the refrigerated produce section. Ready-to-Blend Fruit Smoothie is displayed next to ready-to-drink brands, so the design had to achieve two important objectives. First, it had to visually capture the delicious advantages of a make-it-yourself product. Second, it had to convey the added value that one Ready-to-Blend Fruit Smoothie makes two servings when ice is added.
The creative team, working with CBX, started by defining the brand's personality: simple, vibrant, and friendly. On the packaging, a graphic of a blender and the brand's prominent logo convey that some product preparation is required. Positioned under the Del Monte brand name, the logo's clean, modern typeface and vivid color palette add visual impact. The phrase "just add ice" on the cap further emphasizes the package is a starter kit.
Luscious fruit slices and ice cubes tumbling playfully into the blender and a vibrant blue background also bring forth the brand's personality.
"The result is a great solution for this unique product, instantly communicating refreshing, premium, and fun, while providing us with great shelf presence and visual appeal in a high-traffic area of the store where consumers look for healthy new items," says Bonnie McFarland, director of graphic design and packaging at Del Monte.