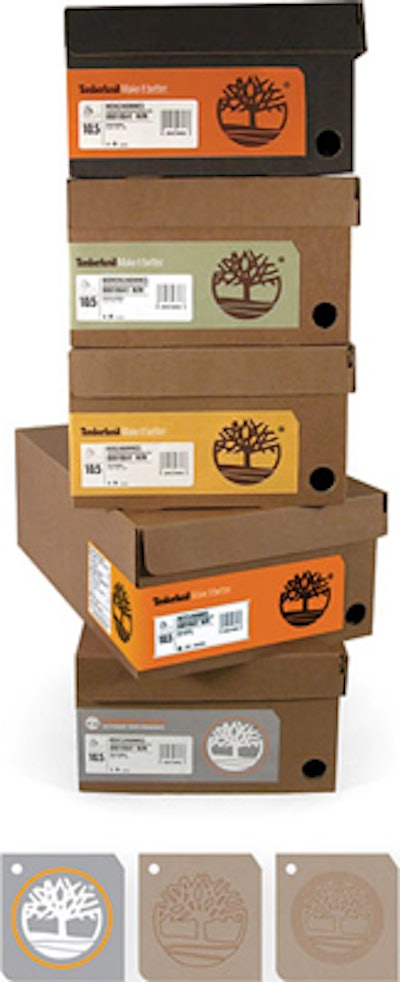 Bevan Bloemendaal, senior global director for creative services for Stratham, NH-based The Timberland Co. notes that the new one-piece boxes will include 100% recycled post-consumer waste fiber, will be printed with soy-based inks, and will hinge or lock together via die cuts. These will replace two-piece boxes that had to be glued together and included a clay coating. At press time, Timberland was finalizing box and label suppliers and specifications.
Much like a nutrition facts label on food packaging, the pressure-sensitive shoebox labels will include:
• An "environmental impact" section defining energy needed to make the shoe.
• A "community impact" section detailing the company's stance on child labor hours and community service.
• A "manufactured" section identifying country of origin and factory name.
Bloemendaal notes, "We'll use this box across all our categories," estimating that the company uses 30 million shoeboxes annually. He notes that Timberland expects to use 27 different box sizes to market its shoes. Retail prices range from $20-something for children's shoes to "in the $200s for limited products."
As of December 31, 2004 (year-end 2005 data was not available), Timberland operated 23 specialty retail stores and 56 factory outlet stores in the United States, and one factory outlet store in Puerto Rico. Timberland sells internationally through operating divisions in Europe, Asia, and Canada, with 105 specialty stores and shops, and 25 factory outlet stores in Europe and Asia.
Asked about the economics of the box switch, Bloemendaal says, "Actually, we are looking at a cost-neutral situation for the production of our boxes, so we are not adding an inordinate amount of expense. The focus is we're making it better, we're using better materials, a no-glue box construction, and we're also saying we want you to think about what kind of footprint will you leave in your own world, and the journey that you take." —Jim Butschli