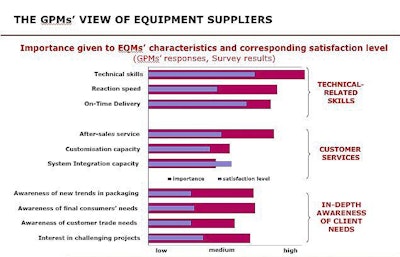 That was among the findings of a recent study called "Packaging Innovation among Multinationals: The Role of Global Packaging Managers and Equipment Manufacturers." The study was conducted by the Italian consultancy Prometeia on behalf of Ucima and ICE, the sponsors of Ipack-Ima 2006, the Italian packaging show held in Milan Feb 14-18.
The chart shown here shows how important packaging machinery buyers think certain characteristics are in the companies from whom they buy packaging machinery. In the categories identified as Technical Related Skills and Customer Service, machine builders are doing okay. But there's room for improvement in the category of In-depth Awareness of Client Needs.
The complete study is available at www.machinesitalia.org or by phoning the Italian Trade Commission at 888/482-5872.