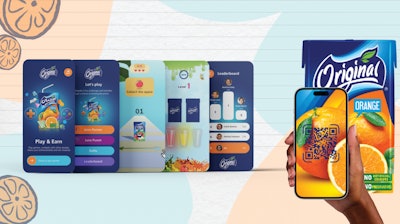 Consumers unlock these experiences by scanning on-pack QR codes with their smartphones. Brands can use these interactions to solve unique consumer education problems or address specific marketing goals.
In the first application, French West Indies fruit juice company Jus de Fruits Caraïbes, Schweppes International's exotic fruit drinks brand Banga, and aseptic carton packaging specialist Tetra Pak, tapped Appetite Creative to build a fun, interactive experience. The primary goal is to educate consumers on a packaging change, introducing them to the brick pack's new sustainability bona fides that come by way of a tethered cap. Since Banga is one of the first brands to deploy the new tethered caps, soon to be mandatory by the 2024 European Single Use Plastic Directive, Banga juice drinkers aren't likely to be familiar with the new closure style.
"What better way to introduce the new caps on the market than with a fun and educative experience," asks Cloé Morel, marketing manager at Tetra Pak.
The connected experience explains the pack format's environmental benefits, instructs on how to use the new tethered caps, and outlines the juice brand's other noteworthy environmental commitments. Consumers can complete a quiz to test their knowledge on how to recycle the beverage cartons, with a quiz leader board where winners can earn Banga branded prizes. Also, users can play a juice-related game, and every time users participate, a donation is made to a local children's charity.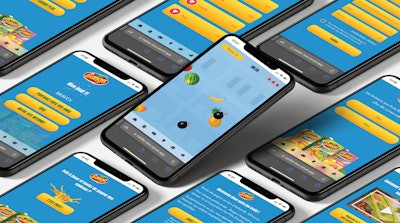 "We are proud to be the first local company to offer connected packaging thanks to the support of Tetra Pak. It was a new experience for us, and Appetite Creative was able to support us with absolute professionalism," says Cécile Bouvier, director of marketing R&D at Banga.
Gulf Union Foods Co. of Saudi Arabia, another juice producer, launched a connected packaging experience for its original juice brand carton packs to coincide with the start of the school year. The goal was to help consumers see Gulf Union's products as a vital part of their back-to-school preparations. Appetite worked side-by-side with the Riyadh-based agency Ability, who managed the media, communication strategies, and execution of the campaign.
By scanning the QR codes across the full range of Original and Zero carton packs, users can now play two juice-themed games designed to entertain and educate. The experience also offers shareable selfies, where users can adorn themselves with a fruity tiara or turn themselves into a mango. The games also have a leader board, ranking players to foster friendly competition. The connected packaging campaign runs across the full range of 125-mL, 200 mL, and 250-mL carton packs.
"We're pleased with this great interactive experience symbolizing the energetic boost Gulf Union's juices offered. We wanted to create a memorable and exciting experience for our younger consumers kicking off their studies with high energy and enthusiasm," says Imad Assi, marketing manager at Gulf Union Foods.
In both applications, the web apps go beyond branding and education—they deliver actionable intelligence and consumer data by tracking real-time interaction, such as buying habits, product preferences, average engagement time, location, scan rate, number of visitors, return visitor's and social media shares, including GDPR-compliant personal data to enable the brand to optimize its marketing and better understand consumers.

Companies in this article