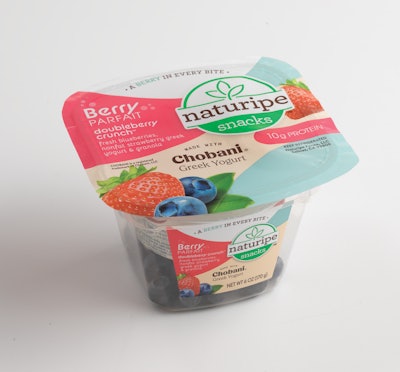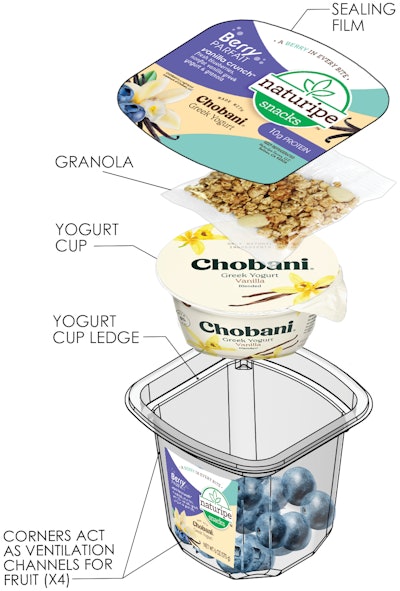 Naturipe is a farmer-owned grower and marketer of premium berries that, for more than 100 years, has been producing fresh, frozen, and value-added berry products. Because Naturipe's growers share with each other valuable resources, skills, labor, and knowledge, they improve themselves as farmers and, in turn, strengthen the local farming community. The partnership's focus on innovation and its large North and South American footprint ensures year-round availability of both conventional and organic fruit.
This past summer, the company launched its new Berry Parfait line of on-the-go snack packs, featuring Chobani® Yogurt, Naturipe® fresh berries, and film-wrapped granola, all within two nested cups that are sealed by a PET film closure. Each of the constituent ingredients is kept separate and uncompromised in-pack until the consumer decides to combine them into a crunchy, fresh, whole-fruit and yogurt snack.
"We've been trying to do something like this; it has been on our wish list for a long time. But we really wanted to offer something that set itself apart from the products that are currently out there," says Janis McIntosh, Director, Marketing Innovation & Sustainability at Naturipe. "One thing that slowed us down was that we were initially trying to utilize packaging formats that we already had. We kept asking ourselves, 'rather than reinventing the wheel, is there something already in our packaging landscape that we're already using that we could repurpose for a parfait?' Finally, we realized that this was going to have to be a whole new design. We couldn't make this work with [the packaging formats] we already had. We really had to think outside the box on this one," McIntosh recalls.
---
| | |
| --- | --- |
| | |
---
The decision to break from existing packaging ecosystem freed decision-makers to seek exactly what they wanted rather than make do with leftovers. They wanted something nice and clean that would clearly demonstrate that Naturipe had partnered with Chobani—a brand that people recognize, trust, and really like. They wanted a pack that would broadcast to consumers that there would be high-quality yogurt, as well as fresh berries, in each parfait.
"We knew that we had a win-win with our partners at Chobani," McIntosh says. "They'd never done anything like this either; a fresh produce project like this was unique for them." But just because Naturipe had determined to start fresh with a new pack design didn't mean that Chobani had to. "We wanted to do something unique and different, but we didn't want them to have to start from scratch on their side. So, the easiest thing was to ask them, 'What do you have that we can take advantage of for this important project?'"
Sure enough, Chobani was already producing a 4-oz traditional format polypropylene yogurt cup with a sealed foil closure that, notably, had originally been designed for airline foodservice situations. The 4-oz size would be workable as a starting point to build around. The Chobani pack was also in a prime position for important factors like calorie content and price point.
"Both Chobani and Naturipe are all about health, and we're always innovating around healthy snacks that hit a certain level of calories and nutrients," McIntosh says. "This 4-oz Chobani cup was perfect for us because we knew we were going to be pairing it with granola and berries, both of which are bringing some calories of their own to the table."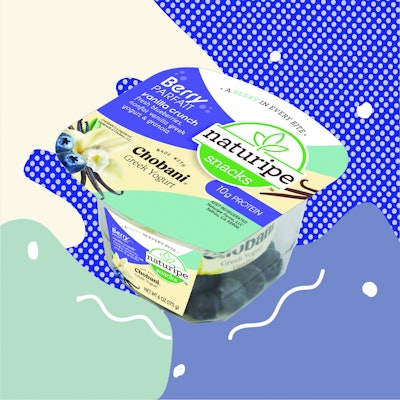 The Chobani cup's closure circumference is the same as its more familiar and larger 5.3-oz cups, allowing them to be heat sealed on existing packaging equipment. The only change for the targeted cups is their depth—the 4-oz pack is simply a shallower version. That got the Naturipe innovation team thinking. If the short Chobani cup were nested in a larger, deeper thermoformed cup, the enclosed yogurt pack would occupy the head space of the outer cup. But there would also be an open cavity underneath the cup that could contain berries. This then-theoretical outer cup, in which the finished Chobani cup would nest, would need to be molded with a shelf or flange around its upper circumference on which the inner cup's closure neck could rest. When nested, it would rest above the empty cavity beneath it.
"We looked at what's currently on the shelf in terms of height and realized, 'Well, why don't we just put our berries at the bottom of a slightly larger cup, and nest the Chobani cup above?' Our biggest challenge was determining how much head space we would need in that cavity to accommodate berries that sometimes come in different sizes throughout the year."
Building the perfect cup
The R&D process was an iterative one; nine different size and shape tests into the project, McIntosh and her team narrowed in on one that they felt would accommodate all the various growing regions' berry sizes.
"We just didn't know how the berries were going to sit," McIntosh says. "The biggest consideration was to make sure the berries sit well and comfortably, so that was the driving force behind all those iterations. It was all about protecting the berries."
But the space beneath the yogurt cup wasn't the only consideration. There also needed to be space above the yogurt that would carry a flow-wrapped pack of granola. After all, what's a berry parfait without the crunch?
Not every granola supplier had the equipment to produce the mini-sized film packs Naturipe was looking for. The flow-wrapped granola pack needed for this project was a challenge. A high-barrier BOPP film material protects crunchy granola from moisture that could come from the berries in the pack or could result from temperature-based condensation in transit or retail display.
Yet another challenge that would affect the final pack format was a unique need shared by two specialty channels into which Naturipe intended to sell. Beyond traditional retail requirements, both convenience store and airline customers—key target markets for these berry parfaits—required these packs to include a spoon to make them self-contained and on-the-go friendly. Luckily, the wooden spoon form factor was thin enough that it would fit into the cup's headspace, above the yogurt and below the granola pouch, before sealing. "The varieties that have a spoon included actually depict a spoon on the front label," McIntosh says.
With dimensions sorted, Naturipe opted for clear PET instead of the typical PP yogurt style cup. It's a favorite material for the berry industry [more on that on page 32], plus its transparent nature allows consumers to get a good look at the farm fresh berries, which Naturipe would say are the star of the show. The visible berries are a big distinguishing factor in the parfait system compared to pre-mixed fresh yogurt and berries. Also, the transparent PET allows for the immediately recognizable Chobani brand name—as printed on the existing Chobani pack's label—to clearly show through on a retail shelf.
Geometrically, the inner Chobani cup is cylindrical, but the outer PET cup uses squarer panels around its cylindrical yogurt cup contents. The closure shape on top of the PET cup is also more square-shaped than the circular yogurt closure within.
To take this idea from drawing board to reality, Naturipe worked closely with a thermoforming partner. The company was able to three-dimensionally model and validate how the cups and components would nest together, long before any expensive metal molds needed to be cut, and potentially, scrapped. Naturipe chose not to reveal any of its packaging material or equipment suppliers.
Automation on the packaging line
Finished Chobani packs and granola flow-wrapped packs are received from supply partners as inputs to the Naturipe facility and Berry Parfait packaging line. Those packs already have date codes on them as they enter the facility, but the shelf-life bottleneck will almost always be the fresh berry-containing finished pack system.
The more standard packaging operations around the Berry Parfait lines are as automated as you'd expect. Berry filling of the transparent PET cup with a linear scale filler starts the process. Again, no equipment manufacturers were named.
While some upstream and downstream processes are automated, the assembly of the individual components together before the top seal remains a manual process. Since the package system was invented basically from whole cloth, there isn't any standard, off-the-shelf equipment that could handle the task. But that may not always be the case.
Downstream case packing is also manual. Future equipment added to this area of the packing line, to automate the step marrying yogurt cup to outer PET cup, will need to be able to handle cold-room temperatures around 32°F to accommodate yogurt.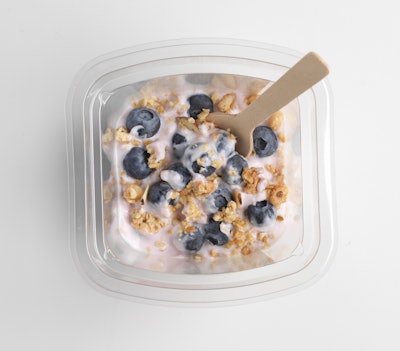 Labeling evolution and secondary packaging
Speaking of cold-room needs, temperature will have an impact on labeling. Currently, labeling on the pack consists of two traditional pressure-sensitive labels—an outward-facing branded label on the front, and a Nutrition Facts label on the back. Labels are flexographically printed in nine colors for plenty of color variety. However, with sustainability in mind, the berry industry as a whole is changing its approach to labeling.
"All of the berry industry is moving into wash-away BOPP labels with sustainable adhesive," McIntosh says. "The adhesives we use must be approved by the The Association of Plastics Recyclers (APR)."
Secondary packaging currently is six Berry Parfait packs to a corrugated case, which is a standard, one-color RSC case with white print. McIntosh says that six packs per case is a format that meets the requirements of both large retailers and smaller specialty channels, like C-store or smaller format retailers. With packs designed to stand up within a printed paperboard carton, these Berry Parfait packs are fairly robust and self-contained, and with a mostly square profile, are substantial by themselves on the shelf.
"This case format is the sweet spot for now," McIntosh says. "If we ever do something like a variety pack, or maybe a larger pack for club stores in the future, then I could see us exploring different formats."
Product rollout and more new products ahead
The 6-oz Berry Parfaits are available in two flavors: Doubleberry Crunch™ featuring fresh Naturipe Blueberries, Chobani's non-fat strawberry Greek yogurt, and granola; or Vanilla Crunch™ containing fresh Naturipe Blueberries, Chobani's non-fat vanilla Greek yogurt, and granola. Each Berry Parfait provides 10 g of protein and is 170 calories or less.
"This Berry Parfait is just one of the new products Naturipe has coming down the pipeline. We are eager to bring this innovative product to the market. Making sure consumers have the best snacking experience possible is a top priority. Additionally, we are proud to keep working towards reducing our plastic waste and becoming more sustainable throughout our supply chains. Keep your eyes out for more exciting and healthy snacking news from us," adds CarrieAnn Arias, Vice President of Marketing for Naturipe.
Berry Parfaits are available now in select retailers and specialty channels, with or without a spoon, for less than $4. -PW