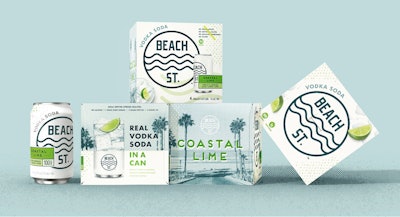 Beverage packaging design teams have been very busy of late refreshing outdated package designs, launching packaging for new products, and creating engaging, limited-edition designs for summer campaigns. This is especially so in the beverage segment, where consumers have been eagerly awaiting the opportunity to gather and celebrate at picnics, parties, pools, and concerts, after a long separation from friends, with a cold drink in hand.
Following, in no particular order, are five new beverage package designs launched beginning in May 2021 that conjure up summer moments.
1. Sprite labels provide virtual summer concert access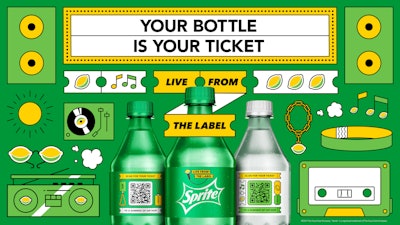 Sprite is teaming up with three of hip hop's hottest names to spotlight three up-and-coming opening acts this summer with the Live From The Label virtual concert series. The brand will kick off the program in Atlanta with a performance by Latto, the city's first solo female rapper to go gold and platinum, on July 29 via the Stage 1 Sprite bottle. The second show takes place on the West Coast on Aug. 12 via the Stage 2 bottle with multi-platinum-selling songwriter and rapper, Saweetie, and the final Stage 3 headliner will be announced later this summer.
Fans can score access to the livestreams with purchase of 20-oz Live From The Label bottles of Sprite or Sprite Zero Sugar. Launched on shelves nationwide in late June, the bottles feature QR codes that can be scanned to unlock the livestream concerts, replays of previous shows, exclusive merch giveaways, and reminders for future shows.
---
---
"With the Sprite Live From The Label series, your bottle is your ticket," says Terika Fasakin, Sprite Brand Director. "We saw the opportunity to capitalize on the rising popularity of QR codes and livestream concerts, which both have boomed during the pandemic. And seeing how artists integrated into the digital space in creative ways during the pandemic, inspired us and gave us more credence to push forward."
"It's summer, it's Sprite, it's hip-hop," says Aaliyah Shafiq Ely, Category Lead, Sparkling Flavors. "Music is so instrumental to summer—from festivals to block parties, to tunes blasting from car stereos—and, given the brand's rich heritage, we wanted to present the best possible version of a summer hip-hop experience we could in these still-uncertain times."
2. American Vintners invites consumers to sip into summer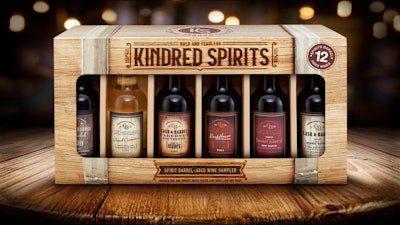 Monterey County, Calif.-based American Vintners produces a portfolio of hand-crafted premium wines that include everything from "mouthwatering Moscatos to bold bourbon-barrel reds." Throughout the year, the winery releases themed, seasonal collections that include an assortment of its wine brands and varietals in smaller bottles.
Following the success of its Christmas and Valentine's Day collections, American Vintners introduced its Kindred Spirits collection in early June, just in time for summer grilling and Father's Day celebrations. The kit includes a variety from the company's Cask & Barrel brand of bourbon-barrel-aged red wines that pair perfectly with beef and barbecue.
To create the new package design, American Vintners worked with Studio One Eleven, the in-house design division of Berlin Packaging, which also did the Valentine's Day collection. For the summertime collection, the studio began by ideating a range of themes and came up with the name Kindred Spirits, a nod to Cask & Barrel's ties to bourbon. The beverage packaging design team created graphics that borrow cues from the spirits category, including wood barrel details, earth tones, and bold fonts.
Berlin sourced the 187-mL clear glass bottles that complement the wine varietals, with a screw-top closure that makes them easy to open and reseal at home or on the go. The collection will be available through September 2021.

3. Tequila seltzer can design conjures 'south of the border vacation'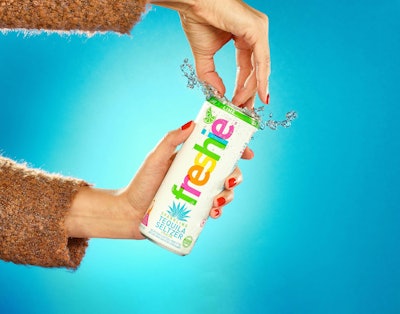 When the entrepreneurs behind Freshie, the first certified organic silver tequila seltzer, sought an indelible identity for their new beverage, they turned to Affinity Creative Group. Freshie founders Paige and Ryne Iseminger say they wanted to quickly convey the fun, lively, and adventurous feeling of a south-of-the-border vacation, while also communicating the use of genuine, unadulterated, and pure ingredients. The challenge: to get all of that messaging to fit on a slim, 12-oz aluminum can.
According to Affinity, the group quickly went to work exploring a range of design solutions to visually communicate the distinctive set of attributes that sets this product apart from a growing field of competitors. "Ultimately, after exploring a range of options, the branding and packaging design solution emerged in a simple yet brilliant form," it says.

---
---
The Freshie name itself embodies fun, lively energy. Affinity designers unlocked that dynamism through the use of bold typography, vibrant color, and a memorable design layout. Now, say the designers, the brand name in itself personifies and projects the vibe of Mexico—"A south- of-the-border holiday state of mind." It adds that the expressive, colorful, overlapping translucent letterforms, combined with graphically depicted ingredients and a scattering of effervescent bubbles completes the total package.
Says Paige Iseminger, "As a designer myself, I knew it was no easy task to get the look and feel we wanted on that little can. The Affinity team made it happen though, much to our delightful surprise. Ryne and I are so pleased with the outcome—the branding screams fun while projecting a high degree of credibility, particularly with regard to our use of all-natural and organic ingredients. Affinity Creative truly helped us say adventure, fun, and outstanding quality, all on the smallest of packaging formats."
4. New Beach St. Vodka cocktail evokes the sand, sea, and sky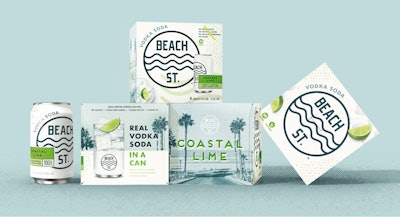 Say Los Angeles-based Chase Design Group, "It's always summer on Beach St. Which is why groovy beach vibes and sun-drenched coastal signage inspire the look and feel of packaging for the new Beach St. Vodka Soda beverage from Christopher Michael Brands." Beach St. is sold in cans with an outer cardboard box.
Created by Chase, the package design for the beverage, sold in cans with an outer carton, includes a custom logo that consists of simple, linear waves and modern sans serif font, reminiscent of familiar beach signage, but also serving as a mnemonic device. The blue logo represents the ocean, while the pure white background communicates the purity of the product. Central to the focus of the design, it creates a memorable image in a sea of hard seltzers. Beach St. positions the product, with 1g of cane sugar, no preservatives, no artificial colors or sweeteners, no gluten, and 100 calories per can, as a better-for-you alternative.
"As a new entry in the market, Beach St. needed to communicate its major point-of-difference, that it's vodka-based, not beer," says Dave Carlino, Senior Design Director, Chase Design Group. "The name, the logo, and the supporting graphics and language all work together to communicate a refreshing drink fit for a sun-soaked afternoon. The large logo pops off the white package while 'Vodka Soda' is clearly called out on both the can and the outer box."
---
---
Refreshing, appetizing visuals on the outer package design include a half-can/half-cocktail glass graphic, while the front of the pack features an overhead image of an icy cocktail glass garnished with flavor cues indicating the four choices: Coastal Lime, Cranberry Splash, Ruby Red Orange, and Glacier Berry. Vintage California lifestyle photography completes the simple, refreshing vibes.
According to Stephen Goodridge, Co-Founder, Christopher Michael Brands, "Our collaboration with Chase Design Group resulted in a fun and memorable design that pays tribute to the classic California style while also communicating the superior quality of Beach St. over other hard seltzers."
5. Coca-Cola cans seek to inspire summer rituals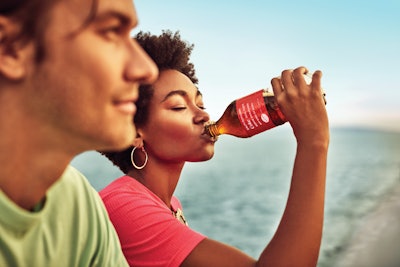 According to The Coca-Cola Co., "No matter how you plan to enjoy summer 2021, one thing's for sure: summer moments taste better with a Coca-Cola in home." Therefore, in celebration of summer rituals "that will be appreciated this year more than ever before," Coke has launched new beverage package designs on the Coca-Cola and Coca-Coca Zero Sugar 20-oz bottles.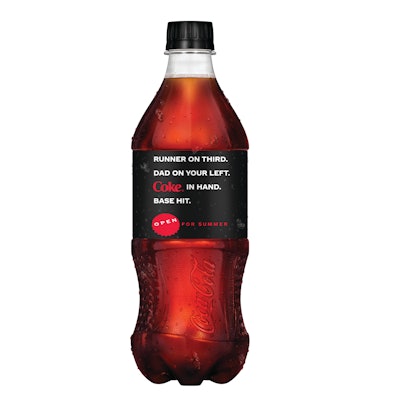 The on-package tagline, "Open for Summer," invites Coca-Cola consumers to "open up" an ice-cold Coke to access summer feels and to inspire the summer rituals that they have missed.
Each 20-oz bottle features a poem for consumers to engage around summer moments and to encourage them to embrace the joy and uplift that makes the season unforgettable. "With 24 poems in total, every time you open an ice-cold Coke, you will open a unique summertime feeling—backyard BBQs, movie nights, baseball games, and family beach visits, to name a few."
Six of the 24 poems are also on fridge packs and on 24-oz and 1- and 2-L bottles.
The new package designs launched in mid-May and available through August 8 everywhere Coca-Cola products are sold.
---
PACK EXPO Las Vegas and Healthcare Packaging EXPO (Sept. 27-29, Las Vegas Convention Center) will reunite the packaging and processing community. With over 1400 exhibitors, no other event in 2021 will bring together a more comprehensive gathering of suppliers offering new products, technologies, and solutions. Attendee registration is now open.
Companies in this article