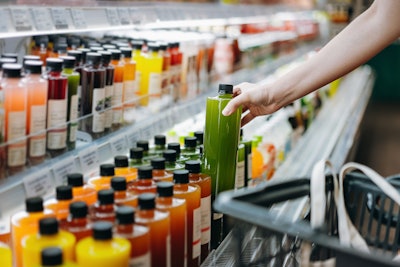 Getty
While convenient packaging formats and premiumization have been driving changes in the beverage market, functional offerings are the latest consumer demand driving some of the biggest change, as consumers look for beverages that can improve their daily health in convenient formats, while catering to their active routines.
Thirty-five percent of consumers are turning to beverages as a way to incorporate functional ingredients into their diets, according to PMMI Business Intelligence's new report "2021 Beverage Trends Driving Change." And beverages that regulate mood, improve mental fitness, and promote physical performance are becoming increasingly popular with consumers.
In addition, consumers want to consume these offerings in convenient formats such as single-serve and ready-to-drink (RTD) packaging. These categories are experiencing robust growth, with RTD beverages slated to grow at a CAGR of 6.1% over the next five years, and functional beverages expected to expand at a CAGR of 8.6% in the next five years. "We continue to seek new flavors, healthier ingredients, and new packaging for greater consumer appeal to meet increasing competition," said one Packaging Engineer.
Smaller sizes and easily consumable formats provide added convenience to consumers, but they often create new challenges for beverage manufacturers. To keep up with demand for these products, beverage producers often have to run at higher rates of efficiency - higher speeds, maximized uptime, continuous production, or a combination of all of these factors.
---
---
Functional Offerings
Beverages that regulate mental faculties (called nootropics) and beverages that help balance physical body functions (such as prebiotics, probiotics, and postbiotics) are growing in popularity. A recent survey found that 24% of consumers are specifically turning to food and beverages as a source of probiotics in their diets. And while the digestive health market is currently five times larger than the brain health market, the category of nootropics is rapidly gaining traction and has significant room to grow. To incorporate these new functional aspects into beverages, manufacturers are introducing new ingredients or even entirely new offerings into their portfolios. In many cases, new ingredients necessitate packaging alterations for better preservation, as they are often more sensitive to environmental factors.
Changes in thickness, opacity, chemical composition, or even entirely new materials may require adjustments to production setup. Much like sustainability initiatives, these packaging changes are ongoing and dynamic, and have pushed beverage manufacturers to seek out machines that are highly flexible to accommodate current and future changes to the size, shape, and composition of packaging materials. In addition to packaging, some of these ingredient formulations and new product offerings create new ranges of viscosity and acidity for beverage manufacturers to contend with as they transition from one recipe to another.
Said one Packaging Manager of Food Safety and Innovation, "We need our OEMs to be able to evaluate the entire line instead of one piece of equipment at a time, offering turnkey solutions that reduce manual labor and manual errors."
---
---
Premiumization
Some beverage manufacturers are seeking to give their products a premium look and feel by using glass or metal, or with novel shapes and closures. In addition, manufacturers are using labeling as a way to convey premiumization: high gloss/high color offerings, intricate label art produced by known artists, and limited time or collectible labels are all being utilized for these new offerings. "Glass is still in demand for premium products, even though freight costs are variable as the price of oil is increasing; some customers are moving to cans to reduce costs," said one Co-Packer CEO.
Download this FREE report below.
Source: PMMI Business Intelligence, "2021 Beverage Trends Driving Change"
PACK EXPO Las Vegas and Healthcare Packaging EXPO (Sept. 27-29, Las Vegas Convention Center) will reunite the packaging and processing community. With over 1400 exhibitors, no other event in 2021 will bring together a more comprehensive gathering of suppliers offering new products, technologies and solutions. Attendee registration is now open.