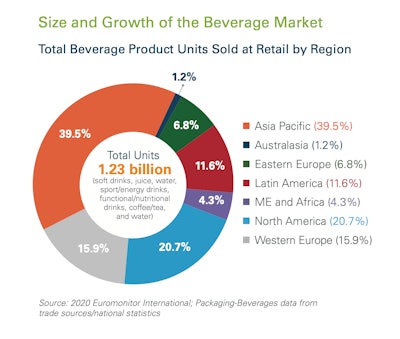 2021 Beverage Trends Driving Change
In the coming years, beverage manufacturers will be striving to meet consumer demands for more sustainable packaging, functional and convenient beverage formats, and healthier product offerings. As beverage consumers have become more discerning in their purchases, manufacturers have had to make adjustments - from the basic formulation of their products to offering more sustainable or protective packaging.
A new report by PMMI Business Intelligence (which covers soft drinks, juice, water, sport/ energy drinks, functional/nutritional drinks, coffee/tea, and water, but does not include alcoholic beverages and dairy products) states that consumers are looking for beverage products that provide added functionality to their lives, enhance their overall health, and are available in convenient formats.
They are also increasingly concerned about the sustainability of beverage packaging, and 89% of the companies interviewed say they want to incorporate more recycled plastic materials in their packaging to reduce global plastic pollution.
---
---
These trends have led to a significant expansion of SKUs in the beverage industry, as manufacturers roll out new products, new formats, and new packaging to adapt to consumer desires. The beverage market in the US is expected to grow 5.21% by 2025, with 6% growth globally in the same timeframe. According to Euromonitor, in 2020 there were 1.23 billion total units sold, most in Asia Pacific (39.5%), North America (20.7%), and Western Europe (15.9%).
To keep up with this growth, beverage manufacturers will be focusing on trying to keep up with consumer demands and trends while maintaining production capacity, sourcing ingredients and materials in the supply chain, keeping skilled labor, and upgrading outdated technology.
Download this FREE report below. (Download may not work in Chrome with ad blockers.)

Source: PMMI Business Intelligence, "2021 Beverage Trends Driving Change"
PACK EXPO Las Vegas and Healthcare Packaging EXPO (Sept. 27-29, Las Vegas Convention Center) will reunite the packaging and processing community, offering new products, technologies and solutions, while implementing up-to-date protocols for a safe and successful in-person event. Attendee registration is open.