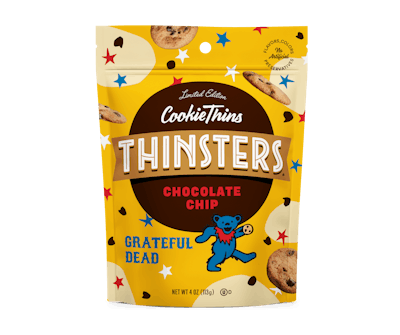 Thinsters, a thin and crunchy cookie brand made with real ingredients, is expressing its gratitude in a harmonious way, says the company. In June it released a limited-edition package in a partnership with the Grateful Dead in an effort to bring music and cookie lovers together. Notes Thinsters, a band with a cross-generational following that's resurged among millennials, the Grateful Dead is one of the most iconic bands in America.
To give Grateful Dead fans the flavor trip of the summer, Thinsters Chocolate Chip and Toasted Coconut flavors feature the iconic Grateful Dead Bear embracing a cookie on the front, while the back commemorates their career and influence on America. For an SRP of $3.99, the limited edition bags are available through August 2019 at retailers nationwide, including Kroger, Safeway, and Albertson's.
Thinsters is celebrating the packaging with a social media program that encourages fans to share a photo with Thinsters Grateful Dead bags. Fans can post with the hashtag #GratefulThinsters to join the community of online fans supporting the partnership.
"Grateful Dead created a genre of music all their own by blending the ingredients of tradition, independence, and authenticity. Thinsters strives for the same values, and we hope that doing so will bring people together over the joyful bite of a cookie," says Kevin Joseph, VP Marketing for Thinsters. "This synergetic collaboration commemorates the Grateful Dead's career and their impact on American music. Thank you to the whole Warner Music Artist Services group for making magic happen."