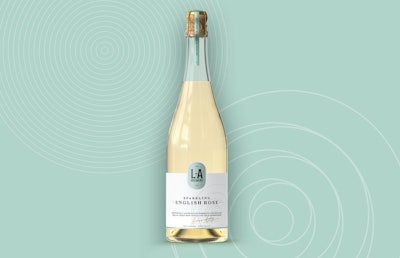 British kombucha brand L.A Brewery of Suffolk, England, is launching a new Sparkling English Rose variant that takes its cues from traditional champagne bottle designs. L.A Brewery produces naturally effervescent, non-alcoholic drinks and was founded by kombucha-brewing expert Louise Avery.
The design and branding for the new flavour was done by Here Design and builds on a longstanding relationship between the two companies, which have been working together since L.A Brewery's initial launch in 2017.
---
Read more stories on new product package design from Packaging World at:
'Haircare for Foodies' Gets Equally Appetizing Packaging
Nostalgia, Modern Art, and High-Tech Coalesce in Skincare Sampler Pack
From Dark to Light: Hope in a Jar
---
The new Sparkling English Rose is brewed with a blend of White Monkey and Assam teas and is infused with aromatic organic white rose petals from Devon. According to L.A Brewery, it balances fresh zest acidity with floral notes and has a dry finish, making it reminiscent of a wildflower champagne.
Says Here Design, its design for the new kombucha variety celebrates L.A Brewery's key purpose: to provide potent natural drinks that reinvent temperance for the 21st century drinker. The Sparkling English Rose design pays homage to traditional category cues from the world of champagne, which include a long, curved bottle and a muselet, or metal caged cork, making the opening of the bottle "elegantly ceremonious." The sophisticated aesthetic emphasises the celebratory aspect of the drink, delivering all of the experience but none of the alcohol.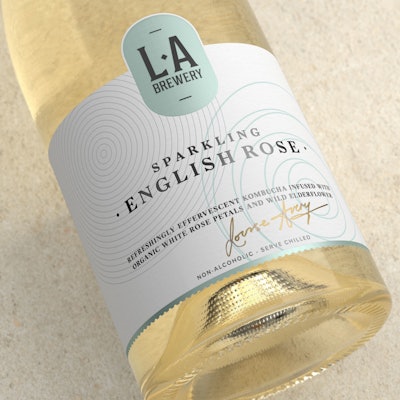 Says Louise Avery, L.A Brewery founder, "I've always enjoyed working with the Here Design team. They have such enthusiasm for each project, and they really understand me, my brand, and the fascinating world of kombucha and all of the opportunities for experimentation that it provides. I can't wait to see what our customers think of our new drink."
The Sparkling English Rose is also being released alongside a new Hops variant, with packaging also designed by Here. Together these new launches extend L.A Brewery's range of drinks to appeal to consumers in search of sophisticated alcohol alternatives that pack potent flavours and cater to complex palates.
Says Here Design Strategy Partner Tess Wicksteed, "We love working with passionate entrepreneurs like Louise, and we're thrilled to have continued our relationship with the creation of L.A Brewery Sparkling English Rose. Being able to create this beautiful, life-enriching variant and the wider L.A Brewery brand with Louise is a perfect example of our studio philosophy—to create beautiful and useful things with a clear purpose; in this case, reinventing temperance."
L.A Brewery Sparkling English Rose is available Amazon and the L.A Brewery online shop, in a 750-mL glass bottle format with an SRP of £10 (approximately US$12).
Companies in this article