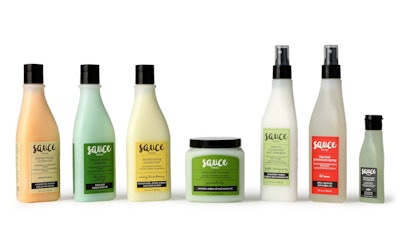 A tasty trend has taken over the beauty products aisle: food-inspired formulations using fresh ingredients like fruits, vegetables, and herbs. Finding their way into a range of personal care products are food items such as beets, kale, watermelon, ginger, and mint—just to name a few. In 2018, beauty products veteran and cooking enthusiast Andy Rah combined his two passions to launch a line of haircare products inspired by recipes from around the globe.
Referred to by the company as "haircare for foodies," Sauce Beauty comprises eight formulations that use natural ingredients such as cayenne, argan oil, buttermilk, Greek yogurt, and banana to moisturize, repair, and protect hair. Mouthwatering, recipe-inspired names include Island Marinade, Chimichurri Mint Tingle, Guacamole Whip, and Coconut Cream, among others.
In launching the line, Rah sought packaging that would excite retailers and consumers alike and would speak to the fresh kitchen staples found in the products. The right packaging would also provide an imaginative way to draw attention to Rah's "accessible luxury" products, which sell for around $9.99, as opposed to the more expensive, high-end products he used to market through salon and prestige retail channels. 
"It's not like when I was at major beauty companies where you can launch a new brand and put $20 million of advertising behind it," he says. "I really needed packaging that would speak to the consumer and make her want to pick the product up and see what it's all about."
To cook up the perfect packaging, Rah met with TricorBraun's Design & Engineering Team, laying out to them the Sauce Beauty concept, along with his aesthetic and functional requirements for the package design. Structurally, he wanted the packaging to "look like something you would find in the grocery store," specifically a design reminiscent of high-end olive oil or salad dressing bottles.
Functionally, "all the products needed to fit within a 19-inch shelf space, requiring that the bottles remain slender from the left to right dimension, while also providing ample shelf impression," explains TricorBraun Industrial Designer Chelsea Baird. 
Addressing Rah's vision, Baird brainstormed ideas, building a story around each, and presented them to Rah. One particular design—a vintage milk bottle-inspired look with a triangular profile—grabbed his attention, he says, because it immediately transported him to a grocery store aisle while providing the right style to go along with the products' lively product names. The triangular profile also allowed space for large embossing of the Sauce name on the side. 
"High-end food and wine bottles have embossed logos, which makes them very recognizable and custom," Rah says. "I wanted that same level of quality and customization." On a practical level, the design also appealed to him because he believed the unique bottle shape would make the products "jump off the shelf" and into consumers' shopping baskets.
Upon approval of the design, Baird collaborated with Product Design Engineer Jay Lee, who worked to ensure the bottle was manufacturable and adjusted the design to optimize filling and labeling efficiencies. Says Lee, "Sometimes the aesthetic of the package design requires major modifications for manufacturability during the engineering phase. This time, we were able to keep the aesthetics as close as possible, which pleased the customer and allowed for a quick turnaround."
The high-density polyethylene bottle is being manufactured by Altira in 2-, 8-, and 10-oz sizes; Sauce Beauty also offers product in a 12-oz stock bottle with custom embossing, also from Altira. The only product in a completely different style of package is Sauce Beauty's Guacamole Whip deep moisture mask, packaged in a triangular jar to allow consumers to dip their fingers into it.
Since their launch in late 2018, Sauce Beauty products have only gained in popularity. They are sold through the company's website and on Amazon, as well as on a number of specialty sites such as Naturallycurly.com, Well.ca, UrbanOutfitters.com, and others.