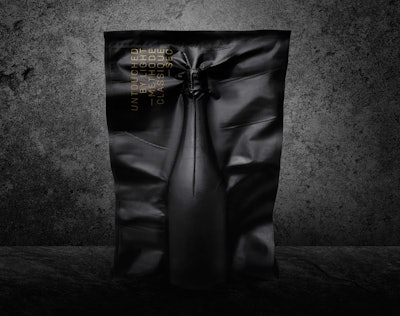 Harvested, aged, and packaged in the dark, a new sparkling wine from Slovenian wine producer Radgonske gorice is made using what the wine producer is calling the "Crafted in Darkness" method to eliminate the light-struck aromas, or off-flavors, that result from exposure to daylight or artificial lighting.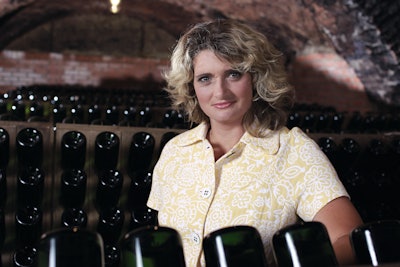 According to Klavdija Topolovec Špur, Enologist—or winemaking specialist—for Radgonske gorice, the idea for the unique wine product was suggested by the winery's creative agency, Bruketa&Žinić&Grey, after Radgonske gorice turned to them for a new label design. "During the process of their research, they came across Ann C. Noble's sensory study of the effect of fluorescent light on a sparkling wine and its base wine in the American Journal of Enology and Viticulture," says Topolovec Špur. "This was an insight that led them to the idea of a completely new sparkling wine, Untouched by Light. We liked their idea and decided to make it happen."
According to Noble's research, when wine is exposed to daylight or artificial lighting, the intensity of the wine's citrus aromas decreases, while the intensity of "cooked cabbage or wet dog aromas" increases.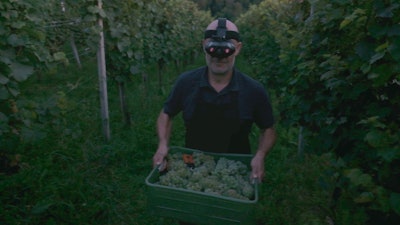 To ensure its new sparkling wine, Untouched by Light, remains in absolute darkness throughout the production process, Radgonske gorice picks the Chardonnay grapes for the wine in the dark—"on moonless nights," it adds—handles the wine in conditions void of light, with workers wearing night vision goggles, and matures the wine for up to three years in dark cellars hidden in the caves of Gornja Radgona, Slovenia. Packaging for the wine consists of a black bottle vacuum-packed in a black bag.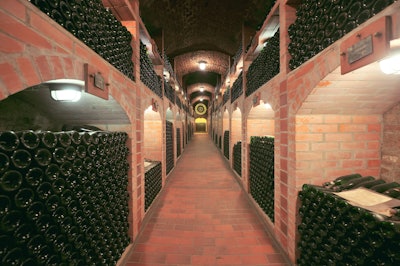 The first batch of wine, made from grapes harvested in September 2018, will be available in 2020. Topolovec Špur explains that the 750-mL bottle in which the wine will be filled is just 0.2% away from being 100% black, due to impurities in the glass. Radgonske gorice is discussing additional protection of the entire glass bottle during filling.
The wine will be packaged using Radgonske gorice's existing equipment, which includes fully-automated filling and semi-automated disgorgement. (Disgorgement involves opening the bottle, removing the pellet of frozen yeast that forms during fermentation of sparkling wine, then recorking the bottle for sale.)
Topolovec Špur says the wine will also require some manual packaging as well, including the application of the vacuum bag over the bottle. "We will have minimum lighting during the vacuum process because of the great precision needed, but because the glass bottle is black and will probably also have foil protection, the light will not be able to penetrate it," she explains.
The black bag is made from a multilayer construction of PET/aluminum/polyethylene and will be digitally printed and varnished. Radgonske gorice is still finalizing suppliers for both the bottle and the bag.
While the wine will not launch until next year, the wine producer began taking pre-orders in summer 2019 and already has 200 orders lined up from distributors and media. The wine will be available globally for Є100 (roughly US$111) through the Untouched by Light website and will be distributed via the same channels as Radgonske gorice's other brands, with a focus on the U.S. and the U.K
Says Topolovec Špur of the number of pre-orders, "This is more interest than we expected. Of course, there are always skeptics saying this is only a marketing stunt, but we stand behind the concepts and the reasons for it, and our experience as well as research shows this idea is justified."

Companies in this article