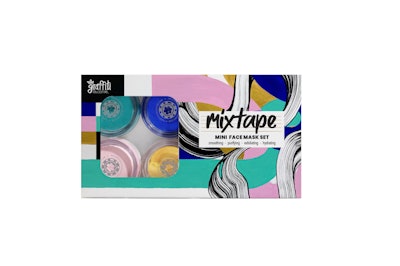 Skincare brand Graffiti Collective has taken a clever approach to a skincare sampler of its vegan masks with packaging that melds New York City's urban art scene, the resurgence of the '90s, and an Augmented Reality feature, for a vibrant, fun, and interactive experience. Founder and CEO Sheila Patel launched the indie skincare brand in 2017, combining her knowledge of the efficacy of plant-based ingredients—learned through her Indian American heritage—with her passion for the art and music scene of New York City to create a colorful line of masks based on "safe science" that are packaged in street swag-inspired boxes.
The Graffiti Collection comprises four skincare masks in 3-oz plastic pots, sold as singles and in gift sets, and, as of November 2018, in a four-pack sampler, the Mixtape Mask Set. As the name implies, the sampler is inspired—both in concept and in appearance—by music playlists on cassette and includes four 0.25-oz clear pots, each one holding a different mask variety.
"As with anything else the brand does, we wanted to break tradition of what a typical sampler set might look like," says Patel. "We channeled back to some great gifts from the past and landed on an all-time classic: the mixtape. A mixtape is a compilation of music curated to bring energy and life into the room. We thought that would be amazing way to introduce our products.
"Graffiti Collective is fully inspired by the urban art and music scene—our target [23 to 28 year olds] is as well. And, with the resurgence of the '90s, the mixtape has become an icon for vintage playlist making. For consumers who didn't grow up with the mixtape, it brings a smile because they know it's a throwback."
Since its launch, Graffiti Collective has supported emerging artists through brand collaborations, pop-ups, and the packaging design for its full-size mask products. Each product box in the Graffiti Collection line features artists' tags, and the company funds short videos on the artists' websites to help share their stories and inspire others.
The graphic design for the Mixtape sampler was done by Brooklyn-based artists Morgan Winter and Kyle Szostek and was inspired by their MetaDada project, which Winter's website describes as "a series of exercises in technical absurdity where paintings become portals to metaphysical realities—a crossroads of physical and digital augmented and virtual realities."
Says Patel, after attending the show, she "instantly fell in love with their play on paint and technology—and more importantly, how they found a way to continue storytelling." She adds, "For us, they worked together, and we had the honor of being part of some of those sessions to watch their magic and provide input to tell our brand story."
A custom composition from Winter comprises the main graphic element of the Mixtape package; the unique structure, with a die-cut window displaying the masks, and details such as gears on the bottom labels were all the vision of Graffiti Collective's Lead Creative Designer, Ashley Baldwin. "Details like the lines on one side that can be used to write the customer's mixtape title are the thoughtful creative decisions we make as a team to bring our products to life," Patel adds. The carton is made from recyclable cardstock and is printed in four-color process plus a high-gloss spot varnish in select areas.
Bringing high-tech to the throwback pack, the company also added AR technology to the carton "as a unique way of introducing viewers to Graffiti Collective and its mission to push the boundaries of what people expect from their skincare through product innovation," Patel explains. The technology is provided by Simulation Lab and can be accessed by consumers when they download an app called Artivive onto their smartphones and then point the phone at the carton with the app open.
In the year since it was introduced, the Graffiti Collective Mixtape has seen increased online sales as well as expanded distribution, both online as well as in retail, and the brand's social media channels have grown as well.
While much of the credit for the brand's success is certainly its amazing, natural formulas, Patel cannot emphasize enough the importance of having stand-out packaging when creating a new beauty line. "There are a ton of choices out there for products. We stand out with the choice we make in quality, art, and thoughtful reusability," she says. "While the picture-worthy factor matters, it's also about being noticed on shelves—as it is the first level of engagement the consumer has with our brand and what we stand for. And finally, in terms of reusability, while every jar washes out clean, and every box can be recycled, our consumers are finding them beautiful enough to keep and repurpose. The ability to snap a pic and share on social media is our reward for thoughtful design."