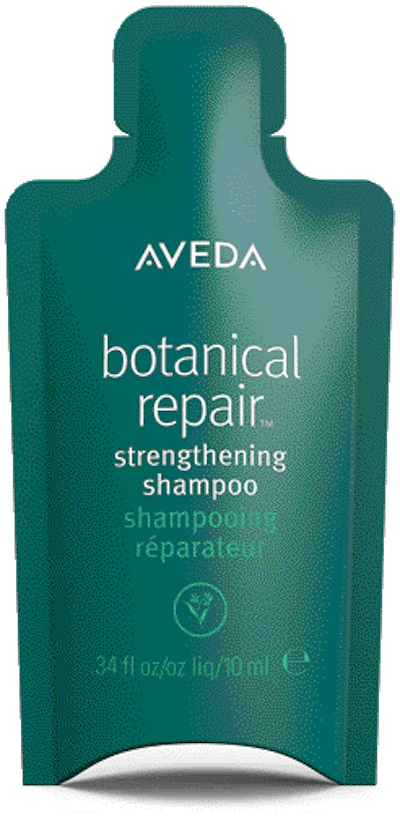 Aveda, The Estée Lauder Companies' (ELC) high-performance, plant-based hair care company with a mission of sustainability, late last year partnered with co-packer, packaging supplier, and woman-owned business Xela Pack in the development of what the stakeholders say is prestige beauty's first-ever paper-based, locally recyclable sachet or packet. Also involved in the partnership is Gentile Packaging Machinery (GPM), the OEM responsible for the form/fill/seal-style machinery built to run this proprietary package format. The two affiliated packaging supply companies serve as a single-entity contract packager to form, fill, and seal the Xela Pack-style sample packs on GPM Machinery.
Aveda says the new pack design is a superior solution for sampling applications. In addition to being curbside recyclable by European and U.K. consumers at the end of the sample pack's life, the packets have been designed with sustainability in mind. They were studied in detail through a peer-reviewed life-cycle assessment, which calculated a reduction of 36% to 68% in water consumption and 37% to 64% in emissions [CO2 equivalent] when compared to multi-layer laminated structures commonly used in the industry. Such sachets are typically made by combining layers of polyester, polyethylene, and aluminum, and they are not commonly curbside recyclable due to their laminated multi-layer construction, flexible nature, and small sizes.
Packaging World was able to sit down (via Zoom) with all of the project stakeholders at Xela Pack, GPM, Aveda, and ELC soon after the announcement in late 2021. But it wasn't until recently, in late February 2022, that the project became fully commercialized, with Xela Pack actively co-packing the new Aveda sample packs for the consumer marketplace. Today, the project is up and running, with Xela Pack using GPM machines to package paper-based Aveda sample packets for European markets.
Sampling challenges
Sampling is an important piece of business among The Estée Lauder Companies. But it carries its own unique set of challenges and hurdles when it comes to packaging, especially doing so responsibly.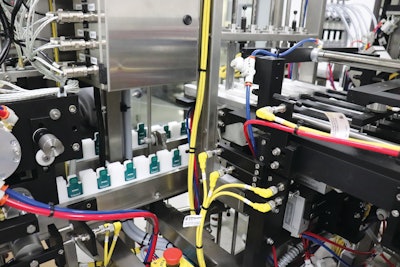 "The cosmetics industry does a lot of sampling, and one of the challenges from both a regulatory and a consumer perspective is to find a way to sample via more sustainable packaging," says Ana Espinosa, Sustainability and Circularity Strategy, The Estée Lauder Companies. "We have used multiple formats to deliver these types of samples, whether that is through types of foil sachet packets, or sometimes small tubes or small bottles. We are now focused on how to design more sustainable sampling mechanisms that are aligned with our sustainable packaging goals, and helping our brands like Aveda move forward their journey to have packages that are designed in alignment with what we call our 'five Rs': recyclable, recycled, reusable, refillable, and recoverable. These help measure our progress towards creating more responsible packaging with circularity in mind."
In the context of these concepts, the company must simultaneously consider the constraints that different recycling streams in different locations present, the specific constraints that come along for the ride with certain materials categories, and, particular to sampling, the constraints that come with small pack sizes.
"The idea of designing a paper-based packet to replace sachets came to the minds of multiple people at The Estée Lauder Companies," Espinosa says. "That's how this journey started, just having in mind that sustainability is a core value for the company and especially for the Aveda brand."
---
Paper-based packaging is coming on strong. Read a few more articles on the trend.

Mar's Wrigley's Balisto and Nestle's Smarties have both launched paper packaging, replacing film flow wrappers, to the confectionery industry.
This FPA Award-winning paper bottle application for skincare products like WoW Skin Science has garnered critical acclaim.
Check out this French take on the slow-to-roll-out paper bottle trend.
---
Aveda also values delivering prestige experiences, aiming to create a luxury environment for the consumer in every single location that the brand connects with them. Sampling is a mechanism for Aveda to introduce products to its consumers, so it's another important contact point that needs to deliver a luxury and more responsible experience.
"At the end of the day we are a prestige brand, and we want to ensure that we are creating high performance and luxurious quality in every interaction that we have with our consumer, whether that is through sampling mechanisms like these sachets, retailers, magazines, or directly to consumers," Espinosa says. "But with a sustainability mission at the heart of the Aveda brand, more responsible packaging needs to be part of that experience as well."
So why now? Paper-based packaging has been around for a while, surely someone thought of this before.
"Some of these technologies weren't available in the past, especially at the scale that they can achieve now," Espinosa says. "And this is one of the main things that we are envisioning: with Aveda being the first one to take this path, we are excited to be a pioneer in this space to make it easy for others to follow. Paper is one of the materials that is being increasingly looked at because of the nature of the it: it has a more robust recycling stream that's easily recognized by the consumer, and fewer limitations when it comes to the type of decorations that can help support a luxurious sample designed with sustainability in mind."
Brand & contract packager help one another
The brand/contract packager relationship on this project began a little more than three years ago, with Aveda approaching Xela Pack about more sustainable packaging formats. Xela Pack was already known for ecologically minded, mandrel-formed paper tubes with poly-laminate and foil liners, so it was a logical format for Aveda to consider.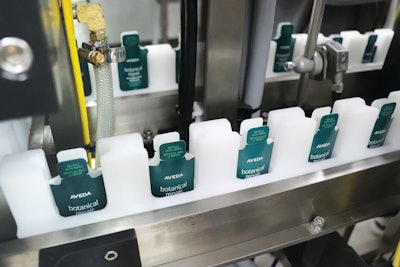 Due to the novel format of the packaging, and the innovation of using a new sampling mechanism like this, Aveda wanted to ensure it was tested and validated by recognized third parties with expertise in this area.
The Aveda team reached out to Xela to work together and find a solution that was going to be recognized by these third parties, while still helping the brand deliver a prestige look.
As luck would have it, around the time Aveda approached them, Xela Pack had been working on new material specs to accomplish those same goals. The company had high hopes for a non-foil material it had developed that uses EVOH for a barrier layer instead of metalized foil.
After hearing from Aveda, the contract packager realized that a major cosmetics brand with such reach and influence would be a fine partner in co-developing it; essentially getting it ready for prime time. What resulted was a several-years-long beta testing, certification, and marketing partnership between Aveda/The Estée Lauder Companies and Xela Pack/GPM that was exclusively held between those parties until March 1, 2022.
Mutually beneficial testing and certifications
With certification of recyclability in mind, Xela Pack had already begun sending samples of its materials to at least one certifying body. The proprietary foil-less, paper-EVOH laminate that would eventually become the new Aveda sample pack format seemed most promising.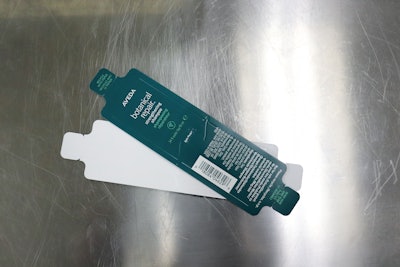 But just to see where it stood, the packaging supplier also sent two of its pre-existing laminations for testing, both paper-foil-poly structures. One was a standard lamination that had remained virtually the same since Xela Pack's inception 30 years ago, with some minor modifications along the way. The other, termed a "white recycled" material, uses 100% recycled paper—roughly 65% post-consumer, 35% post-industrial.
Xela Pack first sent the trio of materials to Western Michigan University (WMU), who Gentile says defines a well-recognized recycling certification standard for the U.S. In what the company views as a temporary setback, WMU found that the amount of material being recouped from these laminated constructions, at least in the U.S. stream, was a little less than what is required for certification. This was no major disappointment, rather a data point on a learning curve that has more to do with ratios of material weights and ratios—of EVOH to paper, for instance— than it does of either material's true recyclability. Also reflected is the comparative robustness of European and American recycling infrastructure and adherence—we're just not quite as far along in the U.S. Xela Pack is currently back at the drawing board, iteratively working toward those U.S. tests and local standards.
"The plan is to be launching a new material that is certified recyclable in the U.S., as well as in the U.K. and Europe" adds Carolynn O'Connor, director of sales, Xela Pack. "We have, I think, realistic goals of making that happen this year."
Validating recyclability in other regions was instrumental to Aveda, so it partnered with Xela to test the packages to see if they met UNI standards in Europe
"At that point, we really felt we were part of a great partnership. We had this material that we were working on, they helped guide us through getting it tested with their vast expertise and experience in the space.
"Most importantly, in the process we found out that this material that Aveda will be launching in—the paper-poly lamination—is in fact UNI-ready. It can be certified recyclable at this specific level for Europe and the U.K. With our partners at Aveda, we released this information in November 2021—it is the first certified recyclable non-foil Xela Packs ever that they're launching in."
---
| | |
| --- | --- |
| | Listen to this podcast on paper packaging, titled, "Is Paper the New Plastic?" where Sean Riley and Pat Reynolds discuss the momentum gathering behind paper-based packaging alternatives. |
---
As luck would once again have it, UNI also said Xela Pack's pre-existing laminations—both with foil layers, one nearly 30 years old, the other "white recycle"—also qualify to be UNI certified as recyclable. The partnership was indeed paying dividends for all parties.
"We are still working toward the ultimate goal of broad recyclability. And in the process, Aveda helped us find that this material can be certified in Europe, and they're going to be the first to launch in it," Gentile concludes of the relationship.
As launched in March, the finished, certified packaging structure is a 10-point C1S paperboard format, printed on one side, and coated on the other with 2.5 mil of EVOH. It's actually a multi-poly lamination that uses EVOH for the barrier. Details on the tie layer remain proprietary.
"One of the things that was really amazing about Xela Pack is that they were as hungry as we are in developing something that was going to be luxurious, scalable, and with sustainability in mind," Espinosa adds. "Working with the Xela Pack team has been very much of our collaboration and a joint development in that sense, understanding the values of each one of the companies and how can we bring both of our expertise together. And that's one of the things that really drew us to working with them."
Challenges along the way
Early conversations at Aveda centered around what would constitute the right paperboard that the brand should be using, how emissions that this packet is causing can be reduced, and more. Michael Christel, Director Packaging Sustainability, The Estée Lauder Companies, needed to know what the right weight, thickness, and color would be to ensure re-pulpability and recyclability of the packets. They also needed to ensure that, ultimately, the product itself would retain its high performance inside of these packets. All these competing considerations created challenges along the way.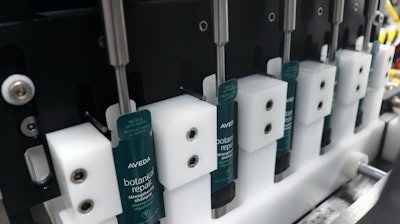 "There were lots of iterations of the pack. We started with something that looked a lot simpler than where we ended up, and that was less customizable. We were more on the basics, like the material and what we thought was going to be compatible with some of our product formulas," Christel says. "And then we started to build the luxury aspect into it. There have been some challenges that we and Xela Pack have been trying to solve. And that has made the process a very innovative one for both of us. Our original intention was to try to design in alignment with our 5R's as well as circularity. And so, there have been multiple conversations, as well as tests and engagement of external third parties and experts in the field, for us to ensure that this was going to be recyclable, that we had the right materials, that this structure was the proper one, and obviously, that it was compatible with the product. Ultimately, not only were we elevating the packaging, but we were also elevating the consumer experience."
Automating an all-new pack
An unnamed Xela Pack supplier converts the proprietary material into rollstock, after which it's sent to a printer for decoration and die-cutting.
"It's flexographically printed, and we can do up to seven colors," O'Connor says. "We have different gloss and matte varnishes that we can use, or a combination of gloss and matte on the same packet."
Die-cut magazines of 2-D sample pack blanks (or cards) are delivered to Xela Pack, to be run on GPM XP-FFS-5 vf/f/s equipment. This is an all-new piece of machinery for GPM, and while details about its formers are proprietary, they can be said to be "mandrel-style." As each 2-D card enters the equipment via magazine, it is first embossed, then formed, and finally heat side-sealed. Depending on the application and size of the pack, the machine may use an opener as the pack travels to the filler to ensure the pack is ready to receive product. The final operation on the machine is heat top-sealing the finished product unit.
Speaking of product, the system can either use bellows or piston fillers, depending on the application. For Aveda products, like shampoos and conditioners that tend to be viscous, piston fillers tend to be the way to go, but bellows fillers are available for purely liquid applications. The system could also handle dry powders or single units like pills, but such product isn't relevant to the Aveda application.
Secondary packaging is again application-dependent—unit packs could go into anything from corrugated master cases, to printed chip-board cartons that are more suited to retail—even retail-ready packaging.
Knock-on advantages over legacy foil sachets
"We were looking at not only designing the sample so it was recyclable, but also the structure of the sample to see what other potential environmental benefits we could tap into by using Xela's innovative packet," Espinosa says. This is why Aveda/ELC conducted a Life-cycle assessment.
Regardless of how many ounces of sample material the legacy foil sachets may have been able to hold, they were largely considered single-use or single-dose. That's because, once opened, there's not much a consumer can do to store the 2-D, lay-flat packs. And more likely than not, a sachet will be ripped raggedly, thus no longer able to neatly contain its contents.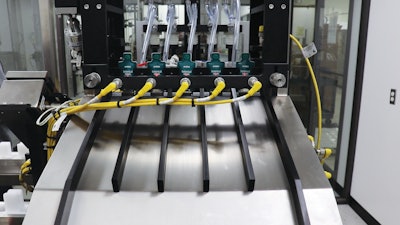 These new Aveda sample packs using Xela Pack tech have a gusseted bottom, thus they are 3-D structures. Xela Pack offers a format that can stand upright in a bathroom or shower setting, but Aveda opted not to use that version since these are intended to be one-use sample packs. Not only are the packs 3-D, but they feature a pack profile that includes a narrowing, neck-down portion that culminates in an embossed, tear-off, controlled orifice. The pack doesn't reseal itself per se, but it does reclose itself mechanically in such a way that virtually precludes leakage. Dispensing requires 7 lbs. of direct pressure, so the freestanding pack will not leak, even after being opened. To open and use the sample packet, the consumer only needs to bend the closure flap along the embossed placeholder, tear it, use it, pinch it closed, and if there's any left, save for later.
So essentially, the paper sample packet system more closely resembles a bottle than a sachet. If they chose to, consumers could use the contents one day, set it down in the shower, then use it again the following day with no product leakage, thanks to the controlled orifice that mechanically closes itself based on the shape and rigidity of the paperboard. The structure actually prevents air from entering the pack, even after opened, so it could sit in a shower for much longer than a day without any product degradation.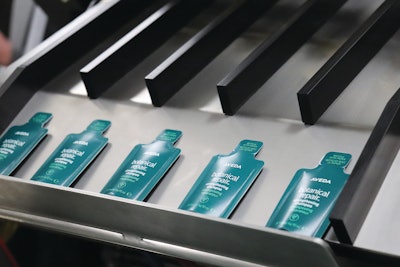 "The consumer experience is just much better than that of a foil pack," O'Connor says. "We did a video where we had side-by-side consumers opening a foil sachet and a Xela Pack side by side, and it's clear with the foil pack, they don't have any control of how much product comes out. With the Xela Pack, you can control how much comes out, you can use a little at a time, and there's no waste. Sustainability is very important to companies, but they also have to consider consumer experience. When giving a sample, that's an extension of their brand, and bad experiences result in poor brand associations. And for ELC or Aveda, they have to make sure it lives up to their status as a prestige brand."
Summarizes Edmond Irizarry, Aveda's Executive Director, Global Package Development: "At Aveda, we understand the relevance of sampling our products in a sustainable way: in-line with our mission, and without compromise on product quality or consumer experience. I am extremely proud of our three-year development partnership with Xela Pack to deliver this breakthrough sampling innovation. We look forward to expanding this technology to other markets, brands, and categories in the near future." PW
Companies in this article