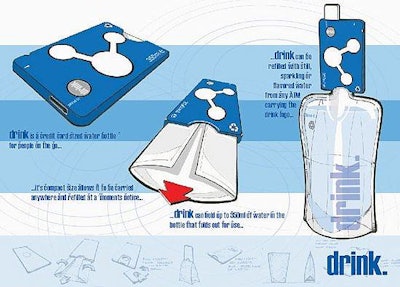 The particular challenge for the packaging entrants in the contest, sponsored by the Royal Society for the encouragement of Arts, Manufactures & Commerce (RSA) in the United Kingdom, focused on the packaging of bottled drinking water used by people "on the move." The contest invited solutions that specifically addressed the need to minimize the environmental impact of the prolific use of these containers. The following details one of the four winners cited.
Called by the inventor, Nick Hobson of Napier University, "drink," this design concept features an injection-molded card that stores a refillable, collapsible bladder.
Design details
Easily carried, the 350-mL fold-out bottle in bladder form can be refilled with still, sparkling, or flavored water from any ATM carrying the drink logo. The existing ATM structure is used to facilitate drinking on the move and eliminate the need to construct specialist dispensers.
The drink card is distributed by the bank and water is charged as a service to the user's account, removing the need for cash to pay for drinking water.
A spring-activated polyurethane straw pops up when the card's logo is pressed, and the card--injection molded of nylon--folds over for carrying and storage. The bladder, made from polyester film that's heat sealed and lined with a food-grade polyethylene lining, is sealed when the straw is stored.
The well-conceived concept features five pages of graphics to illustrate the idea. Three other winners were also cited.
Contest organization
"drink" was one of a number of winners revealed in the RSA's Online Exhibition 2004. Continuing its 80-year tradition of highlighting the best of new British and European design talent, the RSA's new design scheme, RSA Design Directions, attracted 1길 entries and has made awards worth around £100ꯠ. RSA Design Directions aims to encourage emerging young designers to engage with the broader social and environmental context in which they will work.
Based in London, England, the RSA exists to encourage the development of a principled, prosperous society. It does this through projects and events, and with the support of a network of influential supporters from every field and background.