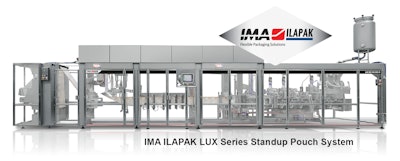 IMA Ilapak is a well-established brand in North America through its installed base of flexible packaging machinery solutions operating at major food, beverage, personal care, nutraceutical corporations, and contract packagers. Alessandro Gaspari, Sales Manager of IMA Ilapak – Standup Pouch Division, commented, "Through this new arrangement we will now be even better positioned through our North American partnership with AlliedFlex, a trusted, leading North American standup pouch packaging machinery specialist with a keen focus on growing the standup pouch packaging market. AlliedFlex has successfully led the North American shift toward the introduction of the standup pouch and standup pouch packaging machinery technologies for the past three decades. We look forward to this mutually exciting opportunity and collaboration".
Dennis Calamusa, President | CEO of AlliedFlex Technologies, Inc., and his sales, marketing, and technical support staff welcome the IMA Ilapak Standup Pouch Division program and team. "The addition of the IMA Ilapak LUX product line to the AlliedFlex portfolio will satisfy a variety of high speed, high output standup pouch applications for both dry and liquid (spouted and non-spouted) applications. The IMA Ilapak LUX machinery program offers advanced technology utilizing a combination of intermittent on-line pouch making and continuous motion filling capabilities that will enable packagers the ability to meet their growing standup pouch production requirements through higher speeds and increased efficiency."
Companies in this article
Videos from ALLIEDFLEX Technologies, Inc.