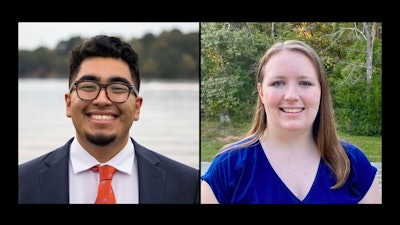 Robert Testin Outstanding Packaging Science Senior Award winner for Fall 2021
Mr. Henry Lopez is a senior at Clemson University, majoring in Packaging Science with an emphasis area in package design and graphics. Henry strongly values building meaningful relationships with people. One of his professional goals is to practice being an empathetic leader. In the summer of 2018 (June 2018 to August 2018), Mr. Lopez worked as a Packaging Intern at Pratt Industries in Simpsonville, S.C. After completing this internship, Henry was certain that he had chosen the right major. This experience revealed to him that packaging science combines his interests in engineering, graphic design, and marketing.
In January 2020, Mr. Lopez began his six-month co-op (end in July 2020) at Campbell Soup Company in Camden, New Jersey. As a packaging engineer co-op, his projects exposed him to a wide range of packaging materials. In the Fall semester of 2020, Henry joined the creative inquiry team at Clemson University that works with Clemson Football to develop recruitment mail for football prospects. Henry designed packaging structures for multiple mailers, which is currently used by the Clemson University Athletic Department.
Henry will graduate in December 2021 and hopes to secure a job as a Packaging Designer at a branding/design agency.
Packaging World Outstanding Packaging Science Senior winner for Fall 2021
Ms. Michaela Gibson is a combined Bachelor of Science and Master of Science student in Packaging Science at Clemson University. Michaela will graduate with her Bachelor's in December 2021, and she will remain at Clemson University to continue working on her Master's in Packaging Science. Throughout her undergraduate career, Michaela has focused her studies on flexible packaging, and she has worked as a student research assistant at the flexible packaging lab on-campus for three years. In 2020, she completed a co-op with Printpack in Atlanta where she assisted with trials focused on improving recyclability or compostability of existing packages. Michaela plans to concentrate her future research on improving the mechanical properties of biodegradable films used for packaging. After completing her master's degree, Michaela hopes to work in a research and development-based role, focusing on biodegradable and compostable films. -PW
Companies in this article