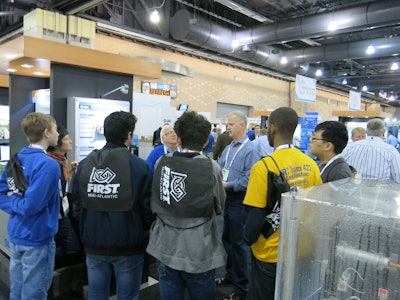 High school students involved in the FIRST Robotics Competition and Program tour the many controls and automation demonstrations at PACK EXPO East. Students demonstrated and displayed their own competition robots at designated booth space on the show floor. While their competition robots don't very closely resemble practical industrial robotics, students came away understanding that the underlying technologies are similar, and similarly interesting.
"We show them the practical application of robotics and mechatronics in the industry," says Stephan Girard, Director, Education and Workforce Development, PMMI. "So we show them how some of the same technologies they used in the robotics competition can be applied in all segments of manufacturing, in this case focusing on packaging automation."
Kids interacted with automation suppliers and equipment manufacturers throughout the show, here at the SMC booth. About 50 kids from several different schools prticipated over the three-day show. 
Companies in this article