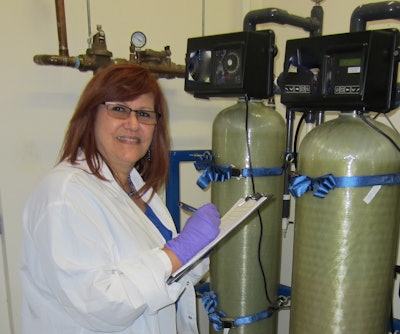 Editor's note: Women In Packaging is an occasional series reporting on the career challenges women in packaging face and the advice they have for other women building careers in the packaging function.
Healthcare Packaging: How did you come to occupy your current role?
Valdes: I joined the company as a Quality Control Analyst in 1999 after working in the environmental industry for 17 years. I occupied different position in QC department and eventually became Associate Manager of the QC laboratory. When I started working toward my Masters in QA Manufacturing, I approached the Vice-President of Quality and asked him to give a project to execute in the manufacturing area. After working together with him for three years, he promoted me to my current role as QA Compliance Specialist.
What challenges have you had to overcome in your packaging career?
Valdes: Due to my Quality Control background, the most difficult challenge has been to prove that I can transition to QA Manufacturing environment. Even after getting my Masters in QA Manufacturing, people did not see me as a resource and I found it difficult to interject myself into new projects and tasks under development within the manufacturing area.
What advice do you have for the next generation of young women and girls?
Valdes: Never give up on your dreams. It takes hard work to achieve goals but the rewards are many.
What signs of hope (or discouragement) do you see when it comes to women in packaging for the future?
Valdes: I still see this mainly as a man-dominated area. There are still a lot of barriers to be removed; however currently I work for a woman who is the Director of QA Manufacturing. This of tremendous encouragement for me and lets me know that women can be accomplished leaders in this area.
How does the packaging community work with schools to help train women to be ready for careers in packaging? Teach them about good paying careers? Increase the interest in manufacturing, math, science, etc.?
Valdes: I don't think we are doing a very good job in this area; at least it was not the case when I went to school. It was not until I started studying for the Masters (QA Manufacturing) that I was exposed to this field. Locally I do not know of any programs that are assisting students by exposing them to the manufacturing world.
How can women stand up and gain a more equal footing to men when it comes to income?
Valdes: This type of barrier is difficult to overcome since in general men hold the top position in most companies. Men need to change the way they think and give us the opportunity to show the world that we can be leaders. Women need to ensure that we are prepared to step up and be a leader as the opportunity arises.
Ivette Larralde-Valdes conducts auditing of a microbiology water sample at the Purified Water System Utility area.