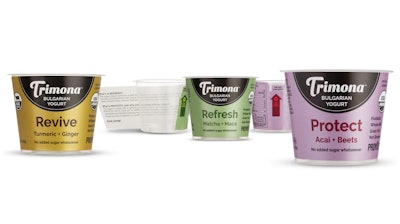 Building on the popularity and success of its "Bulgarian-style" yogurt, New York-based Trimona Bulgarian Yogurt has added a new superfood-laden range of yogurt products. All of the company's products are packed in a fully recyclable paperboard-polypropylene (PP) combination cup.   
"Trimona introduced America to Bulgarian-style yogurt ten years ago, and now we've gone to the next level of probiotic dairy evolution, or as we call it: Yogurt 2.0," says Atanas Valev, Trimona Bulgarian Yogurt's founder and CYO (Chief Yogurt Officer). "[Superfood yogurt varieties] Refresh, Protect, and Revive each combine the healthy benefits of both yogurt and superfoods."   
The company carefully chose superfood ingredients for the antioxidants, fiber, vitamins, minerals, and other nutrients they contain. Protect is designed to protect body and soul and contains 5,000 milligrams of powdered organic açaí, maca root, Aronia, beetroot, lucuma and monk fruit. Refresh is designed to refresh consumers' memory, containing 5,000 milligrams of powdered organic matcha tea, maca, lucuma, spirulina, chlorella and monk fruit. And Revive is designed to revive creativity and spirit, containing 5,000 milligrams of powdered organic maca, lucuma, mesquite, turmeric, cinnamon, ginger, black pepper and monk fruit.   
---
Below are a few other examples of Greiner's patented K3 packs as described by Packaging World:
---
The new superfood range also features ProViotic, a powerful new "friendly" bacteria that is isolated from a snowdrop flower and grown in a vegetable juice. Vegan, organic, and allergen free, ProViotic is scientifically proven to be a powerful pathogen inhibitor.   
"As soon as we saw the premium K3® pack from Greiner Packaging's factory in Pittston, Pennsylvania, we knew it was a perfect fit for our wholesome and natural yogurts. Greiner tells me that Trimona was one of the first U.S. dairy companies to adopt this innovative, fully and easily recyclable packaging," Valev says.    
Trimona uses both the 32-oz and 5-oz K3 pack for its plain Trimona Bulgarian Yogurt, and a 5-oz K3 format for its new superfood range. The K3 light weight thermoformed cup is made from polypropylene (PP) and uses up to 33% less material than a conventional direct-printed, thermoformed cup of the same size. It is wrapped with a paperboard outer layer, made from virgin board. The K3® packaging solution has an improved CO2 footprint and it can be recycled efficiently, as the paperboard and plastic can be easily separated. The patented K3 cup system design features a vertical tear-open side strip, enabling consumers to easily open the product by separating the plastic and paperboard container components.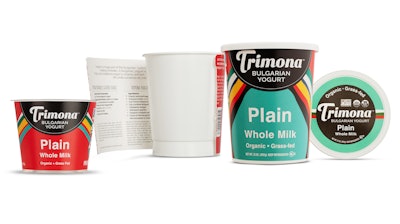 The 32oz Trimona Bulgarian Yogurt K3 pack is topped by Greiner's new IML (In Mold Label) 409 (116-mm) diameter lid which provides a secure and repeatable fit. Contributing both company's goal of delivering a circular economy, the lids and labels are mono-material, both made from PP, the same as the K3 cup.   
The outer paperboard wrapper, which can be easily removed to ensure recycling, can be printed on the reverse and this has created a good marketing and communication tool for Trimona. Messaging can be relayed as consumers eat the yogurt, from inside the cup. Or, it can be read when the paperboard is removed from cup for recycling. 
"The K3 pack has many advantages but also offers the chance to talk directly to our end users," says Valev. "We use it to tell people about the history, heritage and science behind our traditional Bulgarian yogurt, and the genuinely good-for-you wellness benefits of our superfood range." - PW
---
---
Companies in this article