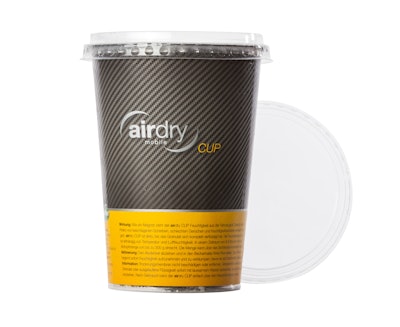 ThoMar, a maker of desiccants for businesses and retail located in Lütau, Germany, has introduced a line of disposable dehumidifiers for the car and home that fit comfortably in a vehicle's cupholder. The Airdry CUP uses a container with desiccant and room for collected water that not only is convenient, but also saves on packaging material and allows for counter- and car-worthy graphics.
The Airdry line for car use originally consisted only of desiccant cushions in various fragrances. With the cupholder-friendly product in mind, ThoMar approached Austria-based Greiner Packaging for guidance on the best packaging format. Explains Greiner Marketing Director Jörg Sabo, "They needed the packaging to be suitable for a cupholder, big enough to store liquid, a standard diameter for sealing machines, able to be decorated in a way that showcased the product's premium nature, and capable of monitoring the amount of collected water."
ThoMar suggested its K3® cup, a combination paperboard-plastic package, that provides material reduction and high-quality printing. The Airdry product is packaged in 500-g container constructed of a transparent, 1.4-mm polypropylene cup and a full-body paperboard label. Positioned in the top of the container is small plastic cup that holds the desiccant granules. In the bottom of the desiccant cup are holes through which the absorbed water can drip down into the primary container.
According to Sabo, the K3 construction allows for up to a 50% reduction in plastic materials, as the paperboard label gives the cup the needed strength and rigidity. Another environmentally-friendly aspect of the package is that the label is perforated on one side, so consumers can separate the two components for recycling.
There are three varieties of Airdry CUP: two for the home (Green and Flower), and one for the car. Each has its own graphic design and is offset-printed in six colors. In addition, the cup for car use is also printed with a special varnish that creates a matte and glossy "carbon effect," says Sabo. The label for all versions is die-cut with holes vertically positioned along the side of the cup that let the consumer see how much water has accumulated inside.
The Airdry CUP was introduced in April 2016 and is sold in supermarkets and auto supply stores, and on Amazon.com in Germany, Austria, and Switzerland.
Companies in this article