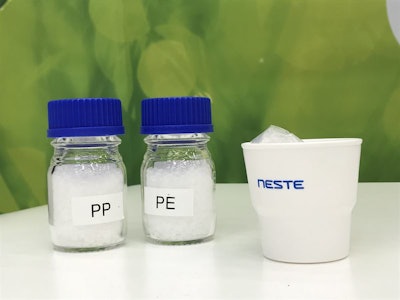 Renewable diesel producer Neste of Helsinki, Finland, and plastics, chemicals, and refining company LyondellBasell have announced what Neste says is the first parallel production of bio-based polypropylene and bio-based low-density polyethylene at commercial scale.
The joint project used Neste's renewable hydrocarbons derived from bio-based raw materials, such as animal fat from food industry waste, fish fat from fish processing waste, residues from vegetable oil processing, used cooking oil, technical corn oil, and tall oil pitch. The project successfully produced several thousand metric tonnes of bio-based plastics, which are approved for the production of food packaging and being marketed underCirculenandCirculenPlus,the new family of LyondellBasell circular economy product brands.
According to Neste, this achievement is extraordinary in that it combined Neste's unique renewable feedstock and LyondellBasell's technical capabilities. LyondellBasell's cracker flexibility allowed it to introduce a new renewable feedstock at its Wesseling, Germany, site, which was converted directly into bio-based polyethylene and bio-based polypropylene. An independent third party tested the polymer products using carbon tracers and confirmed they contained over 30% renewable content.
LyondellBasell sold some of the renewable products produced in the trial to a number of customers, one of which is Cofresco, a company of the Melitta Group, a European supplier of branded products in the field of household film. Cofresco plans to use theCirculenPlus bio-based polyethylene to create sustainable food packaging materials.
Companies in this article