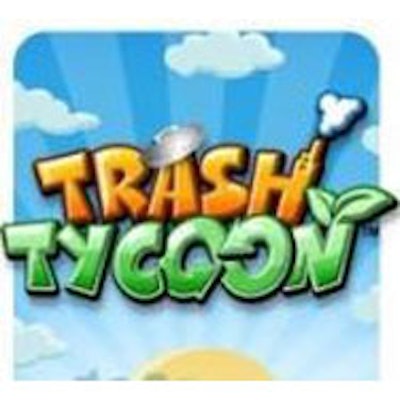 Guerillapps, a Manhattan-based social gaming startup, has launched Trash Tycoon, its first green-themed social game for Facebook, along with partners TerraCycle, Carbonfund.org, and Treehugger. The game is now available for play and takes a unique approach to social gaming by incorporating awareness for environmental issues and sustainability. The first game to ever highlight the concept of upcycling, http://www.greenerpackage.com/search?keys=upcycling&op=%3E Trash Tycoon is an immersive game that presents opportunities for real-world impact.
As the online community dives into game play with Trash Tycoon via Facebook, they take on the role of recycling entrepreneurs by collecting litter in a trash-strewn city and upcycling waste into higher-quality, environmentally friendly products. Upcycling, a process in which discarded waste is repurposed for use, can range from building a house of abandoned material to finding innovative uses for discarded plastic bags. After completing missions, users collect money and earn points to ultimately earn the title of garbage tycoons. The game's trash-tackling premise directly mirrors that of its sponsor, TerraCycle.
"Something as simple as a social game where players earn points for recycling in the real world is capable of changing people's behavior for the better," says Raviv Turner, co-founder and CEO of Guerillapps. "We've organically integrated real-world recycling goals into the game to ensure that players have fun and see Trash Tycoon first and foremost as a game, while at the same time presenting a proactive approach for more mindful actions as users approach real-life situations with acquired knowledge from Trash Tycoon."
As the gaming world continues to reach beyond traditional gaming consoles, and social games continue to evolve beyond farming and gangsters, Guerillapps' team of former EA, Playdom, and Lego game designers engage Facebook's extensive network in an immersive game experience. However, according to Guerillapps, its focus on real-world ties and deep brand integration is the first of its kind across social and mobile gaming platforms.
Incorporation of real world brands—an empty Kraft box or wrapper, for example—adds bearing to TerraCycle's mission without detracting from the game's casual and fun landscape. Trash Tycoon also defers the social gaming norm by offering multiplayer, synchronous play to ignite a global conversation. Users can communicate and collaborate in real time during play, banding together with friends to attack trash.
"We are honored to be affiliated with a social game such as Trash Tycoon that will provide the best in consumer engagement, as well as potential for positive, impactful actions," says Tom Szaky, CEO of TerraCycle. "Trash Tycoon's message speaks to the core mission of our company by presenting a fun yet innovative solution that aids in educating others on the importance behind environmental responsibility."