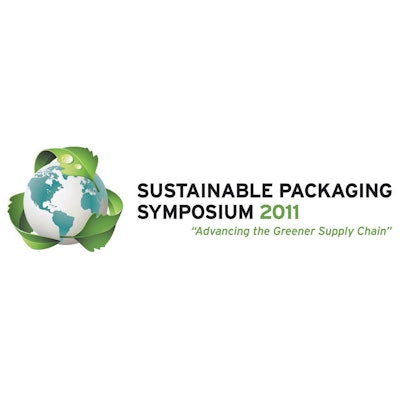 A unique new forum was born last week at the first annual Sustainable Packaging Symposium 2011: Advancing the Greener Supply Chain, held in Chicago on March 16-18. The result of a partnership between Greener Package and the Institute for Sustainability (IfS), a technological community of the American Institute for Chemical Engineers (AIChE), the event drew participants from all sectors of the packaging supply chain. In perhaps greater numbers than typically found at sustainable packaging events, many attendees and speakers from the packaging community also boasted a chemical engineering background.
Remarked Jim Hanna, director of Environmental Impact and Global Responsibility for Starbucks Coffee Co., himself a former student of chemical engineering for three years, "This conference has been one of the most valuable conferences I have attended in a long time. What I've seen over the last couple of days is this critical confluence of people like me whose job is really to create strategies for our companies, reduce our footprint, and sell the strategies internally to the business units and externally to our shareholders and our customers, along with the folks who are doing the LCAs, creating these systems from the ground up, and actually producing materials in the supply chain for us. So for me it's been exciting to be a part of this conversation with my peers."
The two-day conference was segmented into four topic areas:
• Supply Chain: Raw Material to Package on Shelf
• Horizon Issues: On the Supply Chain
• Measurements, Data & Analysis
• Unintended Consequences/Global Perspective
The event was anchored by three well-received keynote sessions. On day one, Andrew Speck, packaging buyer for Marks & Spencer, gave the opening keynote, in which he detailed the U.K. retailer's Plan A sustainability initiative. The program, now in Phase 2, includes 180 commitments and relies heavily on recycling as a way to preserve resources.
On day two, Greg Norris, PhD, The Sustainability Consortium (TSC) at Harvard University, put measurement, data, and analysis in context, reporting on the progress of TSC. The consortium is an independent organization of global participants who work collaboratively to build a scientific foundation that drives innovation to improve consumer product sustainability through all stages of a product's life cycle.
And at end of day two, a healthy number of participants were still in attendance to hear a keynote from Roger Zellner, director of Sustainable Packaging for Kraft Foods, who spoke about building trust in a brand through sustainable packaging. Zellner also provided an update on the Global Packaging Project, an industry group developed to create a common language, metrics, and standards around sustainable packaging.
Common themes emerge
Despite the four clearly defined topic areas outlined during SPS 2011, themes for the event crisscrossed and overlapped throughout the many thought-provoking presentations and discussions. These themes emphasized that the discussion around sustainable packaging has moved beyond bioplastics and compostability to conversations on the entire packaging supply chain, with an emphasis on end-of-life options, including recycling, reuse, and waste-to-energy.
The most talked about topics included:
• Data, data, data—especially in the context of Life Cycle Analysis. How to get it, where to put it, how to evaluate it. There are many complementary tools right now, but some provide different results. The challenge is to standardize these metrics and tools to help level the playing field. Stay tuned.
• "Keeping the molecules in play," as Tony Kingsbury, executive-in-residence, Center for Responsible Business, Berkeley, advised attendees. The idea of preserving resources through reuse and recycling was echoed throughout the event.
• Waste-to-energy. "If you have to expend more energy to collect and recycle packaging than you would get by using it for energy, than waste-to-energy makes more sense," said Zellner. "Waste-to-energy is going to come."
• Extended Producer Responsibility. John Shanahan, senior director of Environmental Affairs for the Grocery Manufacturers Assoc. cited a GMA study showing that EPR will place a devastating financial burden (78% of profits) on brand owners that will ultimately hit the lower class the hardest. Discussion and debate at conference centered on how if at all the packaging community could rally to avoid or help sculpt such legislation.
• Packaging as the most tangible connection consumers have to a brand. "Consumers keep packaging front and center," said Zellner. "Even though it's such a small part of a product's footprint."
• Corporate Social Responsibility. "Social is coming, and it's not going away," said Norris. "It provides a new approach to LCA."
Stay tuned to Greener Package in the following weeks for more in-depth articles on SPS 2011 content.