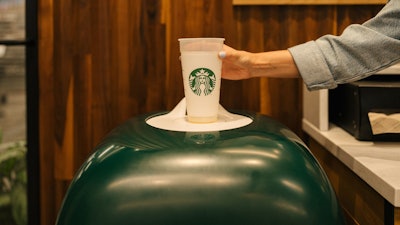 Starbucks launched a reusable packaging beverage cup pilot program in 12 of its stores in Napa and Petaluma, Calif., just the latest example of what the company calls its "resource-positive" commitments around sustainability. Coffee connoisseurs getting their daily fix in those locations will be offered the Borrow A Cup option for the 10 weeks between August 14 through October 22, so results or success metrics weren't yet available at press time.
Starbucks papped reusable packaging pioneer TURN Systems, formerly known as Globlelet, for the pilot, using the company's high-tech collection bins to understand cup return behavior. TURN is a reuse platform designed for scale - through a fully circular system, TURN offers integrated solutions to end single-use plastic. Starbucks developed and provided the recyclable polypropylene cup for the pilot, but it is designed to work within the TURN's existing platform, which includes mobile washing systems, smart bins, and incentive systems. Fitted with patented digital tracking technology, the Starbucks-developed reusable cups are prominently branded with the company logo. The other elements of the TURN platform also were developed with co-branding in mind, making the whole system visually seamless.
Here's how the California pilot model works. A consumer orders his or her drink as usual at the dozen participating Starbucks, either in the café, drive-thru, or via mobile order and pay. Their hot or cold beverage will be then served in a "borrowed" cup. When finished with their beverage, the consumer returns the cup by scanning and dropping it into a contactless return bin, designed by TURN. The cup will be professionally washed and sanitized, soon ready to be used again. And when consumers return their borrowed cup, they will also have the option to register online with TURN to earn points for every Borrow a Cup return and prizes through TURN.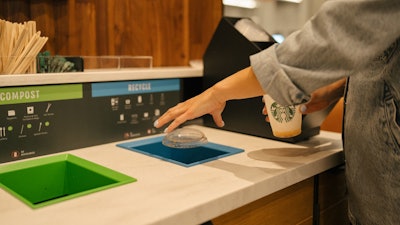 Notably, the Borrow A Cup program won't be the only option for consumers at these Starbucks locations during this pilot. Consumers can also bring their own personal cup into the café or through drive-through for refill, an extension of an existing own-cup program (more on those later). To help encourage folks to bring in their own, clean personal cups, they will receive the standard $0.10 off with an additional 25 Bonus Stars for Starbucks Rewards members. Also, consumers who opt to sit and stay in café can choose to receive their beverages in what Starbucks calls For Here Ware—durable ceramic or glass cups.
---
---
Still, no single-use disposable cups, whether plastic or paper, will be available during the pilot—every beverage made at these 12 stores will be prepared in a reusable packaging by way of a personal cup, durable table ware, or in the new, reusable Borrow A Cup that consumer can take with them and return in smart return bins. That is, of course, unless a consumer chooses to Borrow A Cup, but then isn't sufficiently motivated to return it within the system.
But even if not recycled within the Borrow A Cup system, the Starbucks-designed plastic cups used in this system are made from recyclable mono-material polypropylene (PP), which can be curbside recycled at these 12 northern California locations. Should a consumer bring the Borrow A Cup home without returning it to the bin, then choose not to return to the store to return it, the cup still can be recycled. Of course, this defeats the purpose in that it eliminates the possibility of future re-use cycles. How many cycles can be expected from each cup? Given the Borrow A Cup is a prototype and Starbucks is still learning and adjusting to develop a future reusable cup, that remains to be seen.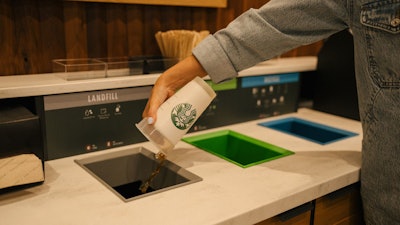 Clearly, there are a lot of consumer behavior variables and many different potential courses of consumer action for a foodservice retailer to consider and factor into any system. Despite these challenges, the coffee giant has unflaggingly shown it believes in reusable packaging. Spokespeople say that reusables tests help drive progress toward Starbucks commitment to reduce waste sent to landfill. Starbucks says it's committed to cutting their waste footprint in half by 2030 and recently updated their target to include a commitment for all consumer packaging to be reusable, recyclable, or compostable.
"Our latest round of reusables tests around the world contribute to our goal for all customer packaging to be reusable, recyclable, or compostable in the future. We know our partners and customers care about the planet, and we're proud to offer them ways to join us in in making sustainable choices in their everyday lives," says Amelia Landers, VP, Business Strategy, Partner & Customer Solutions at Starbucks.
Starbucks has conducted reusables tests in more than 25 markets around the world with more planned in the year ahead. The test in California is the latest Starbucks test in U.S. with additional reusables tests completed in Colorado and ongoing in Arizona. The SODO 8 store inside Starbucks Seattle headquarters has been serving 100% of beverages in reusable cups since March 2022.
"These types of tests are extremely important so that the company can understand all the different ways we can make an impact and move towards goals that we have set for the future," says Tonya Palacios, Starbucks district manager, who leads the California stores conducting the Borrow A Cup pilot. "I'm optimistic that we will execute the test at a high level and gather lots of feedback that will influence the next step in reusable cups and our sustainability goals."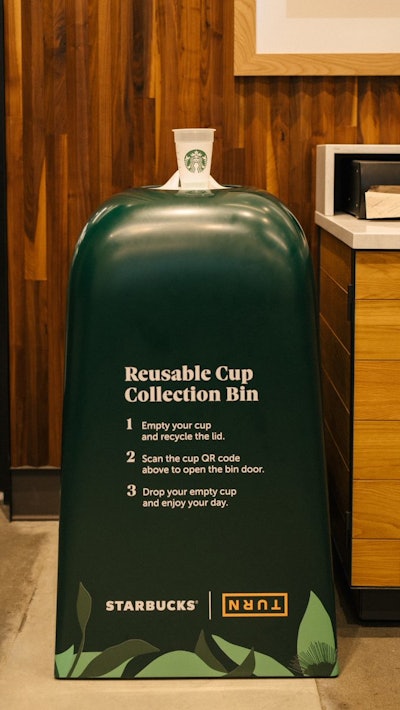 Choosing reusables is a new habit for a growing number of consumers. Starbucks' behavioral science-based research shows ease and convenience are foundational. Personal cup washers were developed in partnership with store partners in the Starbucks Tryer Innovation Lab and created to ensure convenience for consumers bringing their own cup. In participating stores across the Arizona State University campus, consumers can wash their personal cup or a returned Borrow A Cup right at the counter in the time it takes to complete their order.
Since May, Starbucks has been conducting this 100% reusables test at participating ASU campus stores and every consumer who brings in their own personal reusable cup or reuse a Borrow A Cup from a previous visit can receive a $1.00 discount on their beverage order. Consumers can also return their Borrow A Cup to special return bins around campus that were designed by the ASU Circular Living Lab using the equivalent of 1,350 repurposed single-use cups. PW