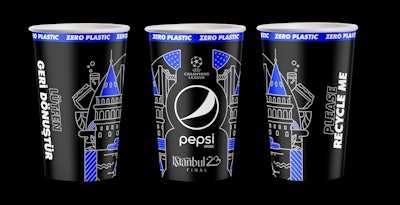 According to The Recycling Partnership, there are 9,000-plus separate local recycling systems in the U.S., with each individual program having its own specific parameters as to which materials can be recycled, and each municipality collecting recyclables in different ways. This makes educating consumers on curbside recycling an overwhelming challenge. Now, just imagine the difficulties when it comes to capturing materials for recycling when consumers are away from home.
But food and beverage behemoth PepsiCo has found a way to turn this lemon into lemonade. For nearly two decades, the company has worked with out-of-home, closed-loop environments—particularly sports venues—to increase recycling rates and more recently, to pilot reusable packaging systems.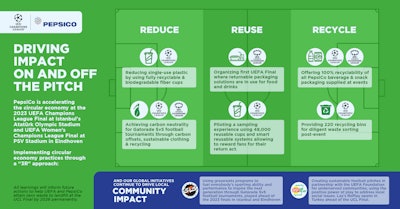 "The huge global scale of sports simultaneously presents environmental challenges and exciting opportunities to engage with a huge fanbase to create positive change," explains Archana Jagannathan, chief sustainability officer Europe at PepsiCo. "We acknowledge that food and beverage is a large contributor to the environmental footprint created at football events, but the good news is that, according to a survey by Lifetackle, 90% of fans not only share our desire to reduce waste, they are also willing to be part of the solution by collecting and recycling litter after consumption. "An additional advantage of launching closed-loop/reuse solutions is the consumer education by creating an opportunity to test the solution at meaningful scale that serves as the reference for broader, nationwide launches of closed-loop systems."
In its most innovative initiative to date, PepsiCo worked with the UEFA (Union of European Football Association) to implement circular economy practices for its Pepsi, Lay's, Doritos, and Gatorade packaging at UEFA Champions League (UCL) Final soccer games. On June 3, at the Women's UCL Final at PSV Stadium in Eindhoven, the Netherlands, PepsiCo deployed reusable packaging and collection systems for its food and beverage products. On June 10, at the UCL (Men's) Finals at Istanbul's Atatürk Olympic Stadium, the company supplied both reusable and recyclable options for cups, as well as recycling bins across the stadium grounds for the disposal of food and snack packaging.
Begun in 2015, PepsiCo's partnership with UEFA across men's and women's soccer is the brand's largest global platform, with a goal of attaining zero waste to landfill at the UCL Finals by 2026 through the use of practices that focus on the 3Rs of reduce, reuse, and recycle.
A history of sports partnerships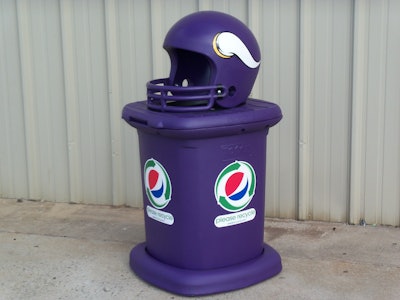 PepsiCo's history of collaboration with sports teams and venues includes a number of recycling initiatives that have become increasingly comprehensive over the years. In 2010, the company partnered with Fan Cans, LLC, a former supplier of 100% recyclable, 45-gal recycling and waste receptacles, to place the bins in high-traffic areas at select NFL, MLB, and NCAA stadiums nationwide. The Pepsi Fan Cans were produced in each team's colors and included team logos as well as Pepsi's "Please Recycle" logo. They were also topped with either baseball batter or football player helmet lids with special inserts with cut-outs for bottle and can recycling collection.
Another signature project, begun in June 2017, was PepsiCo's partnership with U.S. Bank Stadium, home of the Minnesota Vikings, the NFL, Aramark, and the Minnesota Sports Facilities Authority to recover more than 90%, or 40 tons, of stadium waste at Super Bowl LII through recycling and composting. The Rush2Recycle campaign brought together all key stakeholders in the Minneapolis community, including the fans, with one goal in mind: to dramatically reduce waste on an ongoing basis leading up to and following 2018's Super Bowl LII.
On gameday, every chef, custodian, and fan was part of the team working to recover stadium waste by recycling bottles and cans, composting organic materials like food waste and service ware, and repurposing items like discarded handbags, signage, and construction materials through local community organizations. Rush2Recyle staff also actively encouraged stadium fans to recycle and compost. Through this process, stadium partners introduced a tri-bin waste collection system, invested in a dedicated organics compactor, and implemented a detailed post-game waste sort to ensure each waste stream was contaminant-free. As a result of these efforts, the project surpassed its target, recovering 91% of all trash, or nearly 63 tons.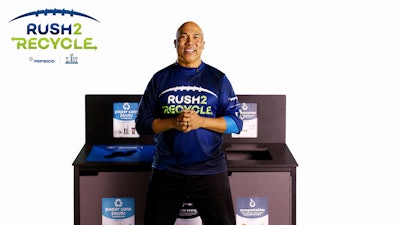 "The success inspired PepsiCo to create a playbook to guide other leagues, teams, site operators, and fans in intercepting waste in their communities," says Jagannathan. "Years after this game ended, the work is leaving a lasting impact as the stadium's waste diversion infrastructure is now a permanent installation at U.S. Bank Stadium, helping protect the environment and reduce waste hauling costs. Additionally, since June 2017, U.S. Bank Stadium partners have increased the stadium's diversion rate by roughly 55%."
In 2021, PepsiCo announced another partnership, this one with Seattle's Climate Pledge Arena, the world's first certified net-zero arena and home to the Seattle Kraken hockey team. In joining the pledge, PepsiCo committed to regularly reporting greenhouse gas emissions, implementing decarbonization strategies, and neutralizing any remaining emissions to achieve net zero annual carbon emissions by 2040.
"Our PepsiCo Beverages North America division also plans to introduce sustainable packaging within the arena, aligning with their commitment to being 100% free of single-use plastics by 2024," Jagannathan adds.
---
---
And, earlier this year, PepsiCo announced a new program, Partners for Tomorrow, one facet of which involves a focus on the use of reusable cups to support the brand's overarching goal to see 20% of its beverage servings delivered through reusable models by 2030. Specifically, PepsiCo is conducting a pilot with global sports and entertainment company Oak View Group at its newly renovated CFG Bank Arena in Baltimore, along with scalable reuse system provider TURN Systems to gamify the system and incentivize event attendees to return their reusable cups after use.
"We see incredible potential here as a single TURN cup can potentially displace up to 100 single-use cups and break even on environmental impact in as few as three uses," says Jagannathan. "The upcoming UCL Champions Festival will also incorporate the TURN technology for the first time outside of North America."
A shared passion for soccer and sustainability

Dating back nearly a decade, PepsiCo's partnership with the UEFA Champions League came about as a result of mutual interests. "While we share a great love for football, we also share a passion for driving impact on and off the pitch [field]," says Jagannathan.
In 2020, the two announced an extension of the partnership through 2024 and added a multi-year premier partnership with UEFA Women's soccer. "Throughout the partnership, we've worked with UEFA to support the transition to circular economy food and beverage practices," says Jagannathan. "In 2022, we helped develop the UEFA Circular Economy Guidelines as part of a wider sustainability strategy that helps national associations, leagues, clubs, partners/sponsors, event organizers, and other stakeholders start the journey towards the aspirational target of zero plastic waste and food waste. "This strategy was developed by linking football to sustainability, aligned with UEFA's principles and with the demands of global institutions and civil society. It is our goal together to attain zero waste to landfill at the UEFA Champions League Finals by 2026, starting with this year's final matches at Atatürk Olympic Stadium and PSV Stadium, with the operation to carry out and be regularly implemented from 2026, and eventually becoming a requirement at a selection of hosting stadiums across UEFA events in the years that follow."
---
---
When PepsiCo announced in May the new programs it would be implementing at the finals games, UEFA Social and Environmental Sustainability Director Michele Uva said, "UEFA is delighted to continue the collaboration with PepsiCo to deploy circular economy practices across these two important finals. Our actions are focused on finding and disseminating solutions applicable to football matches taking place across national associations, leagues, and clubs in Europe to play our part in tackling environmental challenges."
New sustainable packaging solutions to drive zero waste
PepsiCo's circular economy practices at the UCL finals are a culmination of its recycling and reuse innovations thus far, with each finals game having several components. According to the company, the Women's Champion League Final was the first UEFA final where all concessionaire food and drink packaging was reusable.
For beverages, Germany-based company Cup Concept provided 54,000 0.4-L reusable cups made from a combination of polypropylene and polycarbonate. For PepsiCo's Doritos Nachos snack, polypropylene trays were provided by a specialist in reusable food containers, Vytal, also based in Germany. Fans purchasing products in the reusable packaging were charged a deposit of 2 Euros.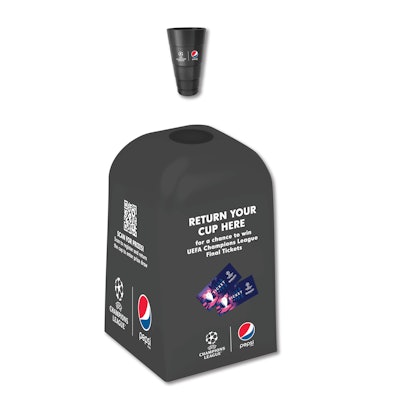 Because the stadium requires all beverages to be served in cups, PepsiCo delivered the drinks in 100% recyclable bottles, with the beverages poured into the reusable cups for consumption.
After use, fans returned their cups and trays to one of the return stations located throughout the stadium. Upon returning the packaging, consumers would tap their payment card to the payment terminal on the machine to get their deposit back. "We believe this method encouraged responsible actions from attendees, while not taking away from the game," says Jagannathan.
From there, a third-party operator collected the reusable items and will put them through a rigorous cleaning process so they can be used again for other events. "We have yet to conduct a full lifecycle analysis, but we are confident these actions at the PSV Stadium during the Women's Final improved our carbon footprint," Jagannathan says.
For the Men's Final in Istanbul, PepsiCo used a combination of reusable and recyclable options. For this venue, PepsiCo worked with TURN for the reusable cup system. Fans were also offered the option of drinks in fully recyclable and biodegradable fiber cups, which were used across the stadium, festival, and fan meeting points. The cups were provided by Foopak Bio Natura and were made using natural ingredients, such as fiber, starch, and calcium. Unlike traditional fiber-based cups that incorporate a non-biodegradable polyethylene liner that makes them difficult to recycle, Foopak's cups use a proprietary aqueous dispersion coating technology that allows the cups to be recycled as well as composted in 12 weeks at an industrial composting facility.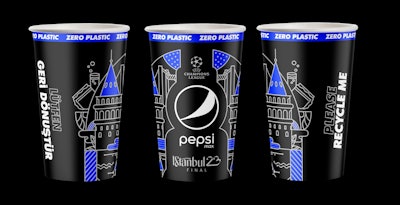 Again, in this case, PepsiCo beverages were provided to the stadium in 100% rPET bottles and the drinks poured into the returnable or recyclable cups for consumption. "There are many reasons that fiber and returnable cups provide benefits beyond bottles that are 100% recyclable," says Jagannathan. "Both aim to eliminate single-use plastic cup waste and create opportunities for stadiums to serve beverages in sustainable containers. In Eindhoven, an added bonus is that the reusable cups will be sanitized for future events—helping to speed the lifecycle of the cups.
"The key additional benefit of utilizing the fiber and returnable cups is litter prevention: reusable cups with a deposit provide a very high redemption rate at the event, and worst case, consumers take them back home to use further there. Fiber cups will biodegrade if disposed of inappropriately, so they do not harm the environment even if some will eventually end up as litter."
Another element of the waste-reduction strategies at the Men's Final was the use of more than 220 recycling bins across the venue into which consumers could dispose of their recyclable cups and their snack bags, along with any other paper and plastic material. Post-event, the bins were sorted by a professional waste management company that directed the materials to the proper recycling channel.
As for the non-recyclable flexible film snack bags, as part of another PepsiCo global initiative, Lay's Replay, the brand is using the material to create soccer fields. In fact, its latest Lay's Replay initiative involved unveiling a new soccer field made partially from snack bags before the Istanbul final. According to PepsiCo, from the materials to the installation, the fields are designed to minimize impact on the environment. "For example, the turf and shock pad layers are 100% recyclable at the end of their lifespan," says the company.
---
---
Since June 2021, PepsiCo has unveiled six soccer fields in locations that include South Africa, Brazil, the U.K., the U.S., Italy, and Mexico.
In another UEFA partnership, this one with the UEFA Foundation for Children, PepsiCo is supporting community impact through Gatorade 5v5 global tournaments, which ease the barrier to entry for young amateur footballers and fuel play through grassroots programs. This year's global 5v5 tournament final took place ahead of the Women's and Men's UCL Finals.
Concludes Jagannathan, "The new improvements at both tournaments will serve as a stepping stone towards the overall goal and help make the necessary improvements in the upcoming years to ensure all future UCL/UWCL finals stadiums meet the zero waste to landfill requirement permanently by 2026." PW
Companies in this article