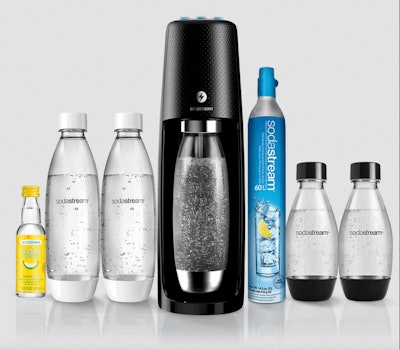 On the beverage side, one prime example of a Refill-at-home system is SodaStream, founded in 1903 in the U.K., with the invention of the aerating machine. While the brand stagnated for many decades after its introduction, it was revived in the 2000s, and in 2018, PepsiCo purchased Israel-based SodaStream International Ltd. for more than $3.2 billion.
The SodaStream Sparkling Water Maker is a home carbonation system that includes a machine, a carbon dioxide cylinder, and a plastic bottle designed to be reused for up to three years. PepsiCo also offers a range of bottle options for purchase separately, including glass carafes and dishwasher-safe, on-the-go containers. There are approximately 60 concentrate syrups to choose from, including soft drinks, flavored waters (PepsiCo's bubly sparkling water brand), and kombucha.
---
---
To create a carbonated beverage, consumers insert the CO2 cartridge into the back of the machine, place a bottle filled with water into the front, and push down on a carbonating block to create the carbonation. The consumer then adds the desired concentrate flavor to the sparkling water. They can also mix concentrates for a customized beverage. According to PepsiCo, by using the system, a consumer can save approximately 63 plastic bottles in a month, or 772 in a year.
To further minimize packaging waste, PepsiCo also offers a system whereby consumers can exchange their spent CO2 cylinders for new ones. With each online order, cylinders are shipped in a corrugated box that also contains a preprinted UPS labels. Consumers are encouraged to keep the box for use in returning the empty cylinders. Cylinders can also be exchanged in-store. SodaStream then sterilizes, inspects, and refills the cylinders with fresh, dietary-grade CO2.
In early December 2022, PepsiCo announced that it will be pursuing four approaches to reusable packaging to double the percentage of all beverage servings it sells that are delivered through reusable models—from 10% to 20%—by 2030. PepsiCo is an Ellen MacArthur Foundation New Plastics Economy Global Commitment signatory, and its four approaches align with the four models outlined by EMF in its "Reuse – Rethinking Packaging" framework. Says PepsiCo, reuse is one of several critical levers it is using to meet its goals to reduce virgin plastic per serving by 50% by 2030 and to become Net Zero by 2040.
The company's Refill-at-home strategy involves the expansion of its SodaStream business, both at home and in the workplace through SodaStream Professional. Says PepsiCo, "The widespread international availability of SodaStream and SodaStream Professional, and its continued growth, enables consumers to reinvent how they consume some of the world's most loved beverage brands and personalize their choices in reusable containers, potentially eliminating the need for more than 200 billion plastic bottles by 2030."
---
---
PepsiCo adds that many of its brands, including Gatorade, Propel, Muscle Milk, and Evolve, are offered as concentrated powders or tablets that allow consumers to customize the drink to their preferences in their own containers—another option for Refill at home. As part of its goal to increase its reusable packaging options, the company says it plans to accelerate growth in its powder and concentrate business as well.
"Fundamentally transforming the traditional beverage consumption model will require making reusable and refillable options accessible and convenient, at scale, for consumers—and that's what PepsiCo aims to do," says Jim Andrew, chief sustainability officer for PepsiCo. "PepsiCo will accelerate our investment in disruptive innovation and advocate for policies that allow us to scale up reusable packaging options, platforms, and programs so that we can offer consumers a wide variety of alternative ways to enjoy their favorite beverages while moving away from reliance on single-use packaging."