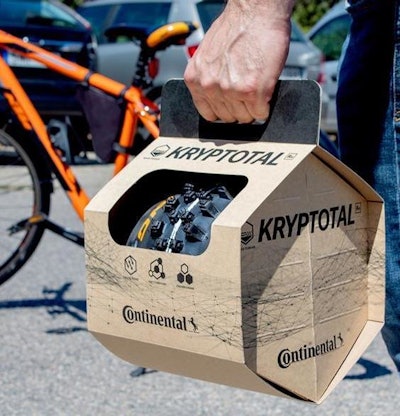 ThePackHub
Packaging continues to see a lot of change of materials driven largely by sustainability objectives. Plastic replacement is still top of the agenda for many brands and retailers as they look to switch out of the material to solutions that may offer a better environmental footprint or at least be better received by anti-plastic focused consumers.
Learn more about ThePackHub's Innovation Zone here.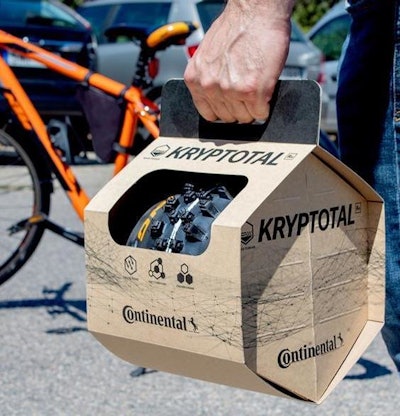 Continental Mountain Bike Tires Move From Plastic to Corrugated Packaging
German board packaging specialist STI Group has designed a recycled corrugated board box that will be used to replace the previous plastic packaging for Continental's high-tech mountain bike tires. The box is hexagonal in shape in line with Continental's branding and features cut-out windows, allowing consumers to both see and touch the product inside without having to open the pack. It is folded and glued in place with the aim of utilising as little material as possible, and although this is said to be complicated to assemble by hand, STI Group states that it is possible to automate the process. The pack is said to be cost-efficient, easy to assemble and fill, and can be stacked on top of other packs. Its integrated handle also allows for the pack to be displayed on a Euro hook as well as a shelf and also makes it easier for consumers to carry the product home.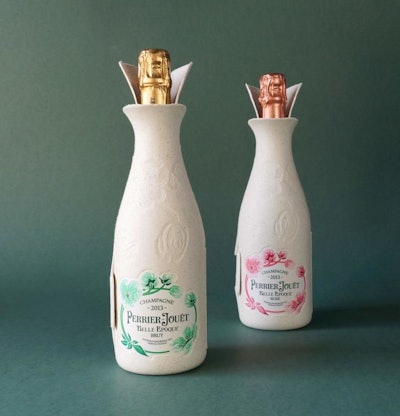 Champagne House Maison Perrier-Jouët Launches Head-Turning Gift Box
French champagne house Maison Perrier-Jouët has announced the launch of a sustainable, eco-friendly gift box made from just two natural products, molded paper pulp and vine shoots. The gift box came about through collaboration with COLOURFORM™, one of materials and paper products company James Cropper's brands. James Cropper see themselves as a forward-thinking paper mill that uses various materials, from cotton and wood, to carbon fiber in packaging to create visually different materials. The gift box, called the Belle Epoque Cocoon, perfectly envelops the bottles while also showcasing vibrant colors, giving the box both a luxurious and natural feel.The gift box is lightweight, coming in at only 49 grams, which is 93% lighter than the previous gift box. The box also doesn't include any varnish or glue. COLOURFORM™ uses 100% renewable energy, with most of the power being generated on-site by the company's own solar and hydro plants.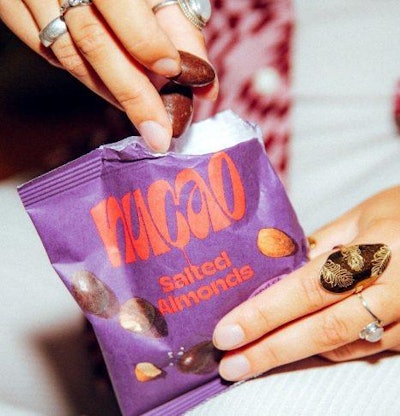 Vegan Chocolate-Maker Nucao Moves to Primary Packaging Made From Paper
German vegan chocolate maker Nucao is claiming to be the first chocolate manufacturer in the sector to embrace primary packaging made from paper and has been using it for its chocolate products 'nucaofruits' and 'nucaonuts' since the end of 2022. The packaging supplied to nucao is Oberkirch-based Koehler Paper's NexPlusAdvanced. NexPlusAdvanced has excellent oxygen, mineral oil, and grease barrier properties, making it ideal for direct contact with food. It also has good gravure, flexographic, and digital printing properties. Compared to traditional plastic packaging, flexible paper packaging reduces the CO2 footprint significantly and provides a positive image transfer to the product and company brand. As it is 100% made from paper it can be placed in the paper recycling after use. Research from the brand shows that the majority of consumers in Europe prefer food in packaging that contains little to no plastic, and are willing to pay a higher price.
Learn more about ThePackHub's Innovation Zone here.
Companies in this article