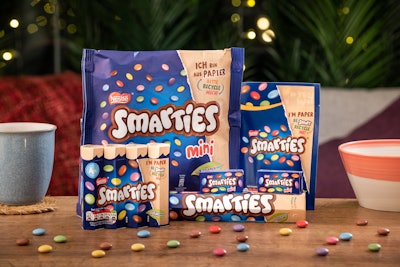 Two years in the making—from concept to launch— Nestlé's introduction in June 2020 of its Smarties chocolate candies in fully recyclable paper packaging represents a world first for a global confectionery brand, the Swiss-based company claims. The project, which saw packaging for 419 SKUs of the popular sugar-coated chocolate candy moved from plastic to paper, involved greater complexity than even Nestlé anticipated when it first embarked on the journey.
One challenge included developing a paper substrate that could provide the same functionality as plastic, while still being 100% recyclable and able to run at high speeds on the company's existing packaging equipment. Nestlé also had to reimagine many of its iconic packaging designs—which could not be reproduced with paper—with new structures capable of conveying the same joy and fun for which the brand is known.
The project used as its starting point the work done on a fully recyclable paper wrapper developed at Nestle's R&D Centre for Confectionery in York, U.K., in collaboration with the Institute of Packaging Sciences in Lausanne, Switzerland, for Nestlé's new YES! fruit and nut bar. The YES! bar packaging was the first such structure to be able to run at 300 packs/min on a cold-seal flow-wrap machine.
---
---
To adapt the paper packaging material for Smarties, Nestlé called upon 50 R&D staff, along with the company's global R&D network of 180 packaging experts worldwide.
The first Smarties pack to be launched in the new paper packaging was for its popular sharing block, an 18-square chocolate bar filled with mini Smarties. According to Nestlé, 3.5 million Smarties blocks are sold each year. Given the scope of the plastic-to-paper project, the company shares that in total, the conversion of all SKUs to paper will eliminate more than 400 metric tons of plastic packaging, including more than 38 million plastic lids and plastic stickers, worldwide, based on 2019 annual volumes.
Conversion supports Nestlé's global sustainability commitments
In 2018, Nestlé announced its commitment to make 100% of its packaging recyclable or reusable by 2025 in line with the Ellen MacArthur Foundation's New Plastics Economy (NPEC), a global initiative that seeks to address plastic waste and pollution at its source. As Rob Cameron, Global Head of Public Affairs for Nestlé SA, explains, currently 87% of the company's packaging is already recyclable or reusable.
In 2020, Nestlé announced another goal—to reduce its use of virgin plastic by one-third by 2025. "That sounds relatively straightforward," says Cameron, "but there is a huge challenge for us in this, which is the availability of food-grade recycled plastic that we can use as feedstock for our packaging."
To close the 13% gap in making all its packaging recyclable and reusable and to reduce its use of virgin plastics, Nestlé has identified five action areas: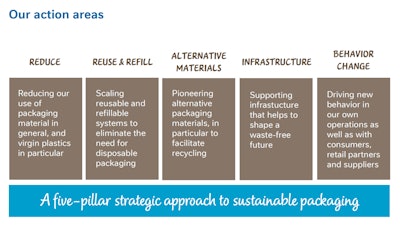 According to Alexander von Maillot, SVP Global Head Confectionery & Ice Cream Strategic Business Unit, Nestlé SA, it was this 2018 global announcement that inspired the confectionery group to pursue new packaging for Smarties in order to advance the company's sustainability goals.
"We were sitting together and thinking, how can we step up with confectionery, and what can we do to set a good example?" he recalls. "And soon we started to talk about Smarties, as it is a brand so much linked to children, and therefore it was a perfect fit to take care of the future of our next generation.
"We decided, why not make Smarties the first plastic-free confectionery brand. It felt very compelling and logical. But it was easier said than done, especially when we began to look at the details. We then understood that we had a massive challenge ahead of us. We are producing roughly 280 million packs per year. And at that time, 250 million of them were using plastic. Thus, we had to change 90% of our portfolio. Ninety percent meant we had to transition 419 SKUs, some 400 different formats, shapes, and different types of packaging, to paper."
Adds Bruce Funnell, Packaging Lead from Nestlé's Product Technology Center in York, "When we actually looked into the data, we found that plastic was used everywhere, albeit in a small ways sometimes, such as a sticker or an Easter egg fitment, the pouches, the bags, the windows in cartons—each one had to be tackled in a way to ensure that each of the problems could be solved."
Paper provides best circularity
The main goal for the Smarties packaging, in fact for any packaging, says Funnell, is to contain, protect, and preserve the product—a job that plastic had performed exceptionally well for years. "We deliver Smarties in a way that the consumer can dispense and enjoy the product safely. Safety is our ultimate priority," he says. "And when you look at plastics, they have been the ultimate choice for many years because they have great attributes. They're strong, lightweight, and affordable. They do a tremendous job of protecting the food with a minimum amount of resources. And that's why it's used so widely."
The problem with plastic, however, is that many times it's not recycled, or even worse, it becomes litter. "We believe that by moving to paper, Smarties can really help to make a difference and play a key role in Nestlé's journey going forward," Funnell adds.
Paper was not the only substrate considered as a replacement for plastic, however. As Funnell explains, when making a packaging change, Nestlé considers all types of materials and end-of-life scenarios to make sure the package it designs provides the best value and supports the circular economy. One alternative was a compostable material.
"On the face of it, compostable materials sound ideal because they break down naturally into the environment," Funnell says. "But the challenge with compostable materials is twofold. First, for home composting, when we really look at the number of people who home compost, it's very small. So the chance of the packaging actually getting composted is small. And then if we talk about industrial composting, the challenge there is that there are very few industrial composting facilities, and the risk is, if it goes into a conventional recycling system, it can actually pollute the recycling stream. So we have to be very careful how and where we use compostable materials.
"Our vision is that all of our packaging is recyclable or reusable by 2025. So paper, already having a very well established recycling stream, really answered that question and so provided a great vehicle for a circular design of a new package."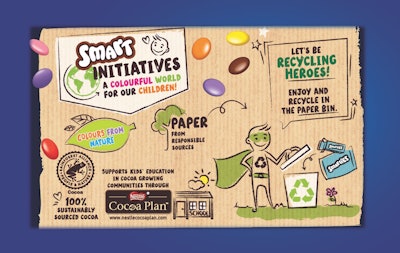 The goal was also to design a package that would provide a clear benefit to consumers. Says von Maillot, "People know this material [paper], and so it gives us a very easy and simple story, because Nestlé's commitment is also about helping to educate consumers on new behavior."
As desirable as paper is from a recycling standpoint, however, it does lack much of the functionality of plastic, acknowledges Funnell. It's not as strong as plastic, it tears easily, it's stiffer, and it lacks the oxygen and moisture barriers provided by plastic. It's also a very open and porous structure, which poses a problem for printing graphics onto the packaging.
Typically, Funnell explains, plastic packaging for a confectionery product such as Smarties comprises multiple layers, including an inner layer, a barrier layer (typically aluminum), a print layer, and a final surface layer for protection, between each of which is an adhesive layer. To move Smarties from this multilayer structure to a paper material required developing a cellulose structure and a proprietary, water-based coating that together could provide the needed functionality and recyclability.
"By doing that, we created a material that can be easily separated and recycled, so we can recover the fiber, and we can reuse it," explains Funnell. "And we can also recover the waste elements, which we can use either for further recycling, or we can use it for incineration for energy. So we can recover the vast majority of the material."
The final, proprietary paper structure was developed by the York R&D center in conjunction with Nestlé's packaging engineers and scientists, its factories, its suppliers, and recyclers "to ensure not only that it could be used, but also that it could be recycled at end of life," Funnell shares.
Nestlé ensures sustainable sourcing of fiber
When designing new, more sustainable packaging, Funnell says Nestlé considers a package's full supply chain, from raw materials through to end of life. "To do that, we use a lifecycle-based assessment tool that allows us to design our thinking around different packaging solutions to make sure we don't create a problem in another area," he says. "And then we consider all the environmental impacts."
---
---
For its fiber-based packaging, Nestlé works directly with its suppliers to ensure that all paper, pulp, and board comes from sustainable sources. Packaging for the new Smarties packs uses fiber from proprietary suppliers that is 100% traceable back to country of harvest. In addition, a minimum of 90% of the fiber volume is responsibly sourced within Nestlé's definition, which reinforces the company's specific commitments on deforestation and forest stewardship, rural development, and water stewardship. Nestlé uses certifications such as Forest Stewardship Council (FSC) and the Programme for the Endorsement of Forest Certification (PEFC) to demonstrate compliance.
Funnell notes that paper has the added advantage of being available at the scale needed for a company such as Nestlé. "The trees we need for tomorrow are planted today, and the trees we need for today were planted yesterday, so there is enough paper for us to make the change sustainably," says Funnell. "And the fact that we recycle the material over and over again several times means that we keep the material in the loop. Whereas, if you consider plastic that is not recycled, probably the best case is that it will be incinerated for energy recovery and the worst is that it will be littered."
New packs designed to delight customers
Switching to more sustainable packaging often comes with tradeoffs. For Smarties, it was the shedding of some of its iconic packaging structures in favor of new ones that could more easily be produced with paper. "As a brand guardian, it's really hard because we had to give up on core brand assets, something you never want to do when you really nurture and build a brand," says von Maillot.
One example is the Smarties Giant Tube, a paperboard tube holding 4.59-oz of the chocolate candy, with a plastic lid that could be removed with the flick of the thumb. The iconic tube was used for everything from a teaching tool to demonstrate a cylinder shape to students, to a range of games invented by children. von Maillot himself remembers using the empty tube as a telescope when he was young.
"But we understood that we had to step it up," he says. "If we wanted to move out of plastic, there was only one way—we had to change the shape." The new package is a clever refresh, converting the cylindrical tube to a hexagonal shape. Designers were also able to retain the iconic opening mechanism, but with paper instead.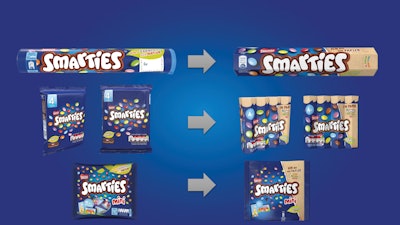 Another redesign involved the packaging for multipacks of smaller Smarties tubes, which were formerly held in plastic pouches. Now, multipacks are made from a number of paperboard tubes connected by a perforated paper label, whereby individual tubes can be torn off the main package. "It's a really innovative connecting system, which is memorable and fun," say von Maillot.
For tiny boxes of mini Smarties—handed out at birthday parties, for example— Nestlé replaced the plastic pouch holding the tiny paperboard packs with one made of paper. "Not only does it look great, but it feels great, and I think it even sounds great," says von Maillot. "It's paper, yet it protects the product inside just the same way as plastic did before."
Another part of the redesign process was to tell consumers about the change on the packaging. Smarties has always been committed to helping parents inspire and educate children. According to von Maillot, many children have learned the names of colors and counting with the brightly colored treats and have learned things such as how to draw through on-pack activities.
"We know that to meet our 2025 commitment, we have to help educate and encourage the right behaviors," he adds. "And the communication on our packs is all about encouraging that behavior in an engaging manner, reminding parents and children that Smarties is working hard to do the right things." On-pack messaging includes the copy, "Let's be recycling heroes! Enjoy and recycle in the paper bin!" and "Paper from responsible sources." The packaging also advises that the product uses only natural colors as well as sustainable cocoa.
Equipment investments required
As noted earlier, another fundamental challenge was engineering the material to run on Nestlé's equipment. Just as plastic has been optimized for packaging, so too has the packaging equipment been optimized to run plastic. "So to enable paper to fulfill its role, we really needed to bring some clever innovation to make that work, to run effectively and efficiency on our automatic lines," says Funnell.
Nestlé's largest Smarties production plant is in Hamburg, Germany, where 20,000 tons of Smarties are produced each year. That translates to more than 20 billion pieces of Smarties going out from Hamburg to more than 50 countries, mainly in Europe, as well as South America and Asia.
---
---
To accommodate the new paper packaging, Nestlé invested $10 million Swiss Francs (approximately US$10.8 million), much of which was used to install a new line for the hexagonal Smarties Giant Tube. According to Arturo Galván, Factory Manager of the Hamburg Chocolate Plant, some of the investment was also used to modify existing equipment for the paper bags, such as the vertical form/fill/seal machines used for the bags of mini Smarties. "Although we just changed the plastic material to paper, we had to guarantee that the parameters, including the temperature for sealing, matched perfectly, because if we take a very high temperature, we can burn the paper. And if the temperature is too low, we cannot guarantee that we're sealing the pouch properly."
The beginning of the 'paperization journey'
Since the introduction in mid-2020 of the Smarties Sharing Block in paper packaging, initially in U.K.'s Asda supermarkets, Nestlé has been rolling out various formats in the new paper packaging globally. Before the paper packaging project, 10% of Smarties products were in paper packaging; today, the entire brand portfolio of 490 SKUs is packed in 100% recyclable paper.
Among some of the other redesigned Smarties formats are a sharable, reclosable stand-up paper pouch; a paper carton for the travel retail-exclusive Smarties Music Maker product, formerly in a plastic tube; and the display trays used to hold Christmas and Easter hollow figures, which are now paper.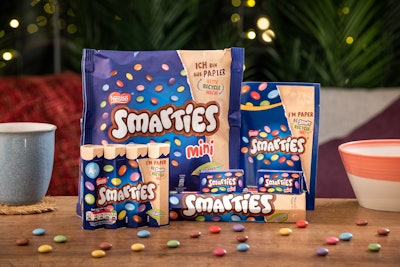 In April, a press release from Amcor announced that Smarties had released paper packaging for its Chocolate Block and Bar product range in Australia that was developed with the packaging provider.
According to von Maillot, Nestle is at the beginning of its "paperization journey." After tackling the YES! snack bars and Smarties portfolio, Nestlé also introduced a new 100% recyclable paper pouch for its Nesquik All Natural cocoa powder in Europe. Currently, the company is looking at its ice cream packaging as the next target.
"It's really a journey—it is step by step," von Maillot says. "We need to look at what brands make sense. Can we protect the product enough by packaging it in paper? And then we will test and learn and roll out more products and brands with time."
Companies in this article