Flow-wrapped film packaging once was the format of choice for confectionery, especially chocolate bars. To a great extent it still is, but times are changing, and so is the material that candy bars are wrapped in. Consumer goods companies are looking for more sustainable materials. For example, just a few weeks ago, Packaging World covered Nestle's 'paperization' of its popular Smarties line of candies.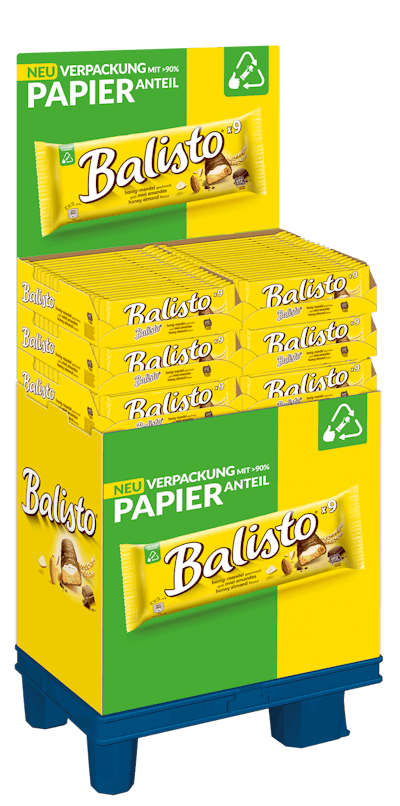 Under the same types of pressures, Mars Wrigley is concurrently investigating the flow-wrapping potential of paper. These major brands are all actively searching for more sustainable packaging alternatives in order to meet self-imposed sustainability goals. For example, as a major Mars business segment next to Petcare and Food, Mars Wrigley is aligned with the Mars Corporate Sustainability Vision to a Healthier Planet. Mars is a core partner of the Ellen MacArthur Foundation's (EMF) New Plastic Economy initiative, and one of the first signatories of the EMF's Global Commitment to eliminate plastic waste and pollution at its source. The Mars Vision is aligned with EMF to support a circular economy where packaging never becomes waste. To make this vision a reality, by 2025 Mars plans to reduce virgin plastic use by 25% and ensure 100% of its plastic packaging is reusable, recyclable, or compostable.
Beta Testing Paper Packaging
So w
ith long-term partner
Syntegon Technology
(formerly Bosch Packaging), Mars Wrigley is currently realizing a large-scale test of paper packaging. The product in question is German cult favorite snack Balisto®, and the testing is happening in an un-named, but major German food retailer.
The flat, chocolate-covered cookie snack bar is offered in a range of flavor variants and colorful packaging.
Where less established materials are at play, Mars Wrigley recognizes that suitable packaging materials need to be developed and tested regarding machine performance criteria and market acceptance. "As challenging as this process can be, we wanted to go the extra mile to deliver on our sustainability commitment and our commitment to quality," says Gerben Santegoeds, Global Technology Principal Engineer Packaging at Mars Wrigley.
---
---
The company has already launched several pilot projects across Europe. The valuable insights gained from these pilots can then be harnessed to develop sustainable packaging solutions in all categories of Mars Wrigley's portfolio. One of the pilots now underway at Balisto® is the Honey Almond flavor chocolate bar. In line with the company's vision to use more recyclable material, the bar is currently being packaged in a paper-based flow wrap for validation purposes. For this solution to become a reality, Mars Wrigley had to develop and test a paper-based flow wrap for single bars and multipacks.
"This was a real challenge. We needed to reassess the properties and packaging potential of a material that was previously not used for this kind of product," Santegoeds says, "What barrier properties does paper offer? What about grease retention? And how will it perform on horizontal flow wrappers that usually process conventional film? It was a logical step to seek support from partner experts who fully understand our requirements," Santegoeds says. "Syntegon's fully integrated approach covers horizontal, vertical, and secondary packaging. This means we had a one-stop shop to develop our value-based solutions – and achieve quick time-to-market at scale."
Mars Wrigley followed a two-track approach for its paper-based project. It included testing paper packaging for Balisto® Honey Almond bars on respective Syntegon machinery. If this proved successful, the company would launch 100,000 multipacks with nine bars each in over 500 stores of a major German food retailer.
"This called for a paper-based flow-wrap solution that would ensure that our high-quality standards could be upheld and still deliver on our promise to our consumers. This was the benchmark we had to reach," Santegoeds says.
Keeping the Crunch
Finding the matching solution wasn't trivial. Primary paper packaging has direct contact with the product and fundamentally different properties than plastic packaging. Shelf-life was not the only challenge: since Balisto
®
is a chocolate-covered cookie bar, the packaging must also offer oil-mark resistance and minimal permeability attributes. The new package should also be able to keep moisture out and ensure the proper biscuit crunch.
"Even the most sustainable packaging would be useless if quality didn't match consumers' expectations, and our high standards in food safety, product quality, and integrity," Santegoeds says.
Syntegon had already been working on paper-based flow-wrapping solutions when Mars Wrigley shared their strategy and presented their pilot flow-pack projects. Eager to make their flow wrapping machinery future-proof, the OEM had launched its "paper-ON-form" retrofit kit for a wide range of traditional horizontal flow wrapping machines. It comprises a paper flow-wrap forming unit and sealing tools for cold sealing applications. The tool allows to process barrier papers without wrinkles, scores or cracks, while the customized cold sealing tools gently create the sealing seams.
"The solution was exactly what we were looking for at the time," Santegoeds says. "We decided to run first packaging and shelf-life tests on Syntegon machines."
Clearing the Hurdles
As is the case with most innovation, some challenges needed to be overcome.
"During the first tests, the paper tore when folded," Santegoeds says. "We needed to find a way of wrapping the bar without destroying the required barrier." Moreover, the paper must be shapeable and allow for both transverse and longitudinal seams. "The initial learnings at Syntegon were important to pave the way. We didn't see them as setbacks, but rather as valuable insights we could build upon," Santegoeds says.
The trials revealed whether the machinery and packaging materials performed well together. Fortunately, they did.
Over several months, Mars Wrigley and Syntegon tested different paper variants from different suppliers. They gained more and more insights on how the materials run on the machines. Step by step, the R&D and engineering departments of both companies partnered their way to the right folding parameters.
"A key driver of our collaboration was the willingness to challenge each other. We constantly discussed results with people who are absolute experts in their field, until we had the matching solution for our Balisto bars," says Santegoeds. The FSC®- and PEFC™-certified packaging developed from special paper consists of more than 90% natural fibers.
Holistic Approach through the Whole Process
The success of the initial packaging tests is based on Syntegon's "paper-ON-form" solution developed in Beringen, Switzerland. It helped to implement paper packaging on the HRM flow wrapper for single bars at Mars' Balisto production site in Viersen, Germany. The multipack was a special challenge. Despite its size, the single bars must remain stable.
The bars produced in Viersen are available in over 500 EDEKA shops until late autumn 2021. The region covers five federal German states, an area big enough to deliver conclusive results after several months.
"The test will provide us with comprehensive information on how the new packaging performs under production conditions, in retail and in the everyday lives of consumers," Santegoeds says. "We can use the pilot to realign our packaging in more Mars business units. When it comes to Syntegon, once more the project revealed the company's packaging strengths, which we will gladly fall back on in the future. We are convinced that we will be able to further optimize the results with our partner from the packaging industry."
Far from being the only paper-based product ever, Mars Wrigley says the Balisto bar is a first step in a right direction. -PW
Companies in this article