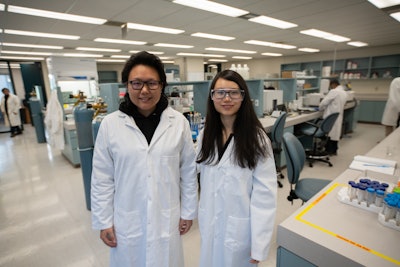 As part of its commitment to support women climate tech entrepreneurs, Amazon's Climate Pledge Fund is investing in Genecis, a bioplastics company founded by scientist Luna Yu. Genecis uses organic waste, like table food scraps, to create a biodegradable bioplastic, PHA (polyhydroxyalkanoate), that ca be used as an alternative to conventional plastic packaging.

The Climate Pledge Fund, which invests in climate tech companies developing innovations that help address global warming, recently announced its Female Founder Initiative to invest $50 million in women-founded and women-led climate tech companies. The program also invests money in incubators and accelerators that support women entrepreneurs, and it's designed to help address the gender-equity funding gap that currently exists for women in climate tech. Says Amazon, women founders and their companies often receive a fraction of the venture capital funding—less than 3%, according to Pitchbook.
Yu, who founded Genecis at the age of 21, is the first woman CEO to receive investment support through the Female Founder Initiative. Genecis is also the fund's first investment in a company directly addressing the use of fossil fuel-derived plastics and the global warming factors they contribute to.
---
---
Yu came up with the idea for Genecis while studying to be an environmental scientist, and she says that her decision to work in climate tech has been encouraged by the leadership of other women in the field. "I was inspired to start Genecis after I watched one of my friends at university start her own climate tech company. She raised all the funds, networked, and worked tirelessly. I realized that if she could do it, I shouldn't let anything stop me," says Yu. "I hope my path and story will encourage more women to develop their climate change solutions, too."
Phoebe Wang, investment partner and head of the Female Founder Initiative, says she hopes Amazon's program will also signal to women that funding is available to help bring their ideas to market.
"If we want to address climate change at scale, women like Luna need resources to build their companies," says Wang. "By funding more companies like Genecis, we aim to send a ripple effect through the venture capital industry to encourage broader support for more female climate tech founders."
Genecis' bioplastics innovation
Traditional plastics are created using petroleum. Genecis' innovations with bioplastics have the potential to replace plastic products with fully biodegradable options. Yu and her team at Genecis are using specialized bacteria to convert organic waste, like bread crusts and other food scraps, into bioplastics. Bioplastics can be used to create a wide variety of products and packaging—such as food packaging, clothing and textiles, and medical tools and products—that are currently made with traditional plastics. Genecis is currently working with several corporate partners to design products for their use and bring more bioplastics to market.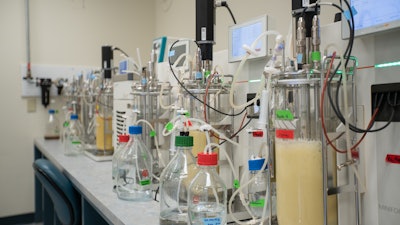 Amazon is currently evaluating ways to use Genecis' technology. In the future, Genecis bioplastics could potentially offer Amazon customers the opportunity to receive grocery and pharmacy items in bioplastic packaging that is both biodegradable and easily recyclable.
"Reducing plastic waste is a challenging environmental issue. Investing in solutions like Genecis' bioplastics is part of Amazon's broader strategy to reduce single-use plastic," says Alan Jacobsen, principal materials scientist at Amazon. "The work of Luna Yu and her team at Genecis has the potential to make plastic alternatives more affordable and change the impact plastic packaging has on the environment."
---
---
Companies in this article