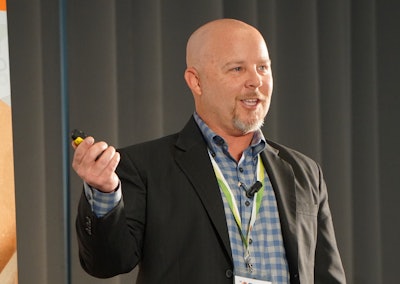 The world's largest online retailer, Amazon knows a bit about packaging, especially when it comes to consumers' feelings about excess e-commerce packaging. After all, its Frustration Free Packaging program, introduced in 2009, was designed specifically to reduce the amount of packaging used for e-commerce products and lower the cost of delivering goods to assist in maintaining low prices for customers.
That's why, in 2018, when it introduced its Vendor Incentive Program around FFP to promote the Ships in Own Container (SIOC) and Frustration-Free Packaging programs in its non-sort business, it was completely blindsided when the program failed to drive change.
As Jeremy Long, Senior Manager, Product Management, Customer Packaging Experience for Amazon, shared with attendees at Smithers' E-Pack Europe 2022 conference today, the initiative was a very large step for the retailer and one that was rolled out with much optimism. "Since our Frustration Free Packaging Program started in 2009, we had never taken any kind of overt industry action before," he said. "And so coming to the public with this idea of starting with a 12-month window to incentivize, followed by a $1.99 chargeback, this was a big deal for us. We really, really wanted to get it right. And we were really excited to have the business buy-in to offer that 12-month incentive.
"So we reached out to 25,000 contacts. We put materials together for industry journals and spent months planning a communication strategy for how we were going to launch this, how we were going to really go big and be successful at avoiding the chargeback. We wanted to convert as much of this packaging as possible.
"So fast forward 12 months later, that incentive had gone mostly unclaimed. A dollar per unit received in the new packaging format, and most of it had gone unclaimed. So we started to reassess, what did we do wrong? How did we so entirely miss the boat?"
---
---
What Amazon learned was that despite the fact that it was communicating with the industry, it wasn't yet touching the P&L owners. "It wasn't until the chargeback actually launched, and it started hitting the P&L, that we realized that we weren't really communicating with the complete audience," said Long. "We needed to figure out how to move our communication strategy further upstream, all the way up to the product design, the product strategy, and the packaging strategy long before the product actually gets to shelves."
Through consumer feedback, Long said Amazon has begun to realize that when it comes to e-commerce packaging, it's "putting a square peg in a round hole." He explained, "We are under the preconceived notion that e-commerce packaging requires putting a box on top of a retail product. And so that's where we want to take Frustration-Free Packaging to change that perception."
Amazon's Frustration-Free Packaging program was introduced in 2009 and was quickly followed by the SIOC program. Said Long, through these programs, Amazon has collected a tremendous amount of data. "I think most of you probably know Amazon is a fairly heavy data-oriented company," he said. "We've collected a lot of data, really under the auspices of identifying good products, good candidates that would meet the criteria for shipping in its own container. Criteria that we could come to our vendor portfolio with and say, 'Here are some good opportunities that we see using data to introduce and to convert your packaging to Frustration-Free Packaging.' This data has really sort of transformed the way we think about our packaging as a whole."
This data has also enabled Amazon to reduce its outbound shipments in corrugated in North America and Europe from 73% five or six years ago to 36% year to date. But, said Long, Amazon is still hearing from its customers, through social media and other channels, that it's still not enough; consumers want to eliminate the outer packaging.
"So, if the e-commerce overbox is wasteful, where do we go from here?" Long posited. "We've got to do something different. Packaging design can't be in addition to our product and packaging strategy, it has to be part of the product and packaging strategy.
"We can no longer afford to address packaging after the product launches. It's too expensive. That's why Amazon has launched these incentive programs to begin with. It's because there's a cost to convert, but if there's no conversion, then you can avoid the cost. So, that's where our more recent initiatives have headed, in trying to reach out further and further upstream."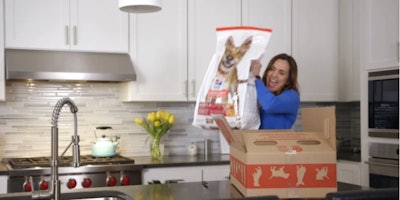 Added Long, it's not easy, but where Amazon has had success is when it's had top-to-top conversations with its vendors—including C-level executives, the brand owners, and the P&L owners—about the strategies around e-commerce and about sustainability. They get it, and they are committed."
But, he noted, commitment doesn't always translate to action, as the vendors don't always know what to do next. "So, we've got a gap, and it's this gap that I think this audience has a particular opportunity to help address," Long said.
He then challenged the audience with thinking through a few steps to see how they can participate and help address the gap between what the C-level and the P&L owner, the executives, are stating are goals for them and the actual execution. "First, assess where you are and the role that you play today," he said. "So, do you actually have a seat at the table, where you're having conversations about packaging strategy, not just e-commerce packaging, but total packaging? Do you have a seat at that table, or is your packaging team or your role associated more with taking orders from somewhere else? Are the requirements coming to you, or do you have the ability to influence those requirements?"
"Secondly, if you're in that first camp where you don't really have a seat at the table and you are an order taker, moving that further upstream is a big hill to climb. So, tackling that hill requires insight. It requires that you have a point of view. It requires that you have ideas and opinions."
---
---
He noted that the way that's done at Amazon is with data. "So, what kind of data do you have, and how are you using it?" he asked the audience. "How is that information going from operations to providing insights into your product development strategy? Do you have products, for example, that are already specially tailored to e-commerce that you can differentiate from products that you're shipping e-commerce in retail, and start to draw parallels, comparisons, and provide insights to your senior leadership about the advantages and opportunities that you're seeing, from the results you've already committed to e-commerce?
"Finally, once you have that seat at the table, you've got to take advantage of adding value. It's not just about adding value to the packaging. It's about adding value to the product. I would challenge the material and operational cost structures, that's the table stakes. What we're missing is real insight into how to use e-commerce packaging for new ways of engaging your customer.
"If you are letting letting Amazon put a generic, brown, corrugated box around your product, you're missing an awesome opportunity to create a new way of engaging, and that leads to brand differentiation."
Among the examples Long provided of packaging that has been redesigned using FFP processes to provide a better experience was a branded custom overbox for Hill's Pet Nutrition. "While it still just involves putting a box around the product, ultimately the box that you put around the product is going to be much better than the box we put around the product," he said. "We have a very limited set of boxes. In this example, you could see 34% reduction in the packaging volume, and 82% reduction in void space. That leads to real dollar savings across the board."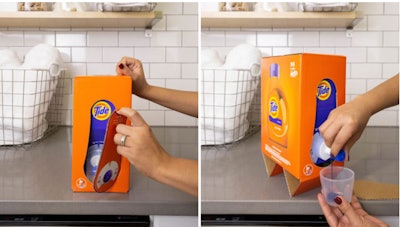 Another example is one that has been widely reported on: Procter & Gamble's Tide Eco-Box, introduced in 2018. "If you really want to talk about an example of how far upstream you can reach and have influence, and really tackle a new way of thinking, the Tide Eco-Box is probably our flagship example," said Long. "We've had it in the media for a couple of years now, but it's about true innovation that takes a product and really reinvents the method of delivery.
"This example actually also reinvented the product, because they also increased the density of the liquid, so it's not as diluted as the traditional retail store shelf. This kind of innovation doesn't just happen because you decide to convert a product that you're selling in retail and have an e-commerce offering. You have to reach far enough upstream in the product lifecycle, in the packaging strategy, that you're giving the P&L owners the resources to make really innovative decisions about the future direction of their product suite."
To facilitate this type of innovation, Long recommended three actions:
1. Educate product owners and product managers. Methodologies need to be adopted to ensure that e-commerce packaging is part of the strategy, not something that's taken as an afterthought, after budgets are set, after the roadmaps are well-defined. "We have to be educating these roles, the people taking these roles, before they even step into these roles," he said.
2. Establish industry standards around contract terms and expectations with supplier bases, encouraging revisions to the methodologies and product management certifications. "We need to be going back to the people who are trading on those methodologies and ensuring that the certification standards are offering the type of education that facilitates e-commerce as a legitimate channel for retail," he said.
3. Continue to have forums—such as E-Pack Europe 2022—where industry can get together and share best practices, talk about the roadblocks and the barriers they are facing as they try to reach further upstream into the product development lifecycle and bring back examples of where it's worked and lessons from when it hasn't.

"Doubling up on packaging is just no longer acceptable," Long concluded. "Our customers have said so. They let us know daily. Finding ways to push these decisions further and further upstream equips the P&L owners, and it equips the brand and product owners with the resources they need to make better decisions. Whether it be multichannel or omnichannel, having these decisions being made further upstream is really the only way to move this forward."