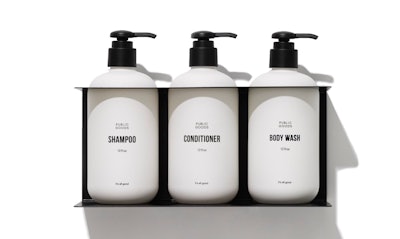 As with most consumer-facing markets today, the hotel industry is being challenged to meet guests' increasing desire for more sustainable lodgings. According to a 2021 study from Statista, 81% of travelers surveyed said they plan to choose a sustainable accommodation option in the coming year—a percentage that has grown consistently over the past six years, the study adds.
Says Chris Breen, Head of Partnerships at Public Goods, a producer of sustainable personal care products for the hotel industry and a D2C provider of good-for-you home essentials, "I saw the trend starting before the pandemic, and since the industry has recovered, it is moving even more quickly now. Eco-friendly ingredients are a priority, but the most important is the product [packaging] material and how we use it. For example, small-format products create quite a lot of waste and are generally made with virgin plastic."
With sustainability at the heart of its brand since its founding, Public Goods' first offerings were personal care products formulated with toxin-free ingredients in bottles made from sugarcane-based plastics, as well as biodegradable, tree-free toilet paper and toothbrushes made from bamboo. "Since then, we've only expanded on that, with products that are refillable, reusable, and made from recycled materials," says Public Goods co-founder and Head of Product Development Michael Ferchak. "We also partner with Eden Reforestation Projects to plant a tree for every order launched."
---
---
Both in their formulations and their aesthetics, Public Goods' personal care products are simple, beautiful, and neutral. "The hospitality industry serves all types of people with different preferences," says Breen. "Products that lean too heavily toward a scent, for example, or the branding will have a hard time being received well by all guests. This applies mainly to the ingredients deck; some people don't want certain ingredients."
To package its shampoo, conditioner, body wash, hand soap, moisturizer, and lotion, Public Goods uses a white bullet-round bottle with a black cap or dispensing pump and minimal copy. According to Ferchek, for design-savvy businesses and shoppers, Public Goods' products add a non-intrusive, soothing look to their spaces. The refillable 12-oz containers are high-density polyethylene, approximately 90% of which comes from Braskem's I'm Green sugarcane-based PE. The company also offers a number of products in 3-oz travel-size bottles, also made from Braskem's bioplastic.
Says Ferchak of the company's decision to go with I'm Green PE, "The benefit to sugarcane-based plastics is that it doesn't require petroleum to produce, therefore it does not support the petroleum industry. Furthermore, Braskem has research showing that production of sugarcane plastic is actually carbon neutral since the production of the sugarcane used as the raw material removes carbon from the atmosphere."
---
---
Caps are made from virgin polypropylene, however Ferchak says the company is currently working on transitioning all of its plastic componentry to post-consumer recycled material. And that switch applies to the bottles as well. When Public Goods first sought "greener" packaging in which to launch its products, it considered both bioplastics and PCR plastic. "Back then, it was not possible to get recycled plastic in a pure white, which is why we opted to go with I'm Green PE," explains Ferchek. "However, the PCR industry has improved lately, and it is possible now to get pure white PCR. As such, we've recently made a decision that it's better to reuse existing plastic than to introduce new plastic into the environment, even I'm Green PE. So we are in the process of transitioning our products over to PCR."
Refills for personal care products are in a 34-oz flexible pouch. The decision to go with the non-recyclable material was a tough one, says Ferchek, but given plastic's poor recycling rate of 8.7%, Public Goods felt it was wiser to prioritize reducing the amount of plastic it used. He adds that on a per-ounce basis of liquid product, the refillable plastic bottles use 5.4-times more plastic than the refills. Always striving for a more sustainable option, Ferchek says Public Goods is in the process of working with its packaging vendors to transition to curbside-recyclable plastic pouches.
Public Goods' line of personal care products are available in bulk for businesses and can also be purchased individually by consumers via its website, www.publicgoods.com.
---
---
Companies in this article