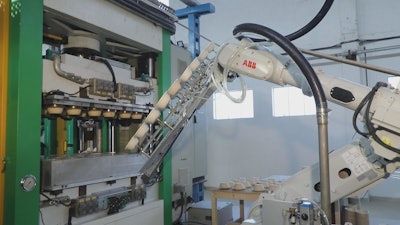 The collaboration involves ABB one of the world's leading robotics manufacturers, and Zume, a six-year-old California-based startup that has been pioneering the production of molded pulp compostable packaging made from agricultural waste. ABB has announced an agreement to collaborate with Zume by supplying robotic cells (referred to as MFCs, or Molded Fiber Cells) that will facilitate Zume's production of sustainable packaging on a global scale. ABB robots will automate production, enabling the scale and speed required to make Zume's compostable packaging a cost-effective alternative to single-use plastic.
Zume's packaging material, which is ASTM D6868 certified as compostable, is made from sustainably harvested plant material left over from agricultural production, including bamboo, wheat, and straw. Foodservice applications, like the bowls used by the Cava chain of quick-serve restuarants in the U.S., have led the way for the most part. But trays for beef, poultry, or other protein products are sure to appear in supermarkets before too long. Plant material uses significantly less water and energy and reduces CO₂ emissions when compared to the production and disposal of plastic packaging. Unlike plastic, plant-based material is 100 percent biodegradable and simply breaks down after use. But making molded pulp packaging at scale has never been a slam dunk.
"There's always been a trade-off in molded pulp," notes Zume Founder and CEO Alex Garden. "You can do high-precision parts slowly, or you can do low-precision things quickly. We are the first to attack that trade-off by developing parallel thermoforming machines. We arranged the forming machines in a bouquet so that they can operate in parallel. This required connecting them with very advanced robotics and materials handling solutions. That's where ABB came in. Large industrial robots manipulate large platen sizes transferring from forming, a wet process, to pressing. But we have multiple presses running in parallel, and we have an organic sequence among those pieces of equipment so that there's never one machine component in the overall process waiting for another machine to complete its process. This is why our effective drop times of molded parts are very short. The bottom line is that with these turnkey installations, complex parts can be made quickly.
For more on Zume, go here
One of the challenges facing any robotics supplier attempting to tackle this kind of manufacturing operation is that large masses and inertia must be managed at the same time that some rather delicate picking and placing of finished parts must be done with great accuracy. According to Sami Atiya, President ABB Robotics & Discrete Automation, superior motion control technology is what makes the ABB IRB 6700 robots capable of meeting this challenge.
"We will work with Zume to make compostable packaging a cost-effective alternative to single-use plastic and foam by automating its production process with robotic manufacturing cells," says Atiya. "The flexibility, repeatability, and accuracy of robots can boost the sustainability of a business. Robotic automation has a clear role supporting the development of a smarter, better world and a circular economy."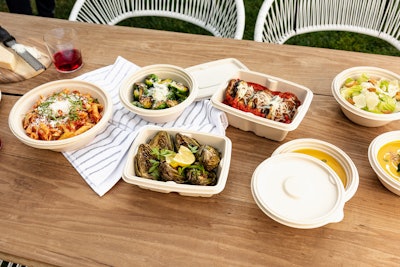 Expanding on ABB's role in the collaboration with Zume is Marc Segura, ABB Group Senior Vice President Managing Director, Consumer Segments & Service Robotics. "Our role is to help Zume scale its technology so that millions and millions of units can be efficiently produced. It's all about standardization and modularity, which are the essence of the MFC or Molded Fiber Cell. It's a combination of the molding technology of Zume, two enabling robots, and advanced motion controls that govern the process steps between the machines. One of the beauties of this approach is that we can copy and paste where the MFC is concerned to create an MFA, or Molded Fiber Array, and we can deliver this globally. So we leverage economies of scale and the global footprint of ABB."
A pilot project has been installed by Zume and ABB at Satia Industries Limited, one of India's largest wood and agro-based paper manufacturers. Satia has built a facility holding 50 MFCs that will process 100 tons of wheat straw daily creating 100 percent compostable packaging for a range of industries.
"Our work with Zume and ABB enables Satia Industries to meet and exceed the expectations of our clients for high-performing, affordable, and reliable products that are sustainably manufactured and easily composted," says Dr. Ajay Satia, CMD Satia Industries. "Besides adding significant value to the company, we are able to support the planet by providing sustainable solutions to help our customers transition to more modern, reliable, and customized products compared to those they use today."
Two other installations of Zume's turnkey systems are underway. One is in the Aurangabad, India, facility of India's Parason, a leading global supplier of "stock preparation systems," i.e., the equipment that processes the raw materials that become the pulp used to make molded fiber packaging. The other is in the U.S at Jefferson Enterprise Energy. Jefferson's Lufkin, Tex. plant, described as the first 100 percent renewable energy-powered compostable packaging factory in North America, will be powered entirely by on-site renewable energy with zero use of fossil fuels. At the heart of the new green energy and manufacturing facility will be a 400 ton per day pulp mill that will produce high-strength renewable pulp from agricultural waste materials. Interestingly enough, both the Jefferson facility in Texas and the Satia facility in India rely on stock preparation systems supplied by Parason.
Zume CEO Garden believes the Zume/ABB collaboration will make a big difference in growing the kind of sustainable packaging that can become the foundation of a more circular economy. "Our collective efforts over the next five years could annually sequester as much as 2 million tons of agricultural waste and replace as many as 20 billion pieces of single-use plastic each year," says Garden. "We've been on a journey for years now to identify and perfect a model that is a realistic alternative to single-use plastic, a legitimate path forward at scale. If we've learned anything about getting to price and performance parity it's that it's not one thing, it's hundreds of things. And I'm proud of how far we've come, though it's essential to point out that we never could have gotten this far without the global partnerships we've formed with Satia, ABB, and Parason. Each of us brought something to the table. And I think that what we're talking about here today will, in 10 years, be the new standard."
Go here to see video footage of the container-making process now underway at the Satia facility in India.