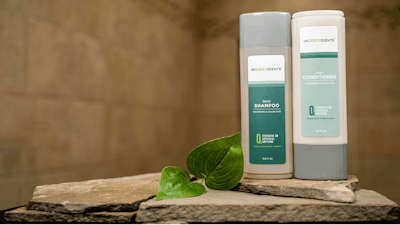 Ingreendients' brand founder, Rajat Sharma, had a goal to be at the forefront of reducing the amount plastic waste from personal care products entering the landfill by repurposing existing plastic and not creating any new plastic. So, his company recently launched shampoo and conditioner bottles made from 100% recycled plastic, supplied by Berry Global Group, Inc.
"The beauty industry is responsible for a third of the landfill waste in America," Sharma says. "One of the core pillars for Ingreendients is sustainable packaging so that we are not creating virgin plastic and adding to the pollution problem. Hence our focus was on having the product packaged only in bottles made fully from PCR plastic."
The HDPE bottle is made with 100% PCR, produced at Berry's manufacturing facility in Winchester, Va. A flip-top polypropylene closure, made with 100% PCR, creates a total container system made completely from recycled plastic that aligns with Ingreendients' commitment to sustainability.
Ingreendients' commitment to responsible product manufacturing extends further than the container, and is thoughtful in all elements of the product. Ingreendients believes it matters what's on the outside as well as inside the bottle. In addition to the container elements, the brand formula is made with the 100% plant-derived ingredients to formulate a salon-grade haircare product line.
"The Ingreendients brand set out to make the impossible possible by creating thoughtful products using only safe and simple ingredients backed by absolute integrity and transparency, with zero tolerance for misleading claims. This means we only call a product 'natural' if every ingredient in the bottle is derived from plants, period," Sharma says.
And this no-compromise commitment to absolute integrity in all aspects of their business drove the brand to use 100% recycled resin for their packaging in both bottle and cap. Sharma noted the industry expertise, product knowledge, recycled material availability and collaborative relationship made Berry the ideal partner to produce the packaging that fit Ingreendients' needs.
"I wanted to work with an industry leader who is at the forefront of sourcing recycled materials and Berry is a leader in packaging for my industry," says Sharma. "In addition, as I started to work with them, I was pleasantly surprised by the collaborative process and helping me figure out what was the best result for Ingreendients."
"We are happy to partner with Ingreendients to help support what's important to all of us – a healthy planet," says David Long, Regional Business Director, Berry Global. "100% PCR packaging is one of the ways that our plant in Winchester, Virginia, can help new, inspiring brands meet their sustainability goals."- PW
Companies in this article