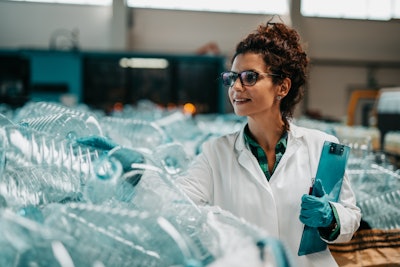 Getty
Today's beverage consumer is concerned with the overall sustainability of the products they are purchasing, especially related to plastic usage. Sixty-one percent of Millennials state they are happy to pay more for eco-friendly products, and by 2026 this group will command a 46% share of the beverage market. In general, 53% of consumers in the US and 65% of consumers in the UK support products that are environmentally friendly.
According to PMMI Business Intelligence's new report "2021 Beverage Trends Driving Change," manufacturers are trying to reduce plastic using a variety of solutions that include reducing their overall packaging material requirements, exploring sources of renewable and recycled plastics, and adopting plastic alternatives. Said one Senior Packaging Engineer, "Overall, our focus is on bio-sourced or PCR (post-consumer recycled) materials to achieve 100% recyclable packaging in the years ahead."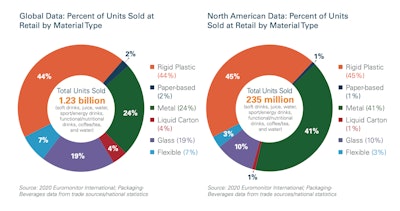 Plastic Reduction
One of the most common strategies deployed by beverage manufacturers to make their products more sustainable is reducing the amount of plastic in packaging. Bottles with thinner side walls, while more sustainable, do create challenges for manufacturers when it comes to producing these light-weighted bottles at full speed for maximum output. Material reductions result in thinner overall barriers on bottles and cannot be handled in the exact same way. Adjustments must be made to machinery to prevent issues such as tears and malformation that can slow or stop production. In some cases, these variances in strength and speed tolerances necessitate the purchase of new machinery, and sometimes entirely new production lines. This has made machinery that is capable of running at a variety of speeds and handling an array of recycled content in materials increasingly attractive to beverage manufacturers.
Increasing rPET
A rapidly growing trend for plastic reduction is switching from virgin plastic to recycled plastic, or rPET. 89% of manufacturers interviewed are actively looking to incorporate more recycled material into their packaging, and 67% already in the process of transitioning PET bottles to rPET. The plastic reductions realized through these strategies are significant, especially at the largest beverage producers: one leading beverage company expects to eliminate 46.3 million pounds of virgin plastic usage annually by switching to rPET, while another leading beverage company states their overall virgin plastic usage will be reduced by 20% across the board by switching only select brands to rPET.
---
---
Many manufacturers utilizing rPET are running into supply chain shortages due to low recycling rates in the US, that hamper production. rPET also creates new considerations on the production side, as the material is not as reliable or consistent as virgin plastic. Manufacturers have had to address problems with undesirable haziness in the material, as well as unpredictable variances in quality that affect overall strength.
Beverage manufacturers are seeking out machines that are flexible and easy to adjust, allowing them to accommodate fluctuations in the quality of rPET. It is particularly important that machine manufacturers focus on equipment that can be easily recalibrated to handle a variety of strength tolerances and speeds, and can be quickly cleared and reset in the event of unexpected stoppages caused by rPET material variances.
Returnable Programs: Still Finding Their Niche
Returnable container programs have been a hot topic for many years now, but the model has not been popular in the beverage industry. While 33% of manufacturers interviewed have stated they are exploring or even actively experimenting with returnable packaging, none of the programs are yet on a large scale.
New Material Types
One of the most obvious ways to reduce plastic usage is to switch to an entirely new format of packaging altogether, such as glass, metal, or paperboard. 51% of consumers rated glass as "extremely eco-friendly" when surveyed, and while glass currently makes up only 10% of the US beverage market, industry experts have noted a recent uptick of interest in glass packaging.
"We moved a latte product to glass from a tetra-pak to achieve greater consumer appeal," said one Packaging Engineer at a private label contractor.
Paper Bottles
Paper-based bottles have attracted attention recently as a potential alternative to plastic and a solution to the growing amount of plastic waste in the environment, though only 11% of
There are a few major beverage companies actively testing this format, but hurdles remain, such as preventing the packaging from leaching into the product, staving off flavor degradation, and improving the ability to hold up to environmental stressors.
Cans
There has been interest in using more aluminum cans as a way to improve sustainability, especially in the US, where cans are recycled at a rate of 50%. And compared to PET, these recycling rates make aluminum cans an attractive sustainable option, enhanced by aluminum's ability to be recycled and reused almost indefinitely.
---
---
As formats such as the tall, sleek can have gained popularity, can manufacturers are increasingly challenged with sourcing adequate amounts of aluminum. This has created a general shortage of aluminum cans within the beverage industry, with 42% of manufacturers interviewed stating they are struggling to consistently source adequate quantities of cans. This problem has also been exacerbated by supply chain issues during the COVID-19.
Smaller beverage companies reported more difficulty in sourcing cans than the industry leaders during the pandemic. The general manager at an emerging beverage company said, "As aluminum shortages rose to record levels, our delivery has been as long as three months. This makes it more difficult to compete and we recently had to shut down our can line as a result."
Sustainability Requires Flexibility
Shifting strategies by beverage manufacturers to achieve greater sustainability require machines that are flexible and dynamic, including being capable of handling a range of speeds, strengths, sizes, and shapes. By designing machines to address these needs, equipment manufacturers can help beverage producers position themselves to readily accommodate future sustainability strategies and growth.
Download this FREE report below.
Source: PMMI Business Intelligence, "2021 Beverage Trends Driving Change"
PACK EXPO Las Vegas and Healthcare Packaging EXPO (Sept. 27-29, Las Vegas Convention Center) will reunite the packaging and processing community. With over 1400 exhibitors, no other event in 2021 will bring together a more comprehensive gathering of suppliers offering new products, technologies and solutions. Attendee registration is now open.