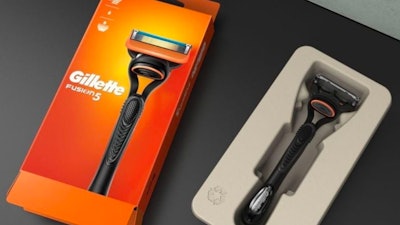 Sustainable packaging innovations just keep coming, with new technologies and introductions that follow a number of global trends. These include renewable or bio-based packaging that is compostable or biodegradable; packaging that is moving from one material to another—in particular, the trend away from plastic; packaging made from recycled materials, or packaging that is recyclable; and refillable and reusable packaging.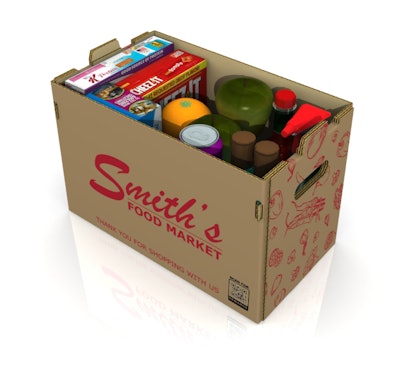 That's according to Paul Jenkins, Managing Director of ThePackHub, who hosted a March webinar that covered 15 new sustainable packaging developments. The event also included a presentation from Dr. John Williams, of Aquapak Polymers, who provided an overview of the company's Hydropol™ product.
The 15 new sustainable packaging developments showcased by Jenkens included, in no special order:
1. The new Greentote reusable, moisture-resistant, modular 100% recyclable container made from renewable resources is designed to replace plastic supermarket bags. Made of cardboard and available in two sizes, Greentote from DS Smith can hold more than three times the number of groceries than plastic bags and can interlock with each other, ensuring safety and convenience when transporting. Additionally, Greentote is coated with DS Smith's proprietary Greencoat, which revolutionized the wax-coated shipping industry for poultry, produce, and seafood with its sustainable, moisture-resistant capabilities and durability in demanding supply chains.

---
---
2. In India, the National Institute of Ocean Technology (NIOT) has created bioplastic from marine seaweed. Said Jenkins, "Seaweed is obviously in plentiful supply, it's inexpensive, and it grows rapidly, requiring only 45 days with sunlight only." The polymers are similar to plant-based plastics currently used in food applications and they can biodegrade naturally without producing toxic waste. They also can be disposed of through ordinary food waste and packaging collection. The bioplastic is in the concept stage only.
3. Portland, Ore.-based homecare brand Aunt Fannie's has taken a different tack to sustainable packaging. Rather than introducing measures to reduce, reuse, or recycle their packaging, they are certifying their product range as plastic neutral through rePurpose Global. For every package the company sells, it will donate toward vetted programs that collect and recycle the same amount of plastic waste from the environment.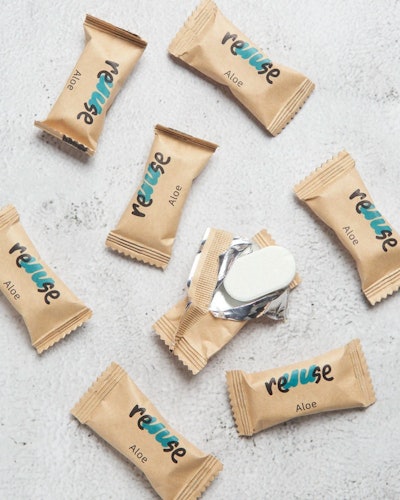 4. In Singapore, startup reuuse is offering handsoap tablets in flow-wrap packages that offer a low-cost sustainable solution for consumers. The product was inspired by the frustration experienced with conventional liquid hand soaps and the environmental impact that goes with them. Noted Jenkins, hand soaps comprise 80% to 90% water, which is eliminated by the water-activated tablets. The smaller format also reduces space and weight in freight and storage. The product is sold in an assortment of three tablets with a reusable bottle.
5. Aalto University located in Espoo, Finland, is working on a wood-based foam material that could replace bubble wrap for a variety of packaging applications. Developers are creating a solution made from a mixture of wood fiber, nanoclay, and lignen that has functional attributes such as strength, flexibility, heat-resistance, and impact resistance. Reported Jenkins, the foam is edible, fully bio-based, and biodegradable in natural conditions.
6. The Sanikind Mini initiative refillable sanitizer sprayer is made from recycled ocean-bound plastic. It's available in a range of colors and comes with a clip to attach to the consumer's purse, belt, bag, or even keys. Refills are offered in a recyclable aluminum container. Buying refills in bulk has the potential to save the consumer money versus purchasing disposable plastic bottles of sanitizer. But the price tag is steep at $18, which is about six- to eight-times the price of a comparable small, disposable bottle of hand sanitizer.
---
---
7. In an effort to reduce single-use packaging for its meal kits, Vancouver-based company Fresh Prep has introduced a reusable meal kit container that comprises an insulated, reusable bag called the Fresh Prep Zero Waste Kit. The bag holds a reusable, BPA-free, dishwasher-safe plastic-and-silicone container that holds the meal kit ingredients in a organized way.
8. In South Korea, Hansol Paper in cooperation with Lotte Confectionery has developed paper packaging made from the byproduct of cacao beans, which are discarded after being used as chocolate ingredients. As Jenkins explained, the bean waste is processed into powder and mixed with recycled pulp material to make paperboard. The development was seven months in the making. According to Hansol, it intends to introduce more products with a greater content of bean byproduct in the future.
9. Brazilian dairy company Vigor had made the switch from plastic to paper for its Simples yogurt line. The new material is made from natural resources and is biodegradable. It also has a higher level of recyclability in the market than the plastic it replaces. Vigor estimates that the new packaging will eliminate 15 tons of plastic per year.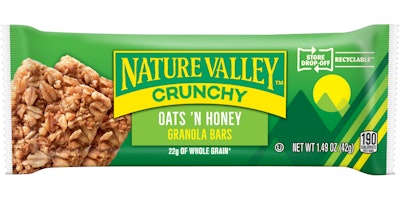 10. General Mills has introduced a plastic film wrapper for its Nature Valley crunchy granola bar product that is designated as Store Drop-Off recyclable by How2Recycle. The material was developed in collaboration with Nature Valley R&D scientists and flexible packaging converter Printpack, and uses new-to-the-category advanced film processing with unique polyethylene polymers. Both wrapper and carton are printed with information for consumers on how to properly recycle the packaging.
11. Questioning whether this package qualified for a place on this list given its unique material, Jenkins highlighted a concrete container from French cosmetics brand Le Crème Libre that holds refills of skincare capsules. The jar is made from sand, cement, and water, and is available online for 20 Euros for 50 mL. The brand, he added, is still in the midst of a crowdfunding campaign.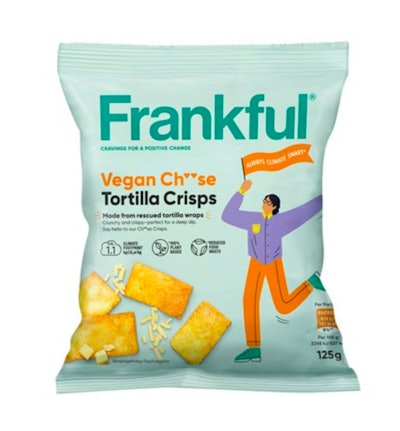 12. Working with Mondi, Swedish food manufacturer Orkla created three recyclable packaging formats for its new Frankful plant-based Tex-Mex range of soft tortilla wraps, tortilla crisps, and taco spices. Soft tortillas will be one of the first food products to be packaged in Mondi's BarrierPack Recyclable solution, which uses a high-barrier, lightweight mono-material and a reclose tape to keep the food fresh in its original packaging. Meanwhile, Orkla's spice mix will be packaged in a paper-based laminate, created from FSC-certified paper and a film made from renewable resources. According to Mondi, the high paper content ensures suitability for Swedish recycling paper streams. The tortilla crisps will be kept crunchy and fresh in its metal-free high-barrier laminate, which makes it recyclable. This solution reportedly eradicates the need to include a metallized layer while retaining crispness and avoiding grease leakage.
---
---
13.
From Finnish food company Fazer comes a bread bag that incorporates oat hulls derived from the oat milling process.
The packaging innovation was years in the making and involved the collaboration of Tampere University of Applied Sciences, the
Natural Resources Institute Finland, and Design Forum Finland's HerääPahvi! project. The new material is 25% oat hulls, and the pack can be recycled as cardboard. The oat hulls used come from Fazer's Lahti-based oat mill. The bag is resistant to vapor to help protect the contents. Eleven versions were developed to create the final oat-hull paper suitable for food contact.
14. In the U.S., Procter & Gamble has introduced its Secret and Old Spice deodorant brands in new a new packaging format with refillable cases. The cases are manufactured without the use of single-use plastics and include a refill packaged in 100% FSC-certified recyclable paperboard. Old Spice and Secret were the first major brands to introduce all-paper deodorant initiatives last year. Following the success of the limited-edition pilot, both brands are expanding nationwide with an aluminum-free deodorant formula. The refillable packaging is priced for the mass market and is available in select stores nationwide as well as online at Walmart, Target, CVS, and Walgreens.
---
---
15. Also from P&G, its Gillette male grooming brand has switched from plastic to new recyclable paper packaging across its core razor range. The carton has also been designed to deter shoplifters, as the top of the pack is difficult to tear off. The fully recyclable packs are made using responsibly sourced paper and will eliminate more than 66 tonnes of plastic per year. The change came after P&G shopper research found that one of the most important determinants in the decision to purchase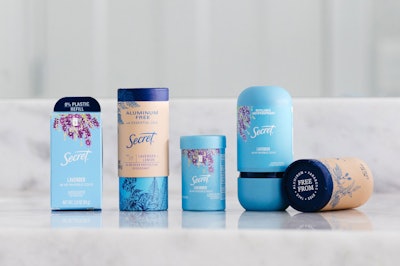 bathroom products for 55% of respondents was recyclable packaging.
Also during the webinar, a presentation from Dr. Williams described the relevancy of Aquapak's Hydropol polymers. The polymers are specially engineered materials that can create a range of packaging products that are specially targeted to make non-recyclable packaging fully recyclable within existing waste streams and thereby reduce the amount of single-use plastics.
ThePackHub offers a compilation of more than 500 sustainable packaging innovations in "The Sustainable Packaging Compendium 2020," which is available for purchase.

Companies in this article