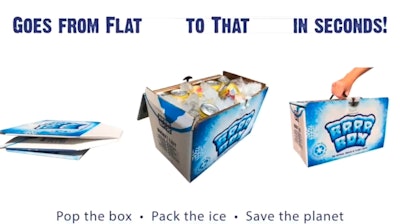 After four years of trial and error, value-added packaging company Vig Pak, LLC finally found a material that ticked all the "boxes" for its EPS-free, 100% recyclable and biodegradable convenience cooler. Company co-founders spoke during DS Smith's demo, "A Cooler Alternative: Greencoat® Sustainable Plastic Foam Replacement Packaging," presented on Wednesday at PACK EXPO Connects.

"We have probably 15 patents on this cooler," noted co-founder and President Ed Battle. "And this has not been an easy project. We've been working on this for over four years because this is almost an impossible thing to make work. But we did it. In the back of my mind, I had always been looking for a product that could replace Styrofoam, and our initial impetus in this thing was to dominate the retail market, and the retail market is anybody who sells ice."
The Brrr Box™, "The Official Cooler of Planet Earth™ ," uses DS Smith's proprietary Greencoat corrugated moisture-resistant and FDA food contact-safe material made of sustainable renewable fiber that is repulpable and recyclable. Explained Adam Olson, DS Smith Sales Director, Greencoat® & Specialty Unit for DS Smith, the material was launched 13 years ago as a solution to wax-coated boxes for poultry and has since been adopted by a number of other markets, including meat, seafood, and produce. The company has even begun providing Greencoat for cremation boxes and corrugated coffins to address the increasing costs of funerals.
Greencoat uses a patented process applied on its corrugators at one of its three Greencoat facilities. According to Olson, the technology combines impregnation in the paper and coating on the paper. He adds that advantages of the material include a lower cost than wax-coated and EPS boxes, and unlike EPS, it ships flat, saving shipping and storage costs. Greencoat also allows for high-impact graphics and is easier to glue than wax-coated material.
---
PACK EXPO Connects Drives Industry Innovation: So far this week, PACK EXPO Connects has seen over 115,000 directory visits as of Nov. 11 with 108,000 visits to exhibitor showrooms. These interactions between solutions seekers and solution providers have led to 50,000 exhibitor leads this week alone and a total of over 110,000 leads since the web site launch driving industry innovation into 2021.
---
For Vig Pak, LLC, the challenge was to replace EPS coolers in all 1,500 7-Eleven stores through McLane Food Service as well as other c-stores and retail outlets to improve sustainability and improve sales. The company's goal was to disrupt the market by offering an innovative corrugated beverage cooler solution.
"So you've got c-stores, grocery stores, mass merchandisers, dollar stores, and liquor stores," related Battle. "In order for this thing to work in that environment, we had to have a cooler that was intuitive, so that we could go from flat to being a cooler, then back to flat. We had to make sure that anybody who walked in that store and bought this cooler could turn it into a cooler. Because if they couldn't, they're going to take it back to the store, and it won't work. And then we were going to be out.
"But in addition to that, we had to figure out a way that the cooler could withstand all the things that are necessary to have a great experience. You've got to be able to pack it with ice, put your beverages in it, and transport those beverages to whatever events you're going to. We were using corrugated tabs as structure for this thing, with the handles and the formation of our cooler for the most part. What happened was, we would get to the point where we knew we had the right cooler, and it could handle everything and then, Bam!, it would fail."
Added co-founder Don Costanzo, "We went through at least a dozen coatings, and we got some of them to the point where we did trials and testing on them. And there was always something that came up that made it so that it wasn't the appropriate coating to use."
The solution was DS Smith's Greencoat combined with a patented design that creates an easy-to-use, space-saving, pop-up cooler that replaces standard EPS offerings.
Said DS Smith's Olson, "We have partnered with them to have a Greencoat coating, so you can put ice, gel packs, cold packs, whatever you want in there. And it's going to maintain that water repellency for a period of time. It's not a single-use cooler. It's a multi-use cooler if treated properly. And the best part is instead of those Styrofoam coolers going back into the waste stream, this goes back into the circular economy and is fully curbside recyclable."
Costanzo said Greencoat is "fantastic." He added. "It does everything we want it to do. The reason we work with DS Smith as well we do is because it understands that the cutting and the production process are also extremely important. If you have a great coating, if you punch holes in it, even a little pinhole can create havoc on our products. So it's been a great partnership all the way to this point."
The Brrr Box™ is set to be launched in the next 60 days in 7-Eleven, with a DS Smith-created video to drive sales and open the market. Once the cooler has been launched successfully, the material will be preprinted at DS Smith's Lebanon, Ind., facility to improve the graphics, after which Vig Pak, LLC will work through McLane to explore future markets.
Although the cooler will cost $4 to $5, its co-founders say the box brings great value and can reused over and over.
To view demos from DS Smith (available through March 31, 2021) and to add the company to your MyConnects Planner, click here.
Companies in this article