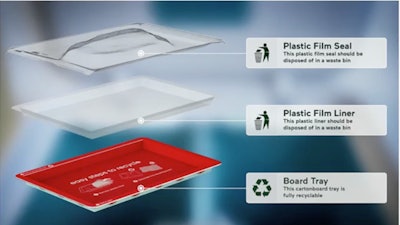 PaperSeal, presented at PACK EXPO Connects by Graphic Packaging International, is a fiber-based replacement for high-barrier plastic trays for modified atmosphere packaging (MAP) and vacuum skin packs (VSP) that recently won the 2020 Sustainability item of the year award from the Paperboard Packaging Council. The PaperSeal packaging system as a whole is a collaboration between G. Mondini and Graphic Packaging, where Mondini builds the line of tray formers and liners, while GPI developed the trays themselves and converts them for the brand owner.
During a demo during PACK EXPO Connects, Jeff Voyzy, Business Development Director at Graphic Packaging demonstrated via video exactly how the system works. The paperboard trays act as the supporting structural protection for the packs, with a thin internal film lining providing all necessary barrier properties. This paper tray with film lining, once filled with foods usually found in MAP or VSP trays, including meat, poultry, and fish, is then MAP or VSP sealed with another thin film to enclose the product. After consuming the packs contents, consumers need only separate the internal, food-contact film (and lidding film) and place each layer in the appropriate bin for recycling.
The structure being mostly paperboard translates into 80-90 percent reduction in plastic in the consumer product. And compared to its CPET plastic equivalent tray, it also boats a 35 percent CO2 reduction compared to plastic, and 40% energy used in production.
An added benefit is the vast increase in billboard space, including the bottom and vertical four sides of the tray—even the inside of the tray can be decorated or branded since the film liner is clear, only the food product contents may obstruct the view.
GPI says its food brands can either do the forming themselves, or have GPI do the forming depending on how much of the supply chain they prefer to control. So it's up to the customer how much they want to bring in house.
To view the demo in its entirety (available through March 31, 2021), and add Graphic Packaging International to your MyConnects Planner, click here.
Companies in this article
Videos from Graphic Packaging Intl.